Cyber Monday is just a couple days away and I have the top five best hostess gifts under $40 just for you. One of the reasons I love the holidays so much is because of the festivities. I have always loved to entertain and have both given and received some of the best hostess gifts. My favorite party is my cookie exchange party. I spend a lot of time thinking about fun gifts to give and useful gifts I've received. Something to keep in mind when you buy someone a host gift… You don't have to spend a ton of money, these gift suggestions are from $6-$38. Keep it simple and thoughtful; those are the best gifts.
2017 Best Hostess Gifts…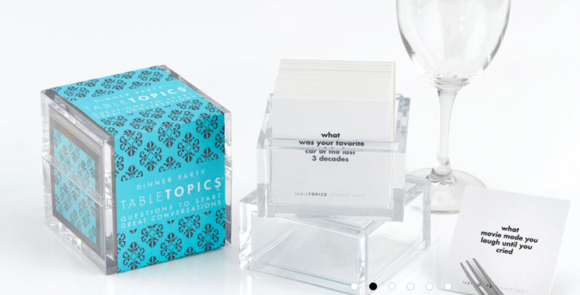 Some of the best gifts are family gifts. My favorite this year is from Table Topics. These are small cubes of cards with questions that will get a great conversation started. The cubes are small and have classy designs. But my favorite part about them is the questions. When one of my girls picked, "What's your favorite thing to do at recess?" We had an hour-long conversation that may not have happened without the cards. There are over 20 variations of these cards, including travel edition, something for your teens, and even in Spanish. $9-$25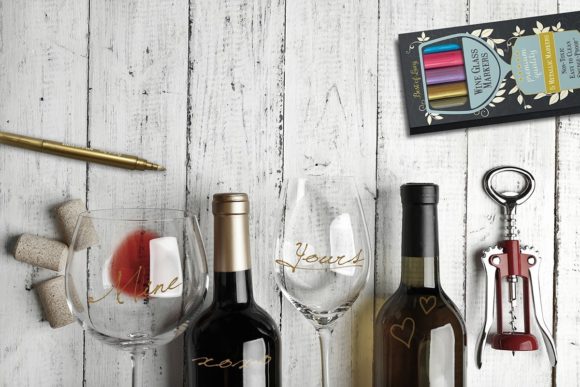 We've received so many of these wine markers, and they're still one of my best gifts. I have found so many ways to used these markers other than just wine glasses. Pair this with your favorite bottle of wine, or just a couple wine glasses, and you have a great gift. $6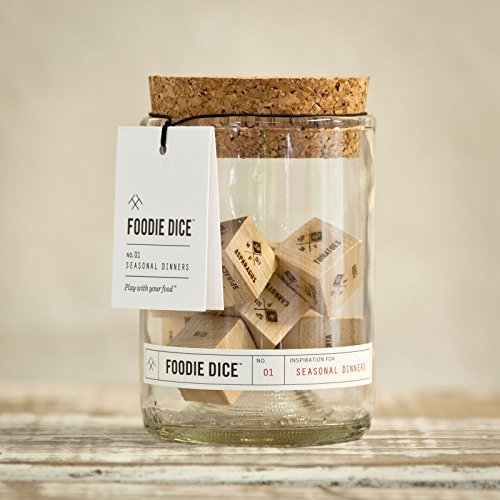 This is genius, creative, and I love the packaging. You roll some dice, and it gives you inspiration for what you should cook! You select the five primary dice, add a seasonal veggie die and roll. Then shop, cook, and eat! Over 186,000 possible meal combinations to inspire creativity in the kitchen. How fun would it be to do this on a Sunday night with your family? They also have Mixology dice for that cocktail lover on your list. $24-$38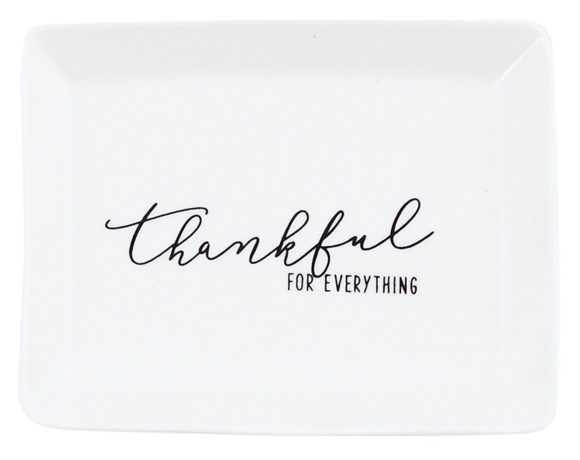 These little porcelain trays are the perfect gift for everyone. I can't tell you how many of these trays I have in my office, bedroom, bathroom, dresser… endless spots to put these tray for sure. They have a lot of different sayings. My favorite? "Thankful for Everything." $20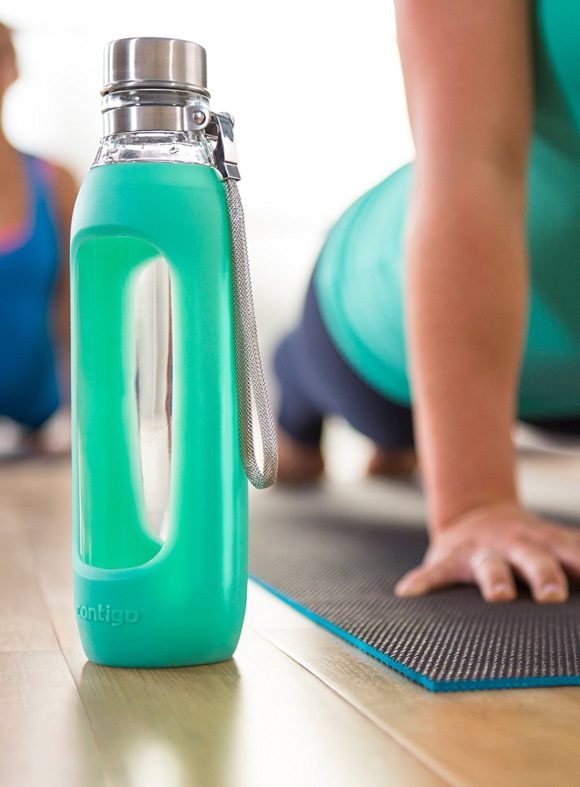 Contigo Purity Glass Water Bottle, 20oz
I love my other glass water bottles, but this one is my favorite color and has a wrist strap. It also has that non-slip grip sleeve which makes it perfect for those hot-sweaty workouts. $15
Thank you to BSM Media and TableTopics for sending me the perfect hostess gift. You can find all of these items on Amazon. They are all available with Amazon Prime for those last minute gifts you need in a rush…
Disclosure: This post may contain affiliate links, from which we will make a small commission if you click thru and complete a purchase.