Glamour shots
Doug and I had our big engagement photo shoot on Sunday. We met with our photographer at 7:00am at Baker Beach in San Francisco. Once we got there, we had to cancel our morning engagement. The fog had rolled in, and it was thick and very wet. We waited out the day to see how […]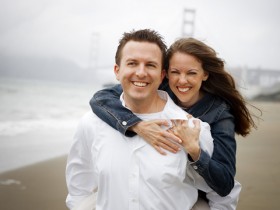 Doug and I had our big engagement photo shoot on Sunday. We met with our photographer at 7:00am at Baker Beach in San Francisco. Once we got there, we had to cancel our morning engagement. The fog had rolled in, and it was thick and very wet. We waited out the day to see how the weather was going to play out. By 3:30pm Fima decided that the weather should be fine. So we were off again for our glamour shots.
This time we had less fog and you could actually see most of the Golden Gate Bridge. Both Doug and I really wanted to have parts of the City in our photos to go along with our San Francisco themed wedding. Overall, we had a great time. We had to "act" like we were in love… you know that was really hard for both of us!
You'll be able to see the final result at the reception, where we'll have a framed version that we want you to sign!