Remembering Luke
"Listen and you just might hear the frogs ribbitting as they party in heaven with Luke dancing and smiling… pain free… and cancer gone." For some reason I never thought this time would come. On July 28th little Luke Johnston passed away. I haven't written anything about it because I couldn't find the words. I […]
"Listen and you just might hear the frogs ribbitting as they party in heaven with Luke dancing and smiling… pain free… and cancer gone."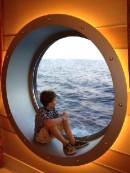 For some reason I never thought this time would come. On July 28th little Luke Johnston passed away. I haven't written anything about it because I couldn't find the words. I can't imagine what it is like to lose a child. Right now I just pray for Brandi and her family. I just hope they feel love and peace during this unimaginable time.
This weekend there will be a celebration of Luke's life in Idaho. We are unable to attend but in honor of Luke we will be wearing green this weekend.
There are so many children suffering from cancer. Please consider making a donation to help fight this horrible disease.
To honor Luke there have been two charities that you can give to in his honor.  Luke held these charities especially close to his heart.
Ronald McDonald House Charities
Mark (Luke's father) is running the Chicago marathon this year for the charity and is dedicating the race to Luke The race is Sunday, October 7th. You can make a gift to the charity directly online.
Make-A-Wish Foundation of Idaho
Luke and the family had the wonderful chance to enjoy one of the magical trips granted by Make-A-Wish.  You may help another child with a potentially terminal disease enjoy one of these trips by donating in Luke's honor.  Please mail checks to Make-A-Wish Idaho; 4355 Emerald St, Suite 280; Boise, ID 83706.  On the memo line please write "Luke Johnston".