Disclosure: We were provided a complimentary (or discounted) product or service and/or given compensation in exchange for our thoughts about it.
Earlier this year our Girl Scouts earned their WOW Journey badges while learning all about water. Now the girls had an opportunity to earn their Brownie "Think Like a Citizen Scientist" Award Badge. Our friends at BSM Media and Omano sent us a Junior Scope microscope for kids. With the help of this microscope, we were able to take water samples and analyze what is in our drinking water, fresh water, and an area pond. How fun was it to see live organisms in our water samples!
The best part of this science project? It was mostly girl-led. The girls were able to use the microscope with very little instruction from adults. Not only were they able to set it up on their own, get the slides ready, but they were also able to use the included book for hints at what might be in their samples.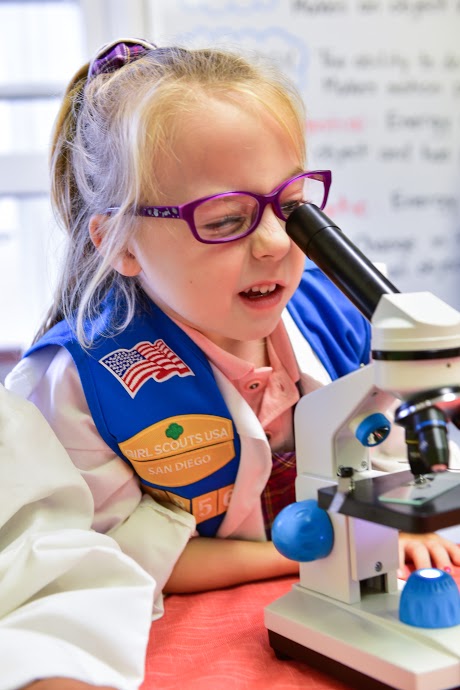 Some things we learned from using our Junior Scope
It's lightweight and portable. Because it uses batteries, we were able to pass it around from girl to girl with ease and no cord to work around.
The girls were able to use it on their own. You can take it out of the box and get started immediately.
It's not a toy. It's a real compound microscope with low and high settings, has high quality, glass optics and magnification from 40-400x making it just as powerful as what you'd find in a lab. JuniorScope has precision glass optics, is easy to use, and gives a crystal clear image of what is on the slide unlike other microscopes for this age group.
Even though the recommended age is 8, we had girls as young as 5 using it with some adult assistance.
The girls loved it. They all were really trying to see something different.
Not only was this experiment educational, but it was also fun.
They can't wait to use it again. When our time was coming to an end, they were eager to hear about what we're doing next.
Our Girl Scouts loved the Junior Scope, and I'm sure some of them would love this as a gift. If you'd like an alternative to screen time, check this out. You never know, you might just end up with a mad scientist on your hands!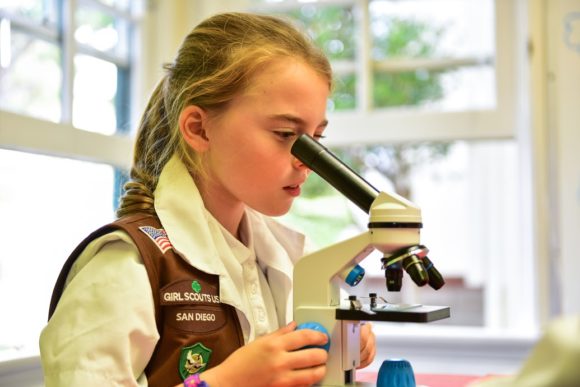 A few weeks ago I told you why I loved being a Girl Scout leader, this is just another reason why I love doing it. To see the girls so excited about learning makes my heart happy.
The Omano JuniorScope Microscope is available online at Microscope.com and is currently on sale for $89.99, down from $130.