Be mine? Valentine's day mug gift idea
This weekend, we met up with some good friends we hadn't seen for a while. I knew we were going somewhere sunny and warm, so I thought we would dress up the girls, and take a couple pictures with our camera. But on the trip down, I realized that I left the camera at home. […]
Disclosure: This post contains affiliate links, from which we will make a small commission if you click thru and complete a purchase.
This weekend, we met up with some good friends we hadn't seen for a while. I knew we were going somewhere sunny and warm, so I thought we would dress up the girls, and take a couple pictures with our camera. But on the trip down, I realized that I left the camera at home. Sigh.
I turned to my husband, who has the newer iPhone, and said "We'll have to take the pictures with your phone." Sadly, he had also forgotten his phone. So we were left with my phone. Ok, fine, we'll use my phone.
Our friend A is a budding amateur photographer, and loves to shoot all the time. He grabbed his camera, and just happened to take a few amazing pictures of our girls. I can't tell you how happy I am that I wasn't able to get it together I forgot our camera.
With these pictures, I was able to order several Valentine's Day gifts. Here's the mug design that I just ordered – I'm keeping this mug for myself!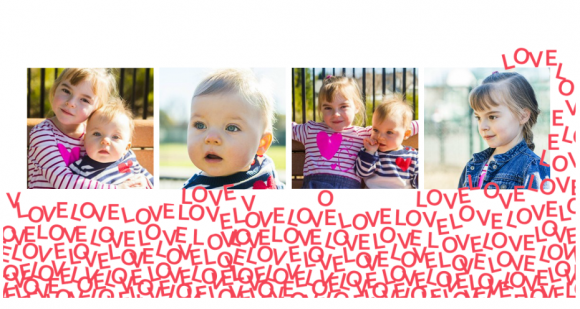 York Photo is running a small a promotion you might want to take advantage of. You can get a photo mug for $1. Yes, a buck! I had to pay $5.99 for shipping, but $6.99 was worth it. Because these girls are cute. I also bought a couple re-usable photo tote bags too. These will actually be Valentine's gifts for the grandparents.
In addition to the $1 mug and $2 tote bag offers, York Photo also has a $20 fleece blanket. Head over to their site if you want to see all their Valentine's Day offers. Note that these offers are for new customers only.