Oga's Cantina experience in Star Wars Land: worth the hype?
Walking into Oga's, admiring every detail, trying some fun drinks, and immersing yourself in the atmosphere of a bar on the edge of the galaxy is an experience to remember. Here's what to know before you go.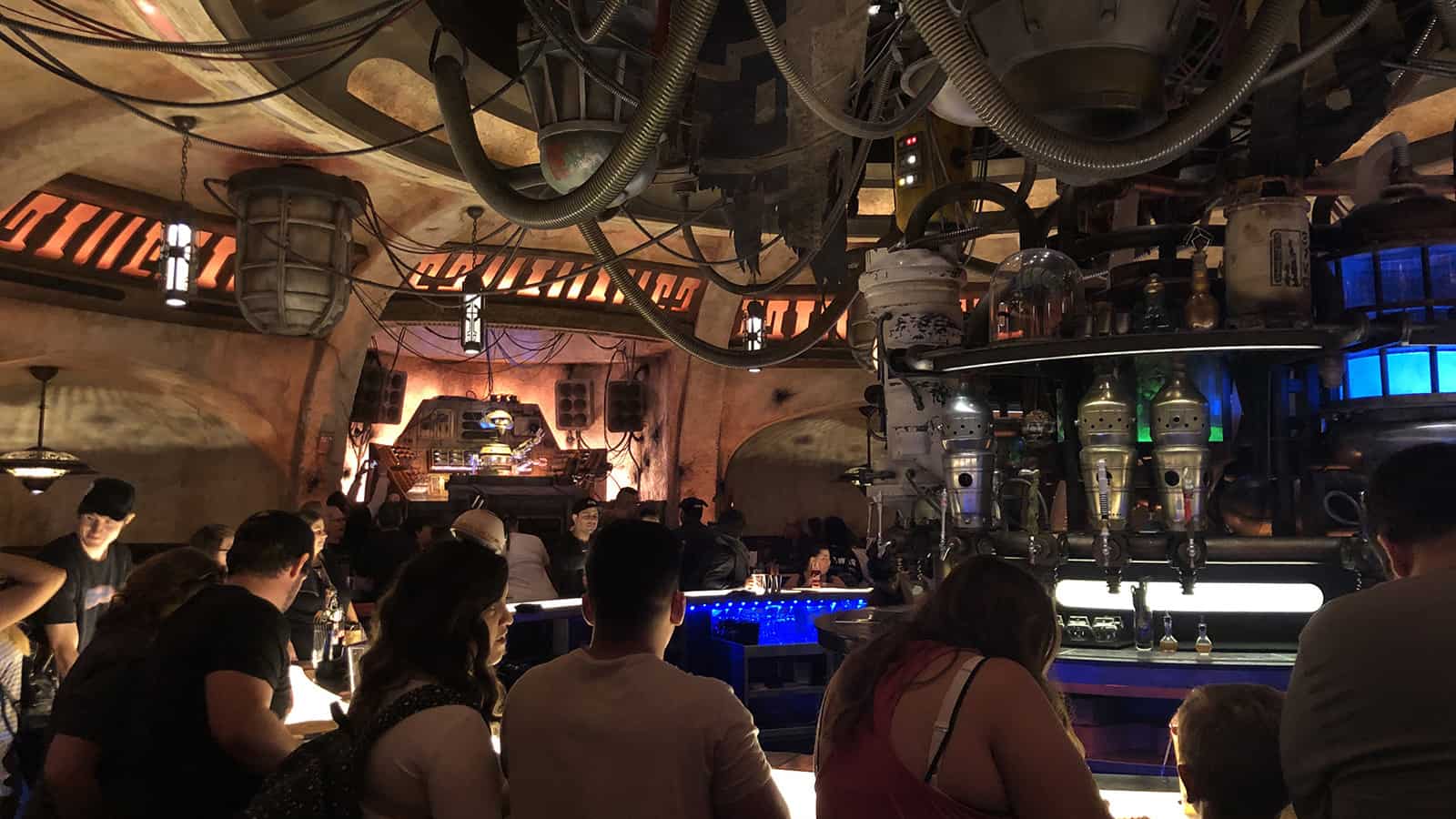 Star Wars Land (aka Galaxy's Edge) opened earlier this summer in Disneyland. One of the most popular attractions and curiosities within Star Wars Land is Oga's Cantina. And for good reason. Who hasn't imagined stepping into the Mos Eisley Cantina on Tatooine (from Episode IV, A New Hope, where Luke and Obi-Wan first meet Han Solo and Chewbacca). Order a funky space drink. Listen to a live alien band. Maybe find a smuggler to hitch a ride with to Alderaan.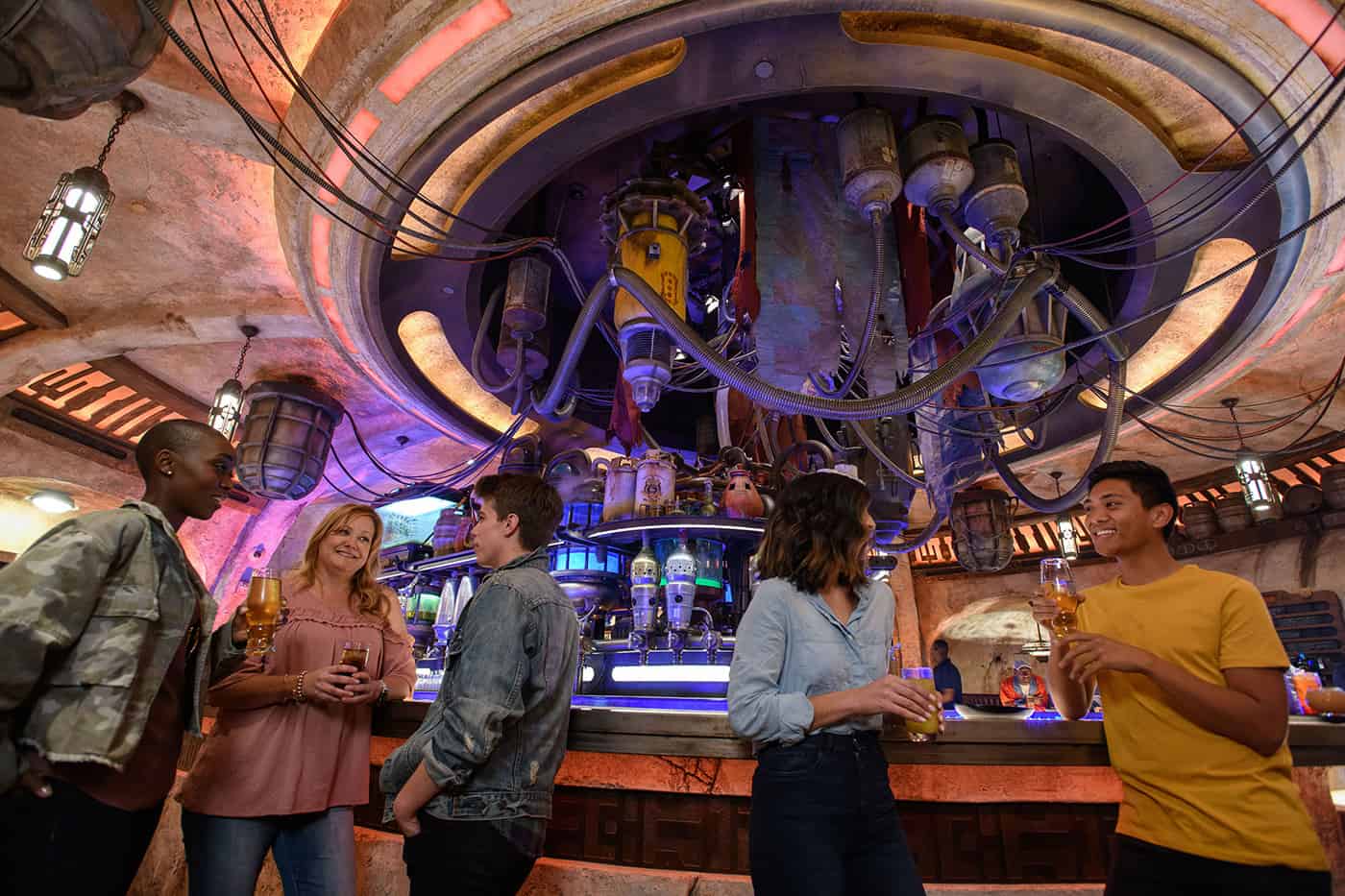 The Imagineers and masterminds behind Star Wars Land created an incredible atmosphere throughout the entire land. Entering the gates of Black Spire Outpost on Batuu feels like stepping onto the set of one of the movies. But stepping inside the dark, cozy, hole-in-the-wall feel of Oga's Cantina is what delivers a truly immersive experience.
Oga's takes cues directly from that cantina in Episode IV. No wonder so many fans are desperate to soak up time and liquid refreshment in a watering hole inspired by such a memorable location. It helps that Oga's Cantina is the first place within Disneyland that an ordinary adult citizen can order alcohol. That is, other than the privileged few who gain access to the private Club 33.
Getting in to Oga's Cantina
Like most sit-down dining locations in Disneyland, because of the limited space inside, Oga's Cantina runs on a reservation system. Currently, you can only make reservations in the Disneyland app, or through the Disneyland website reservation system. And Oga's reservations are only available for the same day. This may change as Disney learns and adapts its crowd control methods.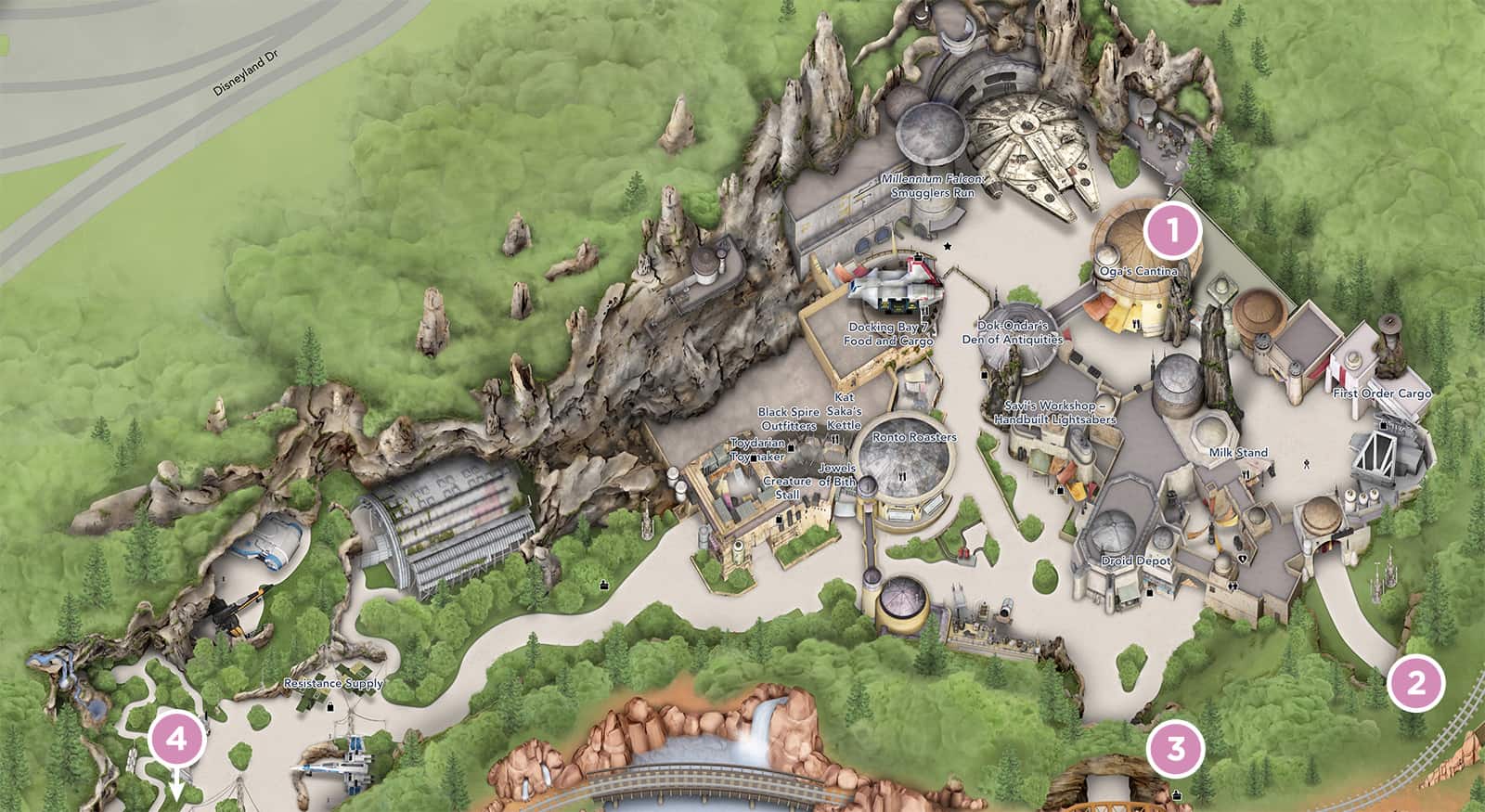 Gaining access to Star Wars Land currently requires either:
Arriving at Disneyland early and waiting in line, or…
Joining what Disney calls a "Boarding Group" (a virtual queue) through the Disneyland app, or…
Having a reservation for Oga's Cantina (or Savi's Workshop).
Note that being part of a Boarding Group granting access to Star Wars Land does NOT guarantee you a visit Oga's Cantina. At the time of this writing, you must have a separate reservation to get into Oga's. However, as noted above, if you can get a reservation for Oga's, your Oga's reservation will also get you access to Star Wars Land even without having previously joined a Boarding Group. You'll be able to enter Star Wars Land up to one hour before your Oga's reservation time.
Ensuring a visit to Oga's
If you really want to experience the Cantina, our advice is try as early as possible to get a reservation for Oga's. Reservations seem to be available in the Disneyland app as soon as the park opens, even if you're not yet physically inside the park.
So know Disneyland's opening time for your visit date, and attempt to grab a reservation slot right at that time. (Make sure you're not looking at California Adventure's open time, which is often different than Disneyland's.) Kinks are still being worked out, and Disney may make changes to Oga's reservation system as they learn what works best for guests and their experience.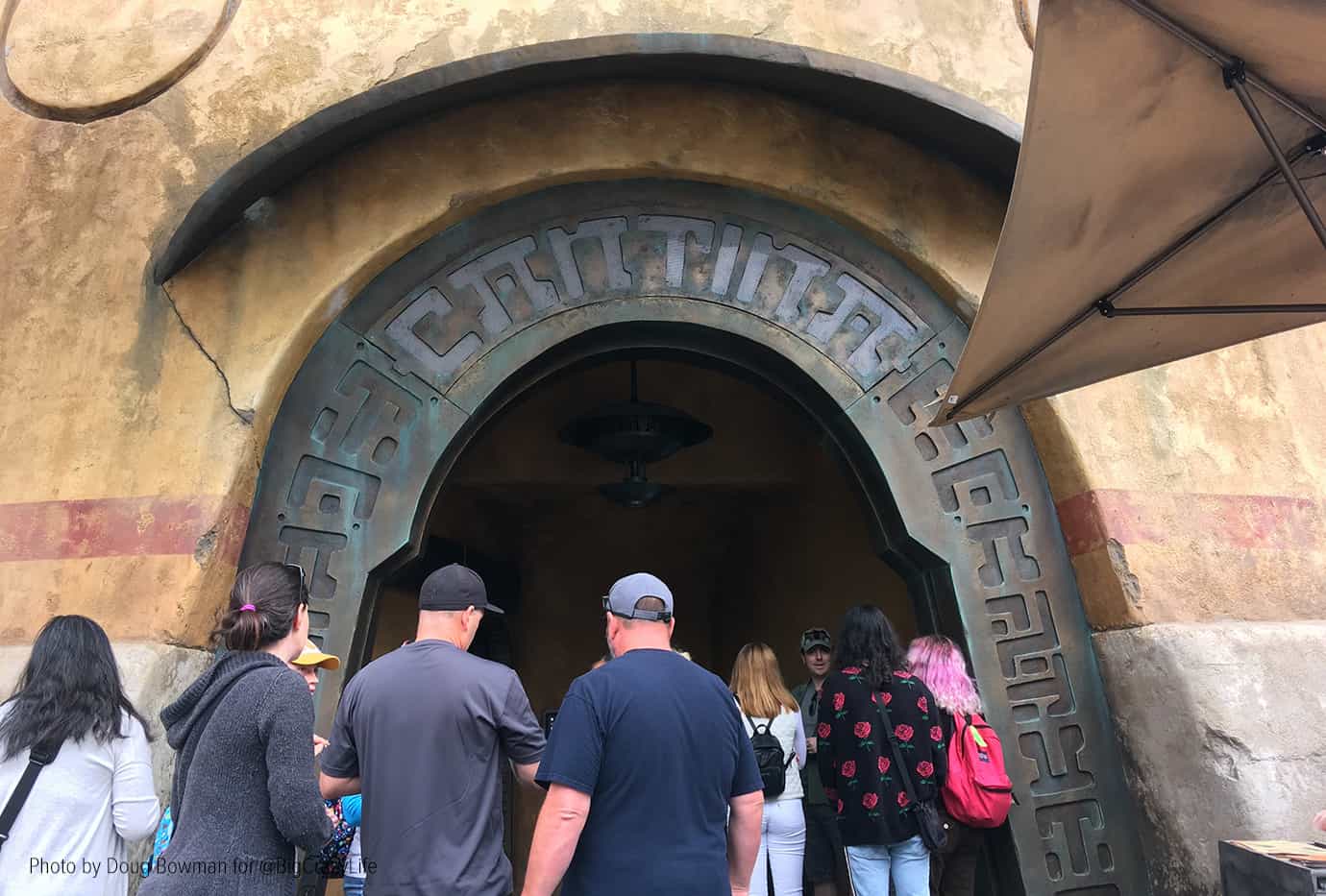 Oga's Cantina will remain a popular destination among Disneyland visitors for a long time to come. The Cantina has limited capacity, and its limited number of reservation slots may fill up early. Especially on high capacity days.
Due to the Cantina's limited capacity, guests are not allowed to wander into the Cantina just to get a glimpse, look around, or snap photos. So if you don't grab a reservation slot early on, or if you wait until later in the day, you may not get to enter Oga's at all.
Seating in Oga's (and lack of)
Know that most of the space in Oga's Cantina is standing room only. You won't get a choice of whether you sit or stand in the Cantina. Bar seats surround a large U-shaped bar in the center. Booths sprinkle the perimeter of the cantina. The remaining spots to hang out in are stand-around high-top tables. The booths are large, and also U-shaped, and can probably hold up to 8 people. If you're one of the lucky few who get a booth, and you have 5 or less people in your party, expect to share your booth with other guests.

Bar seating will see the most up-close action, but will make difficult conversation for parties of four or more. Booth seats are padded, against the outer walls, and have a wide angle view of the most of the Cantina.
The most unfortunate spots are the high-top tables. Not only are they a little high, making it difficult for young ones to even see above the table top. We're a little disappointed that Disney doesn't offer stools or even some kind of footrest to take a load off. These high-tops are not the most relaxing after hiking around Disneyland for whatever length of time. But we understand space is limited. Note that strollers and scooters are not allowed inside the Cantina. So this could be a factor in how (or if) you approach a visit to Oga's.
Mixed drink options and prices
Oga's Lounge menu is available all day. The menu offers up a range of beer, wine, alcoholic cocktails, and even a selection non-alcoholic concoctions suitable for the kids. Helpful for you to know ahead of time: Oga's enforces a one-drink minimum for each guest, including kids. And they enforce a two-drink maximum per adult.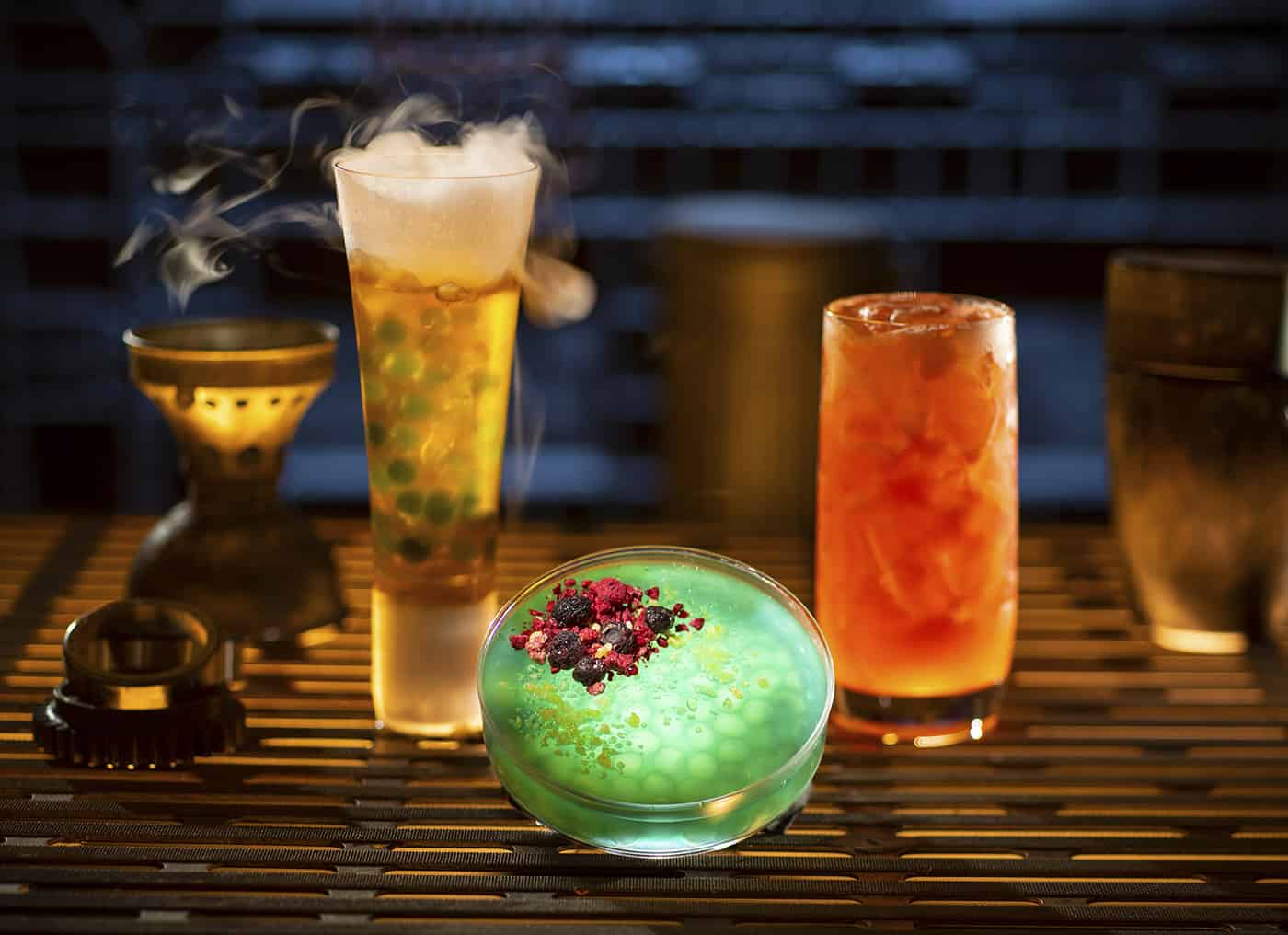 Non-alcoholic drinks range in price from $6–$13, with a special "Cliff Dweller" drink in a souvenir Porg mug for $32. Alcoholic drinks will set you back a bit more, ranging from $14-$17, and a "Yub Nub" cocktail in a souvenir Endor mug for $42.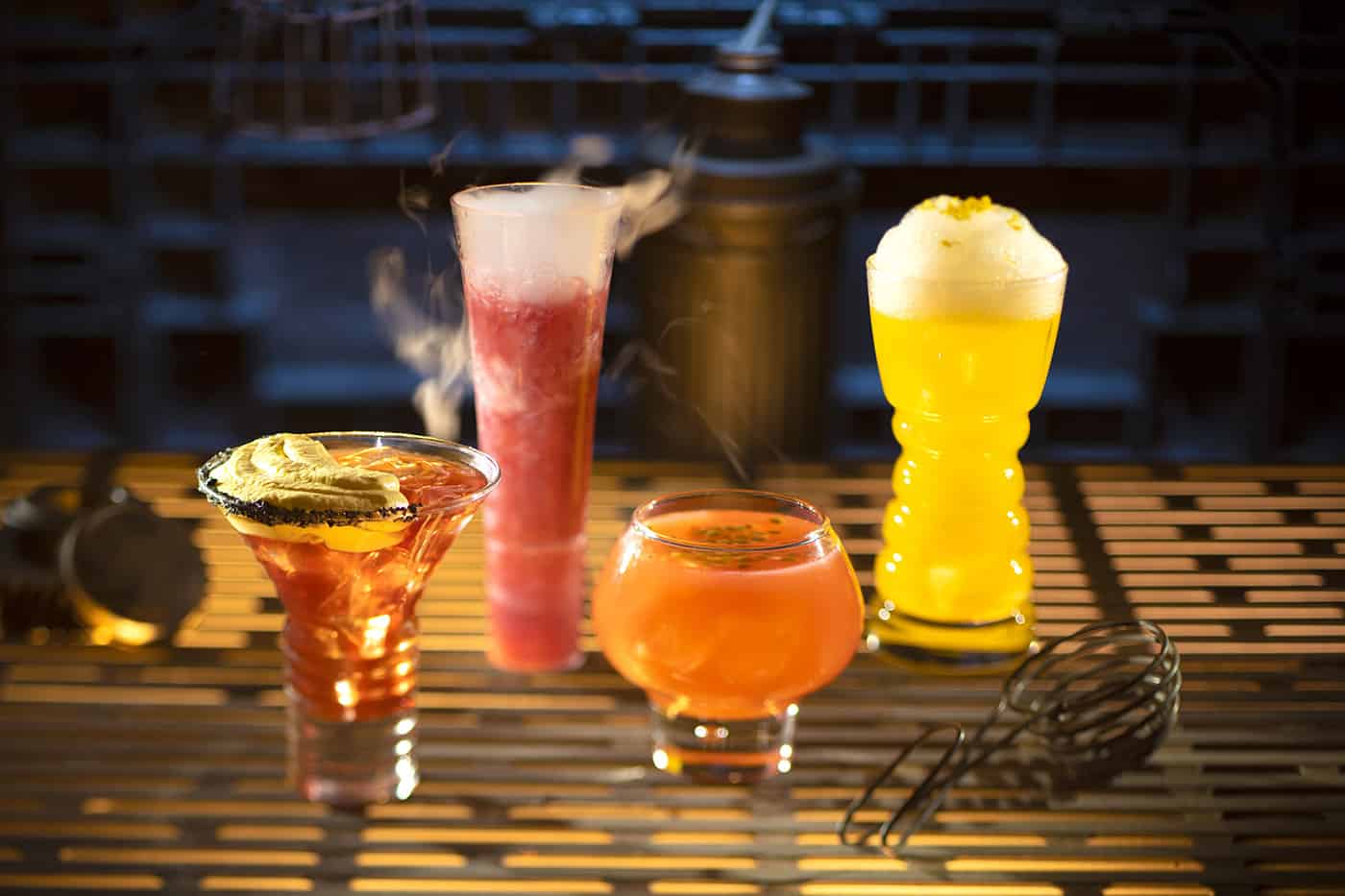 Alcohol brands used in Oga's Cantina cocktails include Ketel One Grapefruit & Rose Vodka, Tito's Vodka, Patron Silver Tequila, Herradura Reposado Tequila, Bacardi Superior Rum, Malibu Rum, Maker's Mark Bourbon. So you're not just getting a bunch of well drinks.
But here's the most disappointing feature to us about cocktails at Oga's. None of the mixed drinks are made to order. In fact, all of them come pre-mixed, from taps behind the bar. I'm sure this helps with efficiency and expediency of bar service. But it was a disappointing to see all the cocktails pulled from taps and pre-mixed containers. The only manually added components were garnishes and additions like popping pearls. The pre-mixed nature of Oga's cocktails also means no customizations, and no called drinks that are off-menu with specific alcohol. I'm not even sure they stock any bottles behind the bar, as we didn't see any.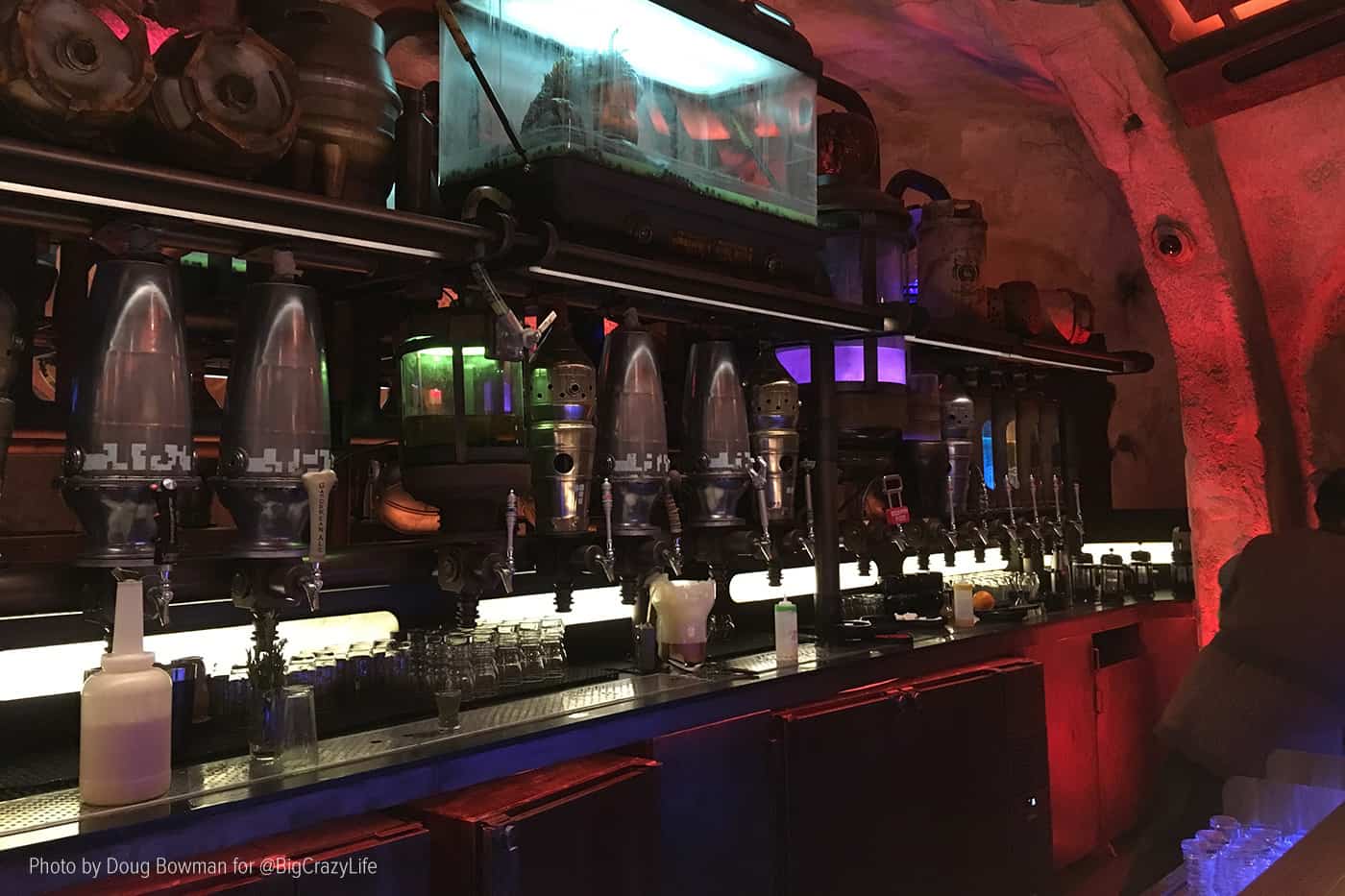 Beer and wine
Beers on tap range from $12-$13. They include a lager from Blue Point, a Ballast Point hefeweizen, a red ale from New Belgium, and a tropical IPA from Sierra Nevada Brewing. Can't decide from those four, and want to splurge on a souvenir with your beer? Order a Rancor flight of all four served in teeth-shaped receptacles perched in a rustic board for a mere $75. A hard apple cider from Angry Orchard rounds out the tap selection at $11.
Wine-only drinkers have just two options specially produced by Goldschmidt Vineyards of Sonoma for Oga's: a teal-colored "Toniray" for $13, and the more traditional looking crimson-colored "Imperial Guard" for $16. Same as the cocktails and beers above, bartenders pull the wine from a tap.
Minimal food options
Don't come hungry and expect a full array of food options at Oga's Cantina. After all, it's a cantina, not a mess hall. Go to Oga's for the drinks and the atmosphere. But if you need a small bit of sustenance to complement your liquid refreshments, the normal menu really only offers one option that's worth considering. "Batuu Bits" is a small plate of rice crackers, seaweed crisps, and wasabi peas, among other small bits, which seems most similar to a typical package of Asian snack mix.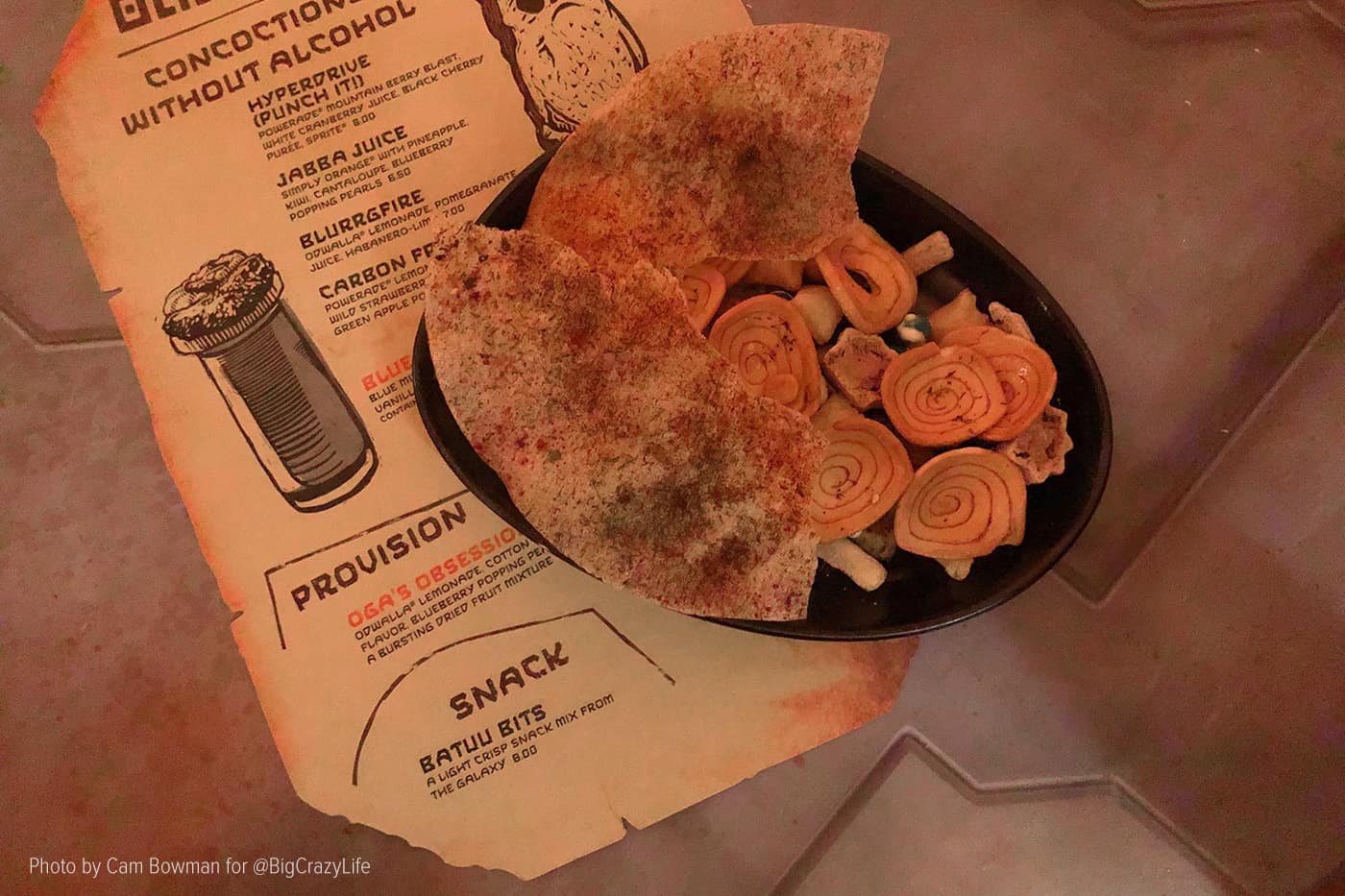 I do not recommend "Oga's Obsession", a petri-dish of gelatinous cotton candy flavored popping pearls with a tiny amount of dried fruit shavings sprinkled on top.
Additional breakfast items
If you arrive at Oga's during morning hours, you'll also have a special Breakfast menu to select from, which adds a few more options to help get you going. This includes your basic espresso drinks (double espressos, cappucinos, and lattes), and apple or orange juice. Alcoholic morning concoctions include a rum-based coffee drink for $16, and a "Bloody Rancor" for $17, which is Oga's pretty straight-forward version of a Bloody Mary. If you really want to splurge, kids may want to opt for the "Blue Bantha", a non-dairy blue milk topped with a sugar cookie.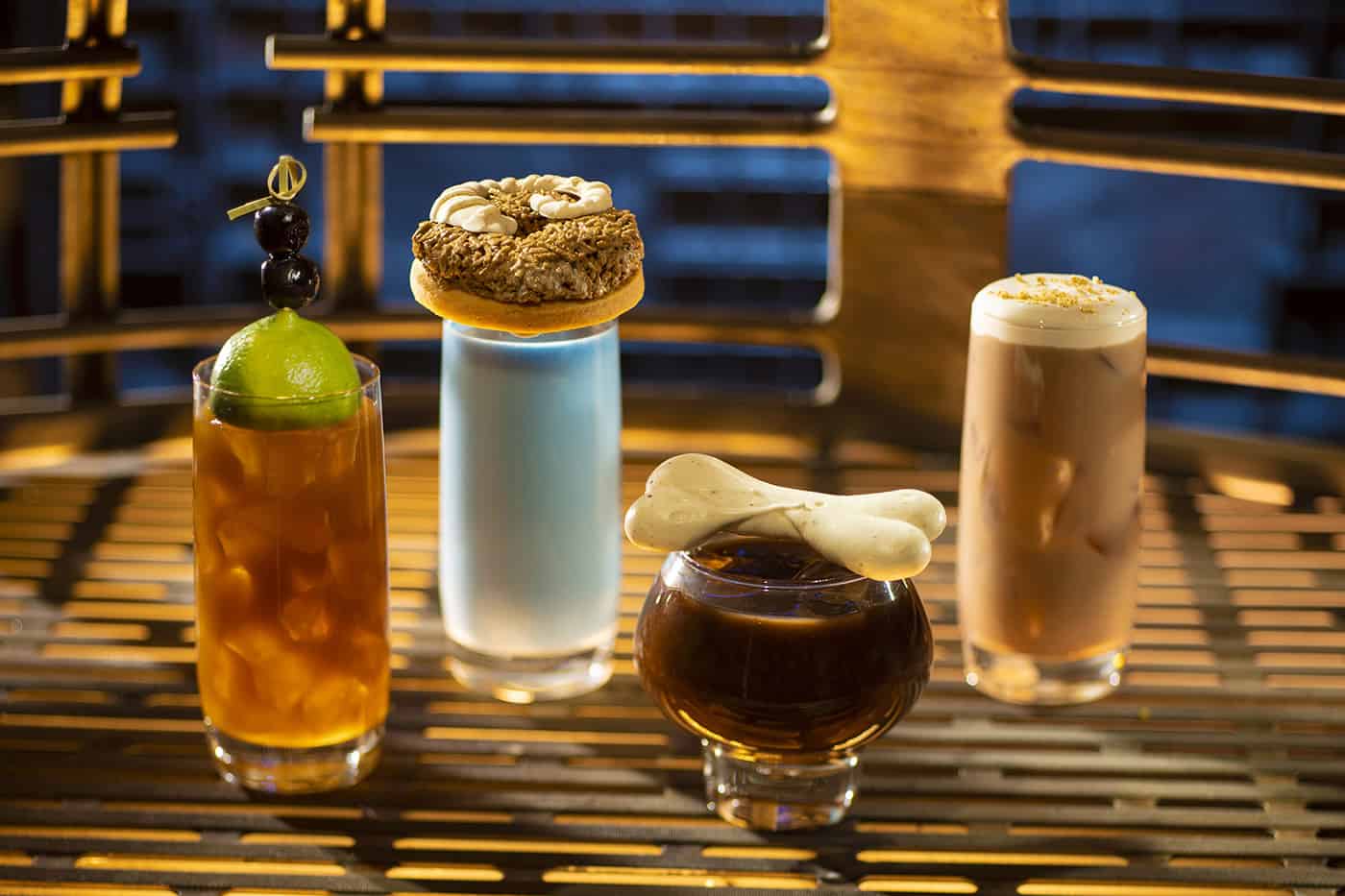 (Tip: Want to try the Blue Milk in Star Wars Land without the wait and prices at Oga's? You can also find it at the Milk Stand, just down the path from Oga's, along with Green Milk. Both versions are frozen, blended, dairy-free drinks made with rice and coconut milk.)
Morning visitors also have a couple more additions on the breakfast menu, including a bowl of oats with dragon fruit, or a cinnamon roll topped with Oreo cookie crumble named the "Mustafarian Lava Roll".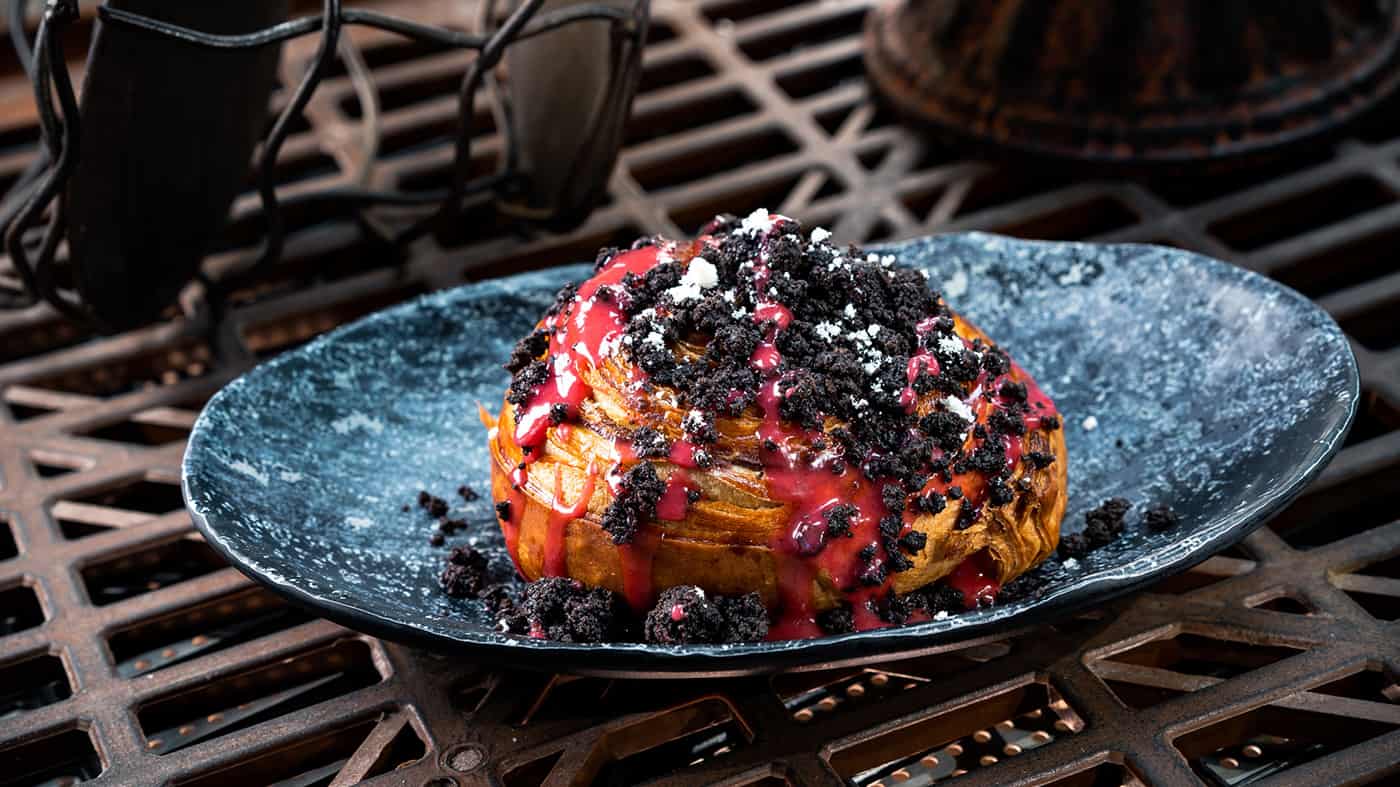 How to get served quickly at Oga's Cantina
I've heard from multiple people, and read multiple reviews now about many different experiences in Oga's. Some have great service, and enjoy their time. Others have frustratingly waited for over 2 hours to get their order taken, get their drinks, and finally get a bill to pay. (This is despite the supposed 45 minute limit allowed for each guest.)
As Star Wars Land grows in popularity, wait times both to get into the cantina, and to get served may grow even longer. It can get crazy busy inside Oga's. Your experience may vary wildly depending on the time of day you go, or who is working that shift. My strong advice (if you get a booth or a high-top table) is to send one or two people from your party directly to the bar. This way, as soon as you flag down a bartender, you order from them, pay right then and there, and usher your drinks back to the table by yourself, even if it takes a couple trips. This is what we did, and we had our drinks within 5 minutes of arriving at our table. And we didn't need to wait for a server to bring our bill to pay.
Oga's Cantina with kids
Yes, Oga's welcomes families with kids. Though to say Oga's is kid-friendly might be a stretch. The cantina atmosphere definitely caters more to adults and true Star Wars fans. Once the cantina fills up, the noise level rises to a typical crowded bar-level with lots of conversation and rhythmic beats driven by the animatronic DJ R-3X.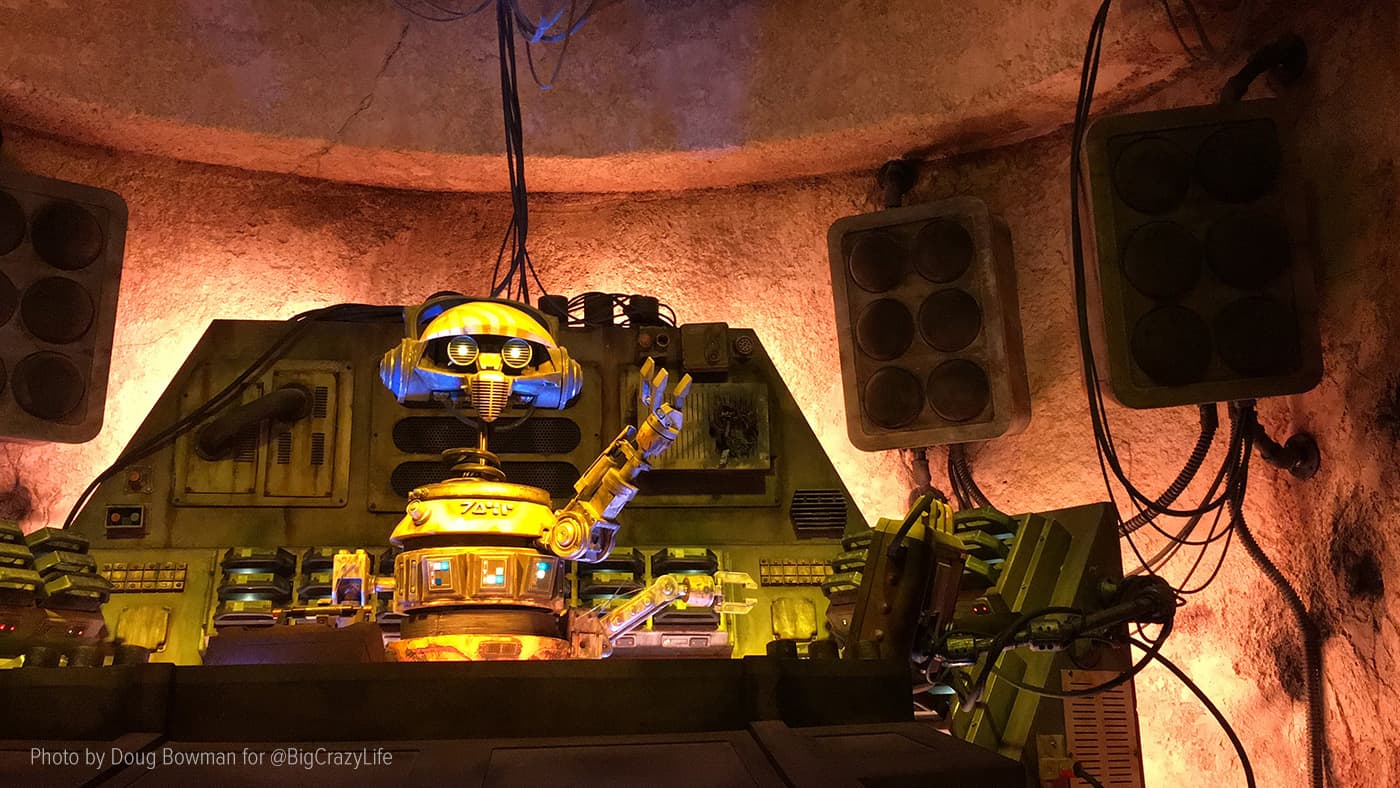 I asked my 10-year-old what she thought of Oga's. She rated it a 4 out of 10, and said she probably wouldn't want to go back if she had the chance. When I asked her why, she cited the loud atmosphere which made hearing each other difficult. The high-top standing-only tables were certainly not kid-friendly. And she didn't like the drinks nor the small snack plate of Batuu Bits. I'll grant that she only saw A New Hope once. And she probably didn't appreciate the significance and coolness of the cantina scene in it (or possibly even remember it) the same way I did.
As a family, if you're lucky enough to get one of the few booths, your kids might last long enough for you to hang out and enjoy the cantina for a bit. But bar seating would make family conversation difficult. And high-top tables are awkward for families with small to medium-height kids, with no seats or stools. Shorter kids under 48″ can't even see above the table tops. To be honest, there isn't much for kids to do inside Oga's. Unless they like trying funky steaming, bubbling drinks. Or unless your kids are the type to just sit and take in the atmosphere, young children will get bored in Oga's rather quickly.
The other possible deterrent for families with kids is the one drink minimum for each person in your party. This includes any children with you. The minimum will drive up your overall bill, and may push the experience out of your budget. Younger kids may not enjoy Oga's as much, unless they're big fans and remember the cantina scene from Episode IV.
Overall impression: Was Oga's Cantina worth the wait and the hype?
For families with children 12 and under, I hesitate to give Oga's a strong recommendation. I would only push a visit if you and your kids are hardcore Star Wars fans, everyone is open to new experiences, and dead-set on experiencing Oga's. Teenagers will appreciate the experience more than younger kids. In true Disney style, the Cantina is kept clean and safe. The 2-drink maximum per guest (plus the 45-minute time limit) helps stem obnoxious, inebriated behavior.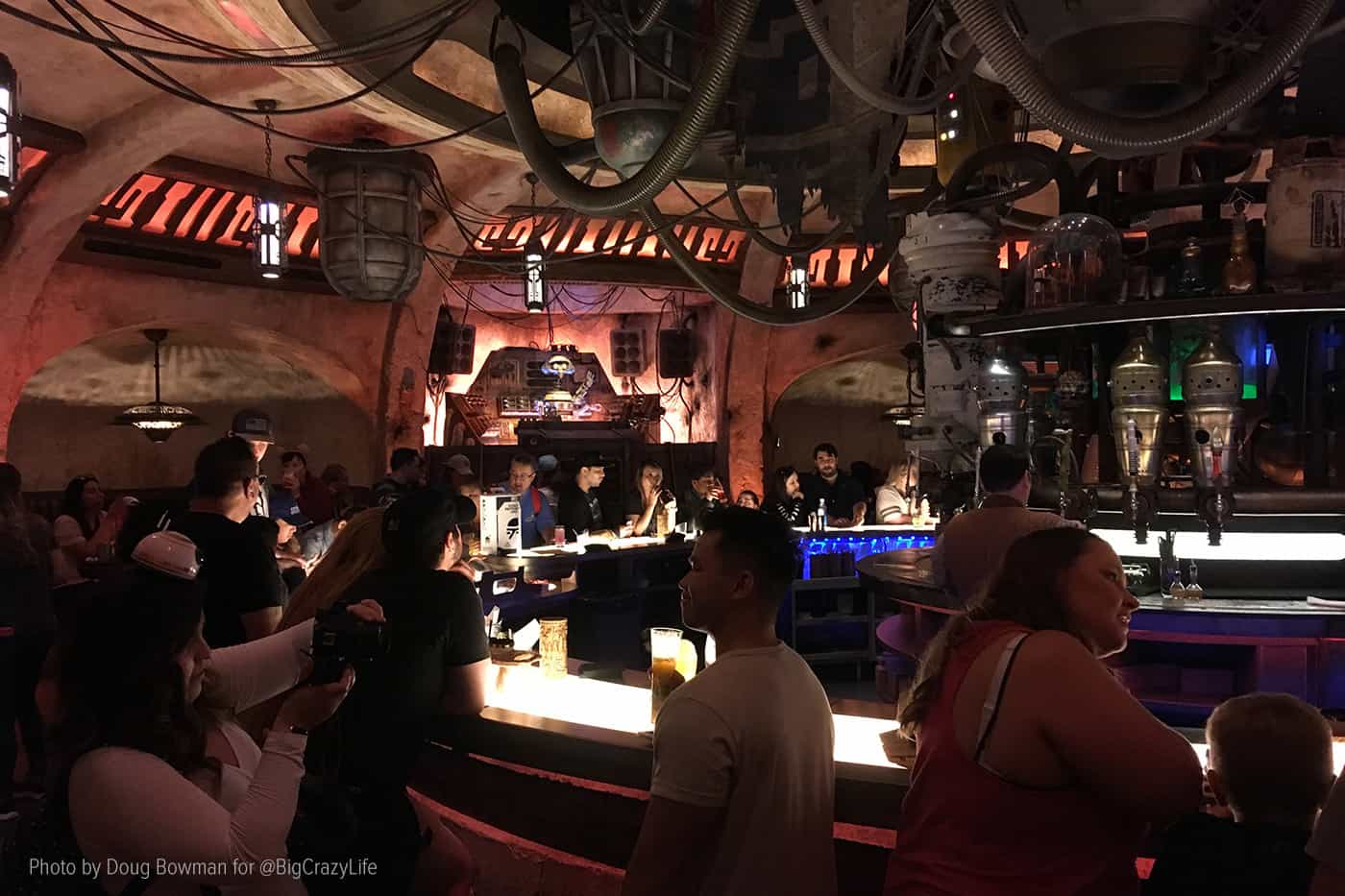 For groups of adults, or even parents with teenage kids, I would definitely recommend adding a visit to Oga's Cantina to your Disneyland bucket list. It's a can't-miss experience. Walking into Oga's, admiring all the details in the cantina, trying some fun drinks (even if all out of a tap) and immersing yourself in the atmosphere of a bar on the edge of the galaxy is an experience to remember.
Snap some selfies with your crazy, galaxy-inspired drinks, and share them with your friends. Just don't piss off any lightsaber-wielding Jedi that may be passing through. You'll want those arms attached if you hope to pilot the Millennium Falcon on Smugglers Run.