Last week I went over to a friend's house and she already had Valentine's Day wreath on her door. Which made me realize I didn't even have a wreath to put up. After going to Target, where they were already sold out, I realized I needed to make my own. DIY Valentine's Day wreaths can be so much fun to make. There are also a lot of easy ones out there you can make even if you aren't very crafty.
Wreaths also make fun projects for kids to do during the colder winter months. Since Valentine's Day is in February, part of the coldest times during the year, creating a fun Valentine's Day wreath can be a fun indoor project for kids.
Easy DIY Valentine's Day Wreaths
If you are looking for some fun Valentine's Day wreath projects that will help create a warm welcome into your home, these are some cute and easy wreath projects anyone can do. They're easy, only take a few supplies, and something the kids will enjoy helping with.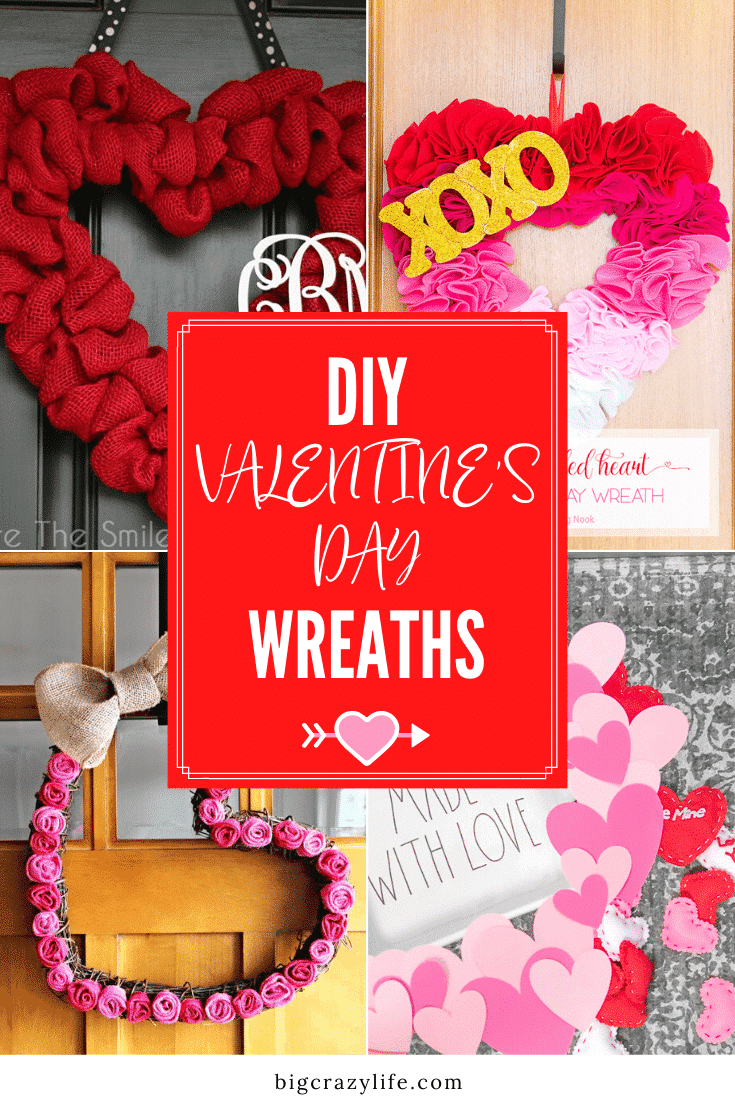 This burlap heart wreath is a great way to add some love and red flair to your home. The wreath is easy to make, and you can add a monogram to represent the family name or is perfect for couples alone.
If you're looking to be able to change up your wreath at times, this dual-sided door hanger is heart-shaped and has two different sides so you can change it up when you're wanting a new view.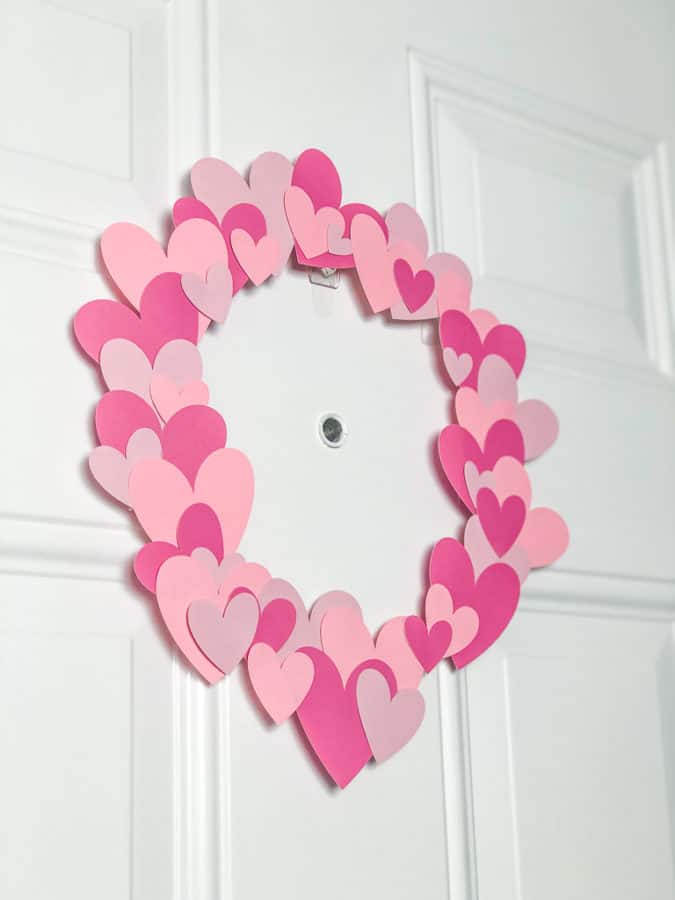 DIY Paper Heart Valentine's Day Wreath
Using a few pieces of scrapbook paper and an embroidery hoop can help you create a fun Valentine's Day wreath to place on your door. This is a super simple craft that anyone can do.
Loop Yarn Valentine's Day Wreath
This is another easy wreath to make that only takes a few supplies. The wreath is created with a heart-shaped door wreath and your favorite color of loop yarn.
Plastic Valentine's Day Hearts
These plastic Valentine's Day hearts can easily be turned into a fun and simple wreath that hands beautifully on the door.
Burlap Rosette Valentine's Day Wreath
Usually, around Valentine's Day, you can find those fun heart-shaped wreaths at your local craft store. This heart wreath use fabric to create the rose looking aspect and a burlap bow is placed for some extra pop.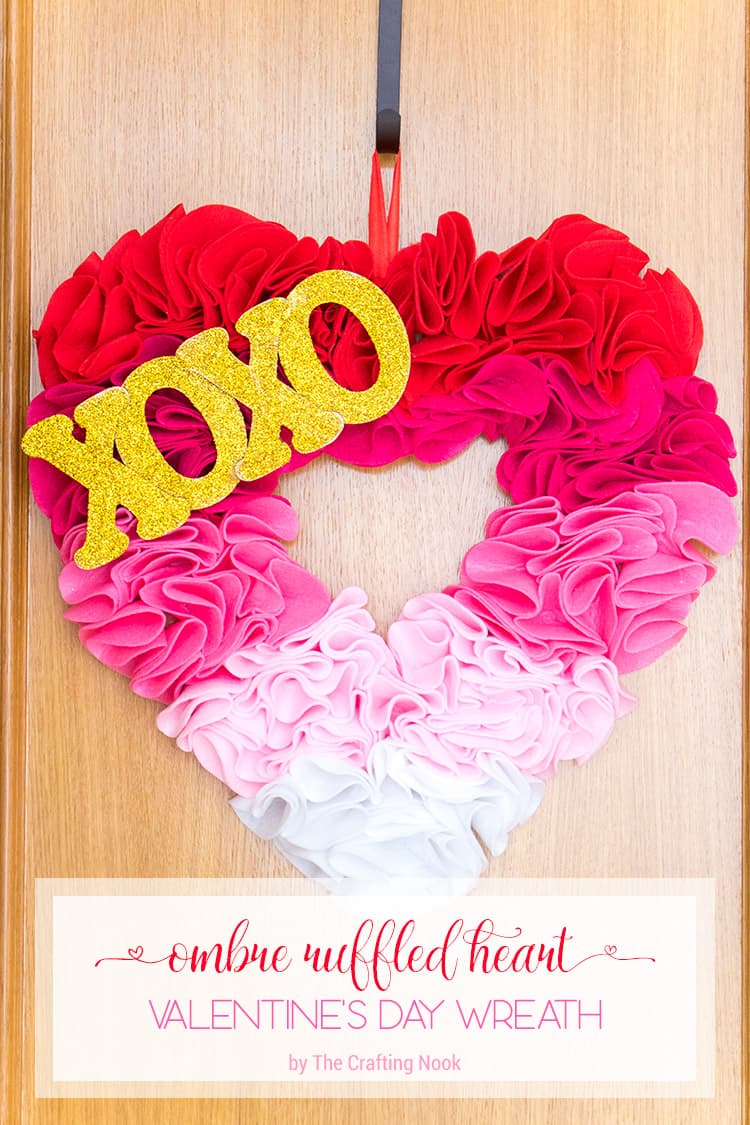 If you're looking for a fun and colorful wreath project, this ruffled heart wreath is a colorful way to go. Created with cardboard, felt paper, and a few other small supplies, you can create a wreath that's fun and colorful.
Red and White Heart Valentine's Day Wreath
This is another fun wreath with bold red colors for Valentine's Day. If you're not wanting such a bold red, you can easily use any color of fabric you want instead of the red.
This is such a cute craft for Valentine's Day. The heart includes buttons that are tied around the outside of the heart with a fun XO button design in the middle.
Double-Sided Fluffy Heart Wreath
This is another fun fluffy heart wreath that is all red in color and perfectly shows you how you can use any color to create this cute wreath.
From Thanksgiving to the New Year, it seems like we are really busy and tend to be more stressed than normal. Making a fun DIY Valentin's Day wreath is a great way to de-stress and feel the love. And if you're looking for a few more projects to do with the kids, don't forget the easy treats for both young and old.