I can't believe how fast this school year went by. We completed our last Daisy Scout meeting a couple weeks ago and had been eagerly awaiting our Girl Scout Bridging Ceremony. The girls were thrilled to finally be bridging to Brownies. I wanted the ceremony to be short and sweet, but full of meaning for the girls.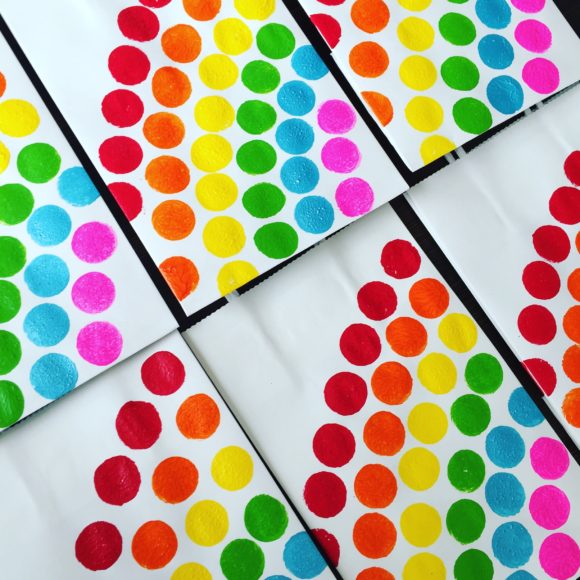 DIY Decorations
I scoured the internets and couldn't really find what I was looking for as a party theme. I was surprised at how few ideas there were on Pinterest and wanted to share what I did. In the end, I kept it simple with rainbow colors which was a terrific idea. It allows you to incorporate all the colors of a Girl Scout in general.  The few ideas I did find on Pinterest, I put my own spin on, tailoring it for our girls.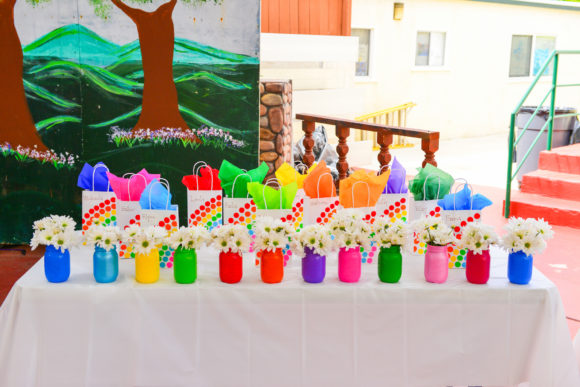 The best thing about it? Everything was DIY and cost-efficient. I spent very little on the decorations, but you'd never know. We painted Mason jars the color of the daisy petals, then filled the jars with daisy flowers. Each girl got to take one home and they really made the table pop with color.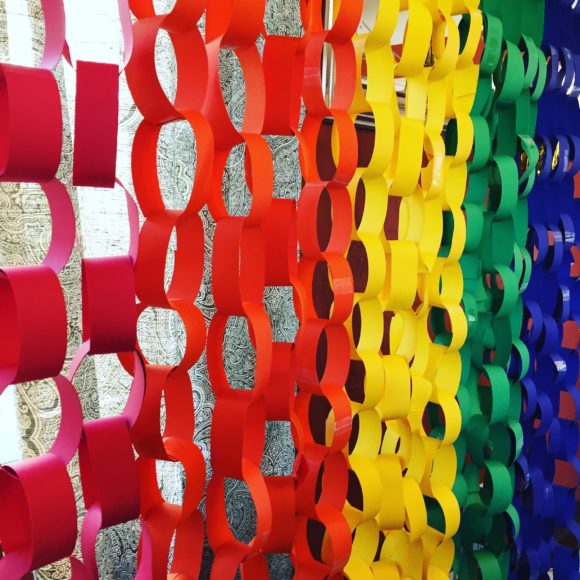 For a backdrop, we made a rainbow paper chain. We incorporated the backdrop into one of our petal projects and the girls were able to help make the chain themselves. When they saw it as a backdrop, they were so excited to see their work on display. We hung the paper change on PVC pipe but you can easily use a clothes hanging wrack.
We had a small bridge the girls actually walked across as I said the following poem…
Come over to Brownies! There's lots to be done – With badges and camping, We'll have lots of fun! We'll go on a Journey, We'll help people out, Cross over the bridge – Be a Brownie Girl Scout.
We had the help of our Junior group too. They were waiting on the other side of the bridge to give each Daisy her new Brownie vest. There were big smiles all around and we loved having the older girls help us out.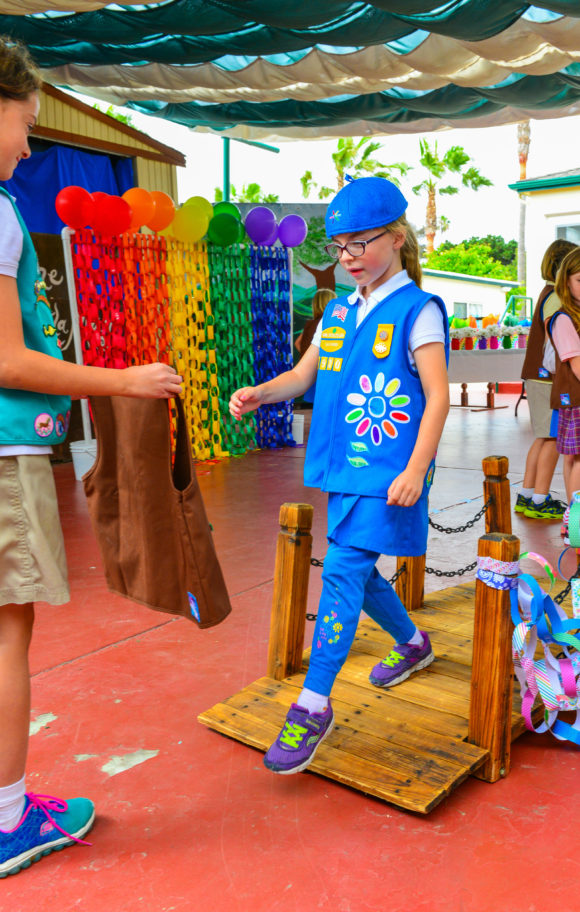 Colorful foods and the cake …
We made rainbow color fruit and veggie trays for a quick snack before we cut into the cake. The cake was created to represent our time as a Daisy Scout and moving on to Brownies. The rainbow sprinkle cake was fun way to tie in the rainbow theme and the brownies were cut out as daisy flowers on the sides. If you've never made a cake, this is the one to start with. You can not go wrong with a sprinkle cake!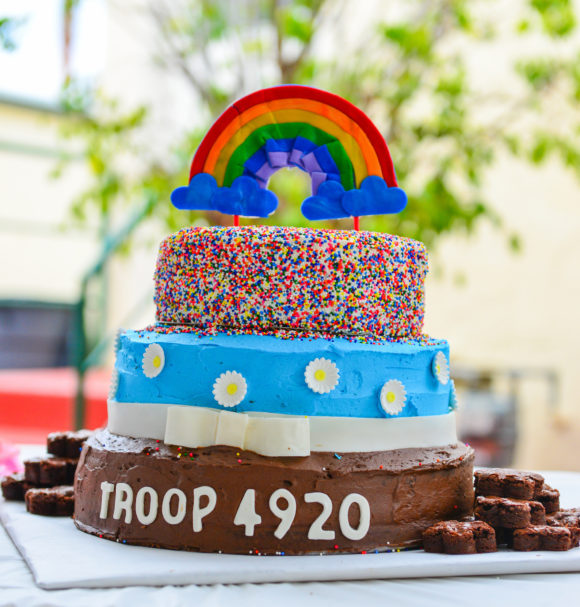 What a year! The girls are beyond thrilled to be moving on to Brownies. I can't wait to take on another year of Girl Scouts and see how each girl will change as we move forward.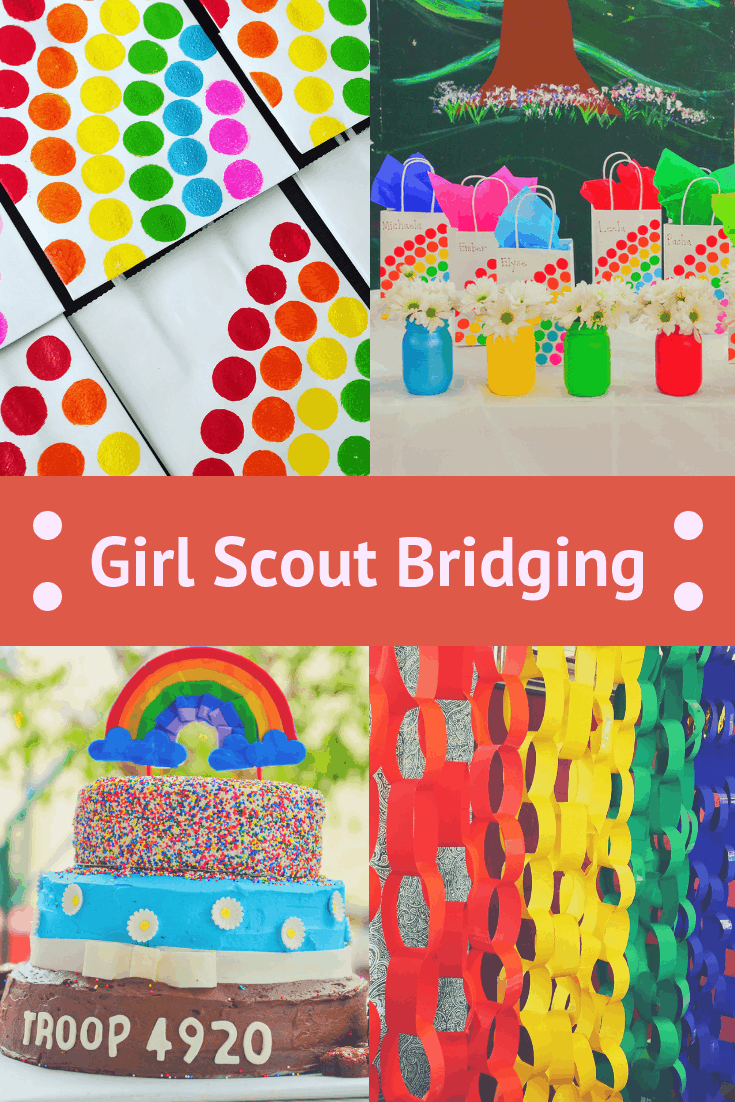 A huge thank you to Michael Villa for taking such amazing photos, we're so lucky to have you with us!