A year and a half old already
Our little girl is 18 months old today. Can you believe that? It's been a while since we've updated this site. Seems like it's getting more and more difficult to keep up with everything. Just when we felt like we were catching up, the holidays blew through, and we fell behind. Christmas was so much […]
Our little girl is 18 months old today. Can you believe that? It's been a while since we've updated this site. Seems like it's getting more and more difficult to keep up with everything. Just when we felt like we were catching up, the holidays blew through, and we fell behind.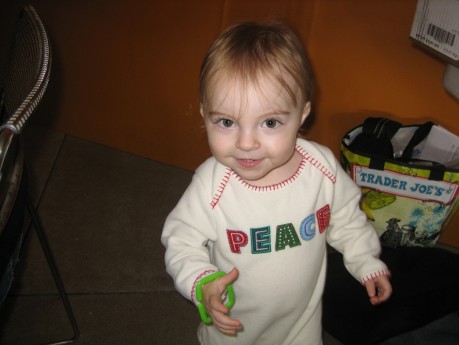 Christmas was so much fun this year. Emma loved opening and tearing the paper off the few gifts she received. Santa brought Emma a new retro pink kitchen. She loves making the kitchen part of her daily routine. She spends hours each day cooking up who knows what, but it sure is good! Ask her for a treat, and she'll bake you a fresh cookie each time.
We've been fortunate to see lots of family over the past month and a half. Grandma Bowman visited from Ohio over Christmas. Soon after Christmas, Emma's Nana and Papa Bowman visited from Florida. Both times, we went to the Bay Area Discovery Museum, one of Emma's favorite places to play. By far the best place to take little ones under 40 inches! Emma loves it there.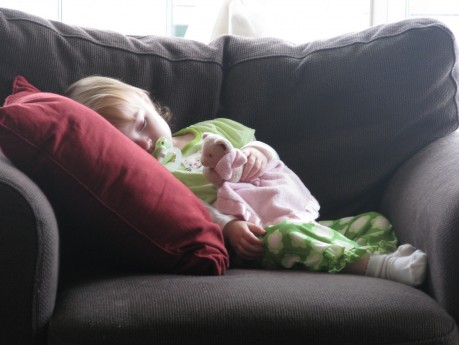 The weather in San Francisco hasn't been great lately. Lots of rainy days which match the many sick days both Doug and Emma have had lately. Poor Emma had it rough most of January. She had Roseola for a week, then she was better for a week, then sick again. Doug thinks Emma got him sick, I'm thinking he got her sick. To top off the sickness, Emma's molars have been coming in. Four new teeth are coming in as we speak.
We recently bought Emma her first baby doll, which was a huge hit. She carries it wherever she goes, gives it hugs and kisses, and pushes it around and around the house in a tiny stroller. This doll is the first toy over which Emma shows a little bit of possessiveness. This is a good thing considering she usually gives away her toys to other children, and rarely keeps them long enough to play with them herself. We love he giving nature – but a girl's gotta have some things she keeps for herself.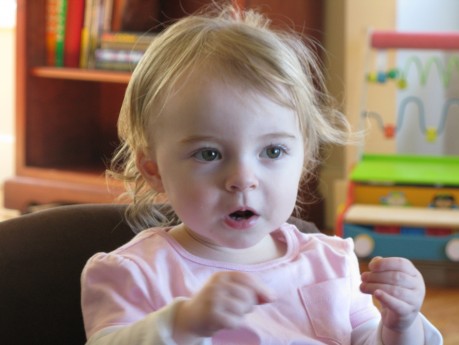 We've had several play dates with her friends Charlotte and Tessa. Emma really misses her friends down the peninsula, but we're finally getting involved with some of the children around our neighborhood. We have a big playgroup a block away from our house on Tuesdays. Then one here at our house with about 4 other children on Wednesdays. Makes for busy weeks, and gives us something to fill our days until Doug gets home from work each day.
Emma has come a long way in the last two months. She is signing like crazy. She really wants to communicate, but she isn't speaking much yet. She's very quiet and shy around new people, not surprising if you know Doug's quieter personality. But you should hear Emma's laugh – it's the best sound in the world. She loves to be tickled by the "tickle monster" and will gladly let you chase her around the house. Hide and seek is becoming a regular activity around here too. As for her relationship with Jackson (our dog), it's much of the same. She now puts his ear in her mouth. In return, he puts his tongue in hers. Yuck! We don't encourage this, but this is how they choose to grow as friends.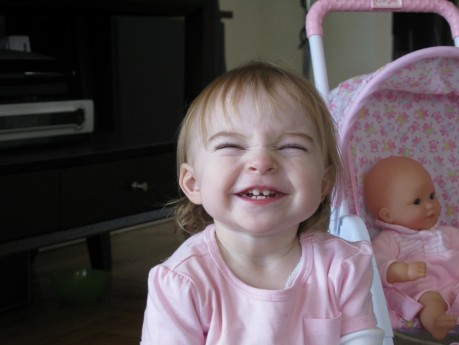 Now that we are finally settled in, we really love our new home. The location couldn't be better. We have a park a block away, play groups for Emma, and friendly neighbors. As an added bonus, we can walk less than a half mile to coffee anytime we want. Definitely an improved situation compared with when we first moved back to San Francisco. We'll take it.
Happy 18-month birthday, Emma. We love you very much!