25 of the cutest Christmas pajamas for kids
Every year on Christmas Eve, it's no surprise to my kids, they get a new pair of pajamas. Here are 25 of the cutest Christmas pajamas for kids on Amazon.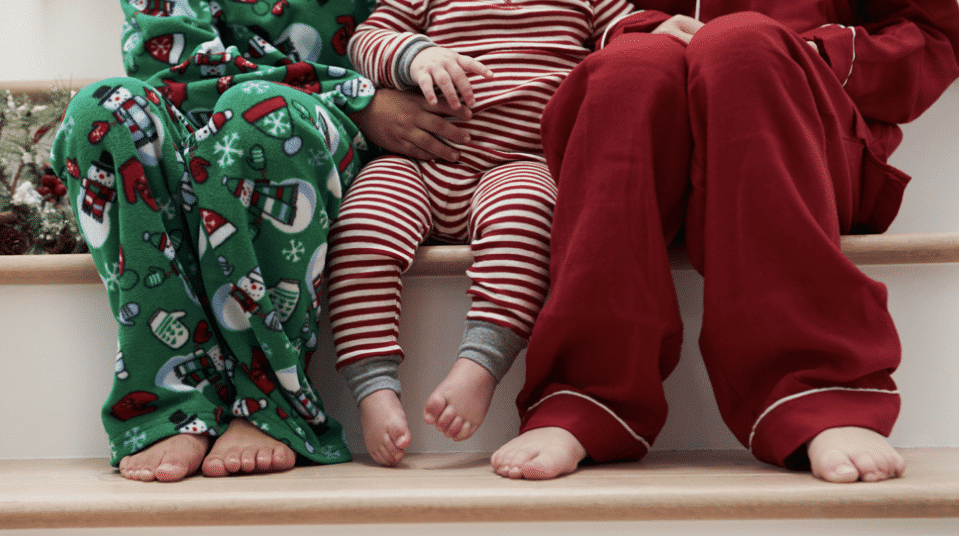 Disclosure: This post contains affiliate links, from which we will make a small commission if you click thru and complete a purchase.
Growing up, we always got to open one present under the tree on Christmas Eve. However, my mother got to pick which one it was. After years and years of this practice, we all finally caught on that we'd be opening pajamas. My mom wanted us to look our best on Christmas morning, which meant new PJs. The tradition has kept on in our house and every year on Christmas Eve, it's no surprise to my kids, they get a new pair of pajamas. Here are 25 of the cutest Christmas pajamas for kids and families on Amazon.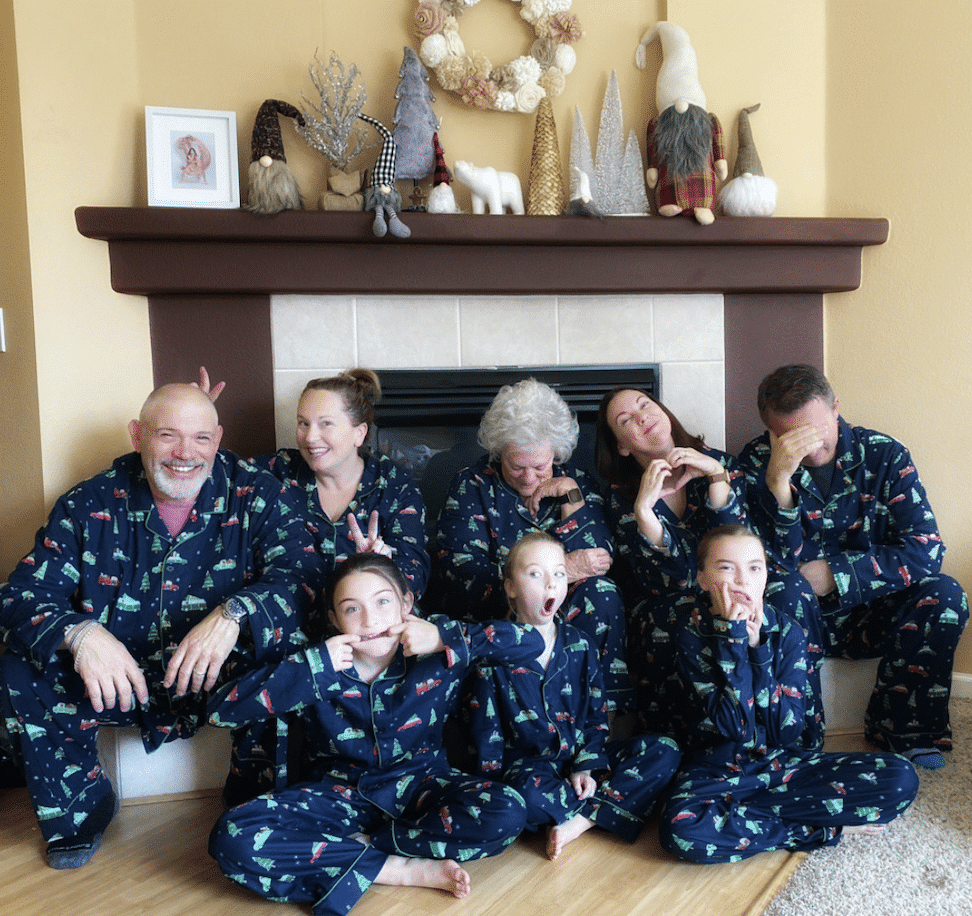 This is Half Crazy Mama with us on Thanksgiving last year. She's my best friend, business partner, and an all-around good person. Our families are just that, we're family. So it only made sense that we spend the holidays together. Not really knowing what this year holds, I appreciate this moment so much more.
With that being said, go get your matching pajamas because they made all of us laugh.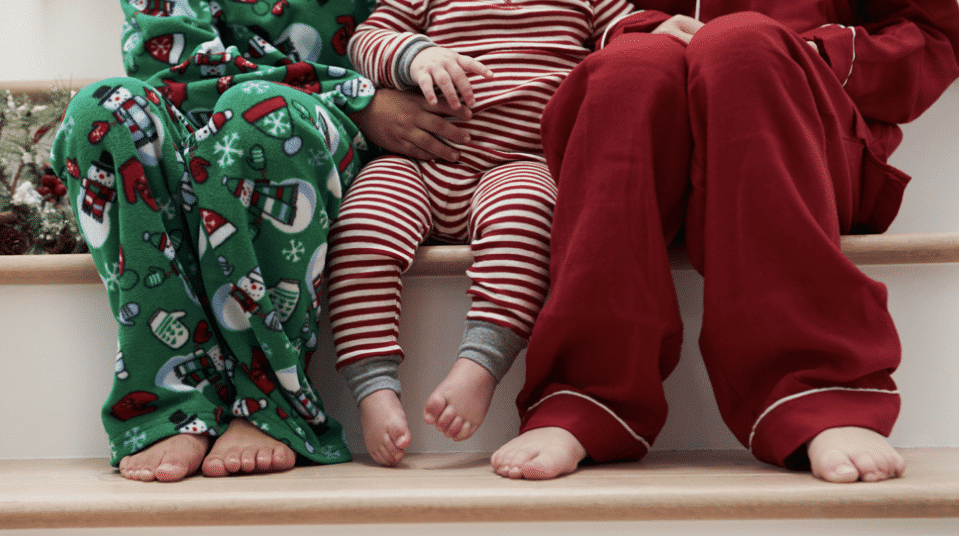 25 cute Christmas pajamas for kids
1. Reindeer Two-Piece Pajama Set
This adorable red reindeer two-piece pajama set comes in a wide range of sizes from 18-months to 14-years.
2. Big Boys' Flannel Classic Plaid Pajamas
Big kid pajamas for boys size 6-14. Classic plaid bottom with a solid long sleeve top.
3. Boys Santa's Helper Red Stripe Pajama Set
Carter's 3-piece Santa's Helper boys pajama set comes with two shirts and one matching pant. Size range 6-months to 8-years.
4. Girls Santa's Helper Red Stripe Pajama Set
Carter's 3-piece Santa's Helper girls pajama set, similar to the boys but in pink. Size range 6-months to 8-years.
5. Big Girl Christmas Lights Pajama Set
These big girl jammies are a beautiful winter blue with large Christmas light strings and can be ordered for sizes 6 to 14.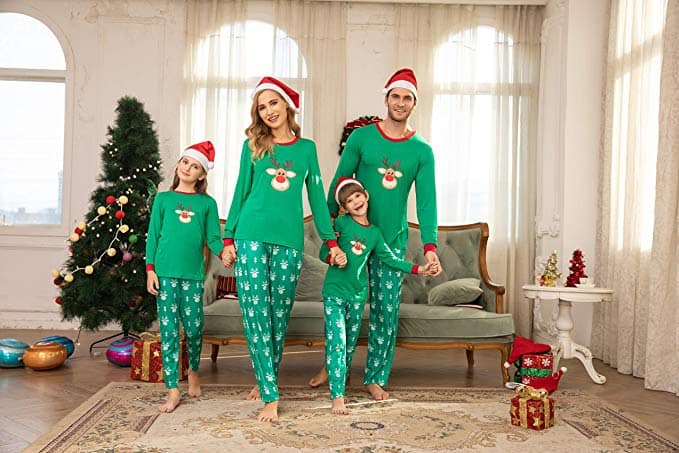 6. Green With Elk Head Set
Fun and festive two-piece pajama sets feature a contrast crew neckline, contrast ribbed knit cuffs, and scoop neck pajama shirt with a classic print of iconic characters. Comes is a set for the whole family.
7. Girls Pink Christmas Pajama Set
This girls Christmas pajama set couldn't be any cuter featuring Mrs. Claus on the front. Size range 12-months to 4-toddler.
8. Grey Truck Pajama Set for Boys
Vintage red Christmas truck pajamas for boys in sizes 2T to 12Y.
9. Paw Patrol Little Boys Christmas Pajama Set
Your Paw Patrol loving toddler will adore these Christmas PJ's available in sizes 2T to 5T.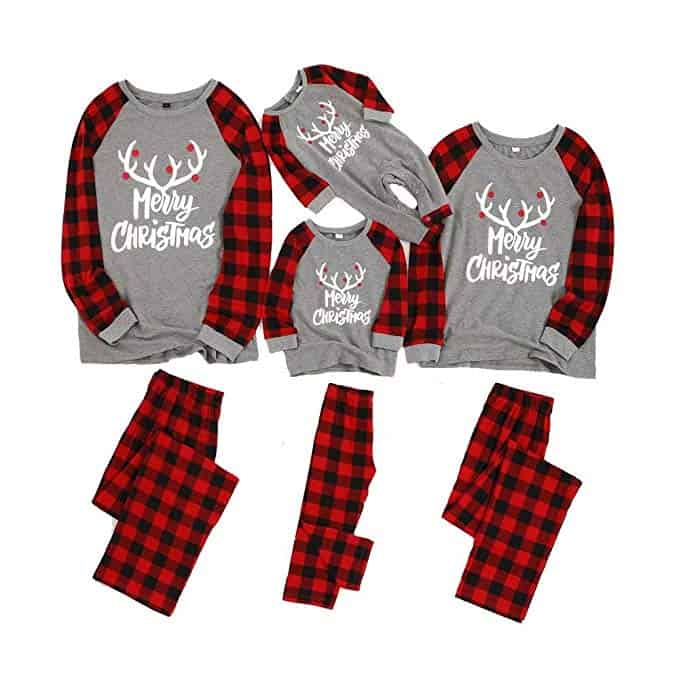 10. Merry Christmas Family Set
"Merry Christmas" printed in longsleeved tops and red plaid printed pants, make these Pj's perfect for Christmas festivities.
11. Nordic Fleece Onesie Hooded Pajamas
Grey snowflake fleece pajamas with zip-off footies and even a hood to keep little ones extra warm. Available in sizes for the whole family!
12. Girls Santa Sleepwear
This very girly Santa sleepwear set features flared sleeves and ruffled hemlines with Santa embroidered on the top. Sizes 2T/3T to 6/7.
13. Red Plaid Polar Bear Set
Super cute red plaid PJ set features a cool skiing polar bear. Size ranges from 5/6 to 10/12.
14. Boys Navy Blue Pajama Set
Boys Blue Christmas Bear pajama set in a wide range of sizes from 12-months to 16-years.
15. Minnie Mouse Girls Christmas Pajamas
Fleece pajama bottom with a soft jersey knit long sleeve top. Your big girl will love these Minnie Mouse pj's in sizes 6-14.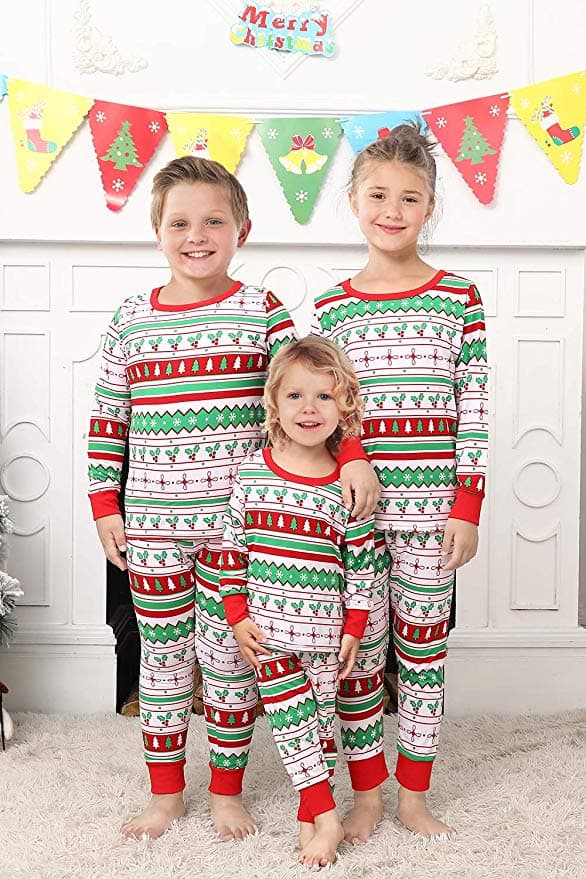 16. Girls' Plaid Nightgown
Traditional red plaid ruffled nightgown in sizes 7/8, 10/12, and 14/16.
17. Unicorn Christmas Sleepwear Set
Unicorn loving girls will be so comfortable in these soft fleece jammies. Comes in a wide range of sizes from 2-14.
18. Boys' 3-Pack Fleece Footed Pajamas
This Carter's 3-pack fleece footed pajama bodysuits features holiday animal prints and ankle-to-chin zippers for easy changes. Size 12-months to 5T.
19. Dinosaur Christmas Pajamas
Little boys will love these T-Rex Christmas pajamas. This 2-pack comes in sizes from 2T-8Y.
20. Kids Onesie Pajamas
Flapjack style buffalo plaid onesie pajamas are fun and super comfortable. Sizes are available for the whole family, perfect for that holiday card family picture!
21. Girls Fleece Gown
Red Mrs. Claus girls fleece pajama gown, available in sizes 2/3 to 8/10.
22. Santa Suit Boys Sleepwear Set
Grey snowflake boys pajamas with a Santa on front. Size range 18-months to 10-years.
23. Big Girls Fleece Plaid Pajama Set
Big girls button-up plaid Christmas pj's in sizes from 6-14.
24. Girls Elf Pajama Set
Adorable Christmas Elf girls pajama set, available in sizes 2T-12Y.
25. Santa's Little Helper Christmas Sleepwear
100% Cotton 2-piece pajama set with a very cute pastel holiday print, comes in sizes 2T to 10Y.