Emma 14 months old
Yep, we're skipping month 13. It's unlucky anyway right? Our girl is now 14 months old. I can't even begin to tell you all the changes that took place over the last two months. But I'll try to cover a few of them. Emma is finally walking. She walks and walks and walks, then walks […]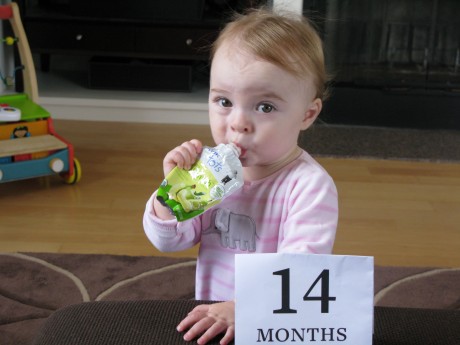 Yep, we're skipping month 13. It's unlucky anyway right? Our girl is now 14 months old. I can't even begin to tell you all the changes that took place over the last two months. But I'll try to cover a few of them.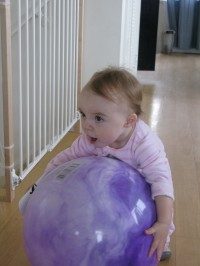 Emma is finally walking. She walks and walks and walks, then walks some more. Back and forth, round and round. When she gets really excited, she almost runs. It's so much fun watching her waddle around aimlessly. We ask her to bring us things and she does. Usually she'll fetch her socks or shoes that she took off and left laying on the floor somewhere. She loves carrying things around. She has a purple ball that's almost as big as she is, and she'll carry that ball around everywhere.
One of her latest discoveries is something we've been calling "giddyup." We're still wondering how she suddenly found this joy of riding on our backs or our laps as we bounce her up and down. Her love of giddyup confuses us sometimes though. Just when we think she's coming to one of us for a hug, she's actually looking for a lap or a back to climb on to get in a little giddyup!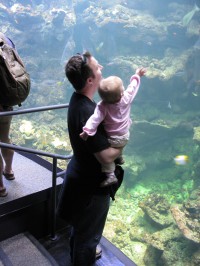 We've had some really fun times this month. Doug and I took her to the California Academy of Sciences (a museum in nearby Golden Gate Park) one weekend where she ooohed and aaahed over tons of fish in the aquarium downstairs. She also got to see her favorite animal so far (penguins!) swimming and diving right in front of her face. She also proudly demonstrated for Dad how she knows to climb down stairs by backing down them feet-first.
I've been trying to use the video camera as much as possible. I managed to catch a fun moment the other day. We now know that Emma can say our dog's nickname. Even though his true name is Jackson, we often call him Bubba. I asked Emma what the dog's name is and she turned to me and said "Buh Buh" clear as day. Judge for yourself:
Not only is Emma starting to say a few more words. She started signing too. We took two different sign language classes, but Doug and I haven't been the best with our followthrough. Out of the blue, she started doing the sign for "more" at dinner one night. Ever since that day it's more of everything. More blueberries, more cheese, more giddyup!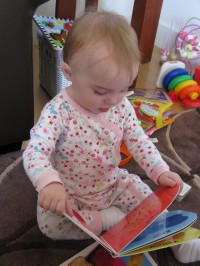 She also loves books. She has three or four favorites. Each afternoon when she wakes up from her nap we read several books together. But we always read them over and over again. Just when I'm able to put one book down, she picks it right back up, signing "more" for me to start over again. Her never-ending quest for more always makes me laugh.
We still haven't made many friends in the City yet. We've been going to both Gymboree Classes and My Gym once a week. I'm starting to see a few familiar faces, so hopefully we'll get to know some new friends at one of those. Emma and I also starting a new playgroup on Wednesdays, where there will be about 7 or 8 other kids the same age as Emma. We still go to our Monday play date down on the Peninsula with our friends there. We sure do miss them.
Even though we've been on a roller coaster the last couple months, with the move to San Francisco and getting our new home established, Emma has been our constant. She is amazing. We look forward to each new day with her. As she learns new things, we get to experience them with her all over again, seeing them through her eyes.