Christmas traditions: our Advent calendar
One of my favorite traditions with Em has been our Advent Calendar. I made it when she was just one and we've been using it for the last couple of years. December is here and so we begin another year of traditions. I love that she actually remembers her calendar. It's the first thing we […]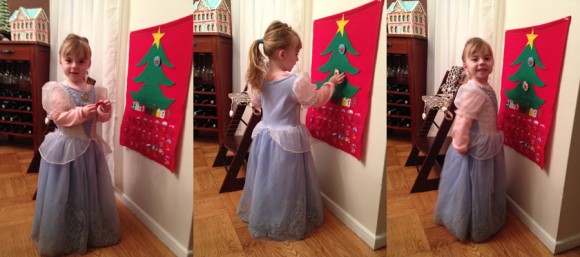 One of my favorite traditions with Em has been our Advent Calendar. I made it when she was just one and we've been using it for the last couple of years. December is here and so we begin another year of traditions.
I love that she actually remembers her calendar. It's the first thing we get to do together in the morning. Our calendar is a little boring without toys and candy. But I love it because I made it for her. It's made of cloth ornaments that are easy for her to grasp, plus they won't break or make a mess.
I'm sure this is going to change the older she gets. This is probably the last year we can get away without having some kind of chocolate or toy, but for the next 24 days I get to enjoy the excitement each morning brings for all of us.