A birthday interview with our 4-year-old
A few weeks ago Emma turned four years old. It's so bittersweet to see our girl getting older. Even though we pretty much know her likes and dislikes, I wanted to hear what she had to say about being four… What is your favorite color? Blue, definitely blue. (She wears pink and purple every day […]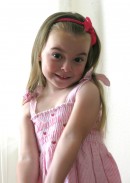 A few weeks ago Emma turned four years old. It's so bittersweet to see our girl getting older. Even though we pretty much know her likes and dislikes, I wanted to hear what she had to say about being four…
What is your favorite color?
Blue, definitely blue. (She wears pink and purple every day per her request)
What is your favorite thing to eat?
Mac n' Cheese! (No arguments there)
What is your favorite book?
Hot Dog (Step into reading, level 1)
Who do you like to play with?
Char-Char, Paloma, and Ruthie
What is your favorite TV show?
The Octonauts
What is your favorite movie?
Cinderella (This might have been her first Disney movie)
How tall are you?
Not tall enough for the Jellyfish ride! (Translation: under 40 in. 39 3/4 actually)
How much do you weigh?
32lbs
What is your favorite ride at Disneyland?
The Jellyfish ride!! (She has yet to ride Jumpin' Jellyfish.)
What are your favorite things to do?
Swimming, gymnastics, and SWINGING!
Five seems so much older than four. Next year will be a hard one to swallow. Emma will most likely have experienced the Jumpin' Jellyfish ride, and will be getting ready for kindergarten. Bring on the tissues for me!