Perfect pumpkin cheesecake
This time of year, I really like to be in the kitchen. I love to bake. Getting out my grandmother's recipes brings back wonderful memories of her. She taught me a lot of what I know. One of my favorite things to make is a combination of two of her recipes. But the combination happened […]
This time of year, I really like to be in the kitchen. I love to bake. Getting out my grandmother's recipes brings back wonderful memories of her. She taught me a lot of what I know. One of my favorite things to make is a combination of two of her recipes. But the combination happened by accident. I made her pumpkin cheesecake only to have the top crack in an ugly way. To cover it up, I used a topping she used on her Lemon Lush recipe. I now have the perfect pumpkin cheesecake!
The great thing about bringing these two recipes together into one, I no longer worry about whether my cheesecake cracks or not. I don't even think twice about it. It's going to get this amazing top coat that puts this recipe at the top of my holiday to-do list. I've labeled this the Perfect Pumpkin Cheesecake because it's easy to make, full of flavor, and a huge crowd pleaser. Enjoy!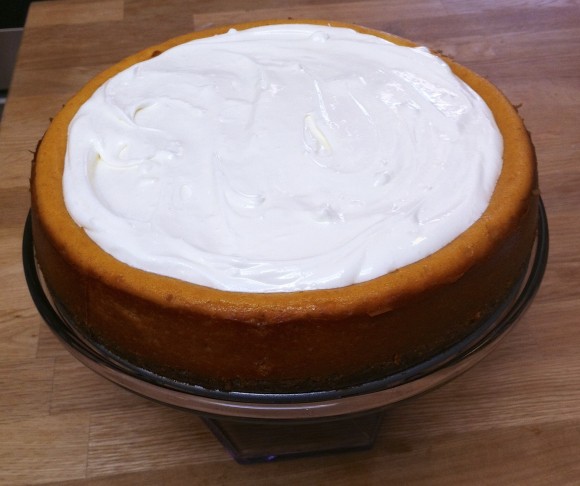 Preheat your oven to 350 degrees. First you'll make the crust, then the filling. You can make your own graham cracker crust, or buy one of those new box mixes. I've used the Keebler mix, it works just fine. Especially if you don't have the time for the real deal.
Crust
1 ¾ graham cracker crumbs
1 stick of melted butter
3 tablespoons of light brown sugar
¼ teaspoon ground cinnamon
Pie filling
3 packages of cream cheese (8 oz packages)
1 can of pureed pumpkin (15 oz can)
3 eggs
¼ cup sour cream
½ teaspoon ground cinnamon
¼ teaspoon nutmeg
1 ½ cups sugar
1 tablespoon flour
1 teaspoon pure vanilla extract
Topping
1 ½ cups powder sugar
1 cup cool whip
1 package of cream cheese (8 oz)
For the crust, combine the crumbs, brown sugar, and cinnamon. Mix well, add the melted butter. Using a 9 inch springform pie pan, press the mixture down flat into the bottom. This recipe will only cover the bottom of the pan. If you want a crust on the outside, double your batch of graham mixture.
Once your pan is ready, make the filling. Using the paddle attachment on your stand mixer, beat the cream cheese. Make sure it is room temperature before you start to mix it. Once smooth, add the pumpkin, eggs, sour cream, spices, and sugar. After it's mixed, add the flour and vanilla. Beat together until completely combined.
Pour the mixture into the crust. Make sure the mixture is spread out evenly in the pie pan. Bake for 1 hour 15 minutes. Remove the pie from the oven and let it sit for a few minutes. I let it sit just until the pan has cooled. Cover the pan with clear plastic wrap and refrigerate for at least 4 hours.
When you are ready to serve, mix the topping ingredients. Remove the springform pan and spread over the top of the cheesecake.
Perfection.