Should I buy a Disneyland annual pass?
Whether you should buy a Disneyland Annual Pass or not comes down to some basic math, and how often you think you might head to the parks.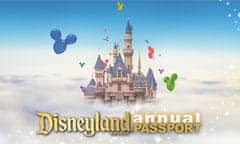 We live in Northern California, about a 6 hour drive to Disneyland. For us, it was an easy choice to buy annual passes to Disneyland. After two trips, our passes were paid for. You might be wondering if annual passes are right for you, and if you would save in the long run.
If you know you will be in Southern California, ask yourself if a trip to Disneyland is a possibility. How many trips will it take for you to pay for your annual passes? If the cost will be more for individual trips, consider the annual pass option.
There are also the discounts that go along with your passes. Your annual pass will get you discounts on hotels, tours, food, and merchandise. The discount range is typically 10%-20% depending on which pass you choose.
We've been buying annual passes for the last two years now. It didn't take us long to recover the up-front costs involved with the passes. It was worth it for our family of four since we end up going at least three times each year. Once Emma, our oldest daughter, is in kindergarten, we may reconsider the annual pass cost, because we may not get to go as often.
Annual passes range from $269-$849. For now, children under 3 years of age are free, and there is a discounted price for children ages 3-9. Because Emma was free until she turned 3, we felt like we were really getting the best value for our visit.
For more information about annual passes and to see which pass is right for you, visit Disney.