Disney Rider Switch Service
Rider Switch Passes give families the ability to enjoy most rides when traveling with kids who may not want to ride or don't meet the hight requirements.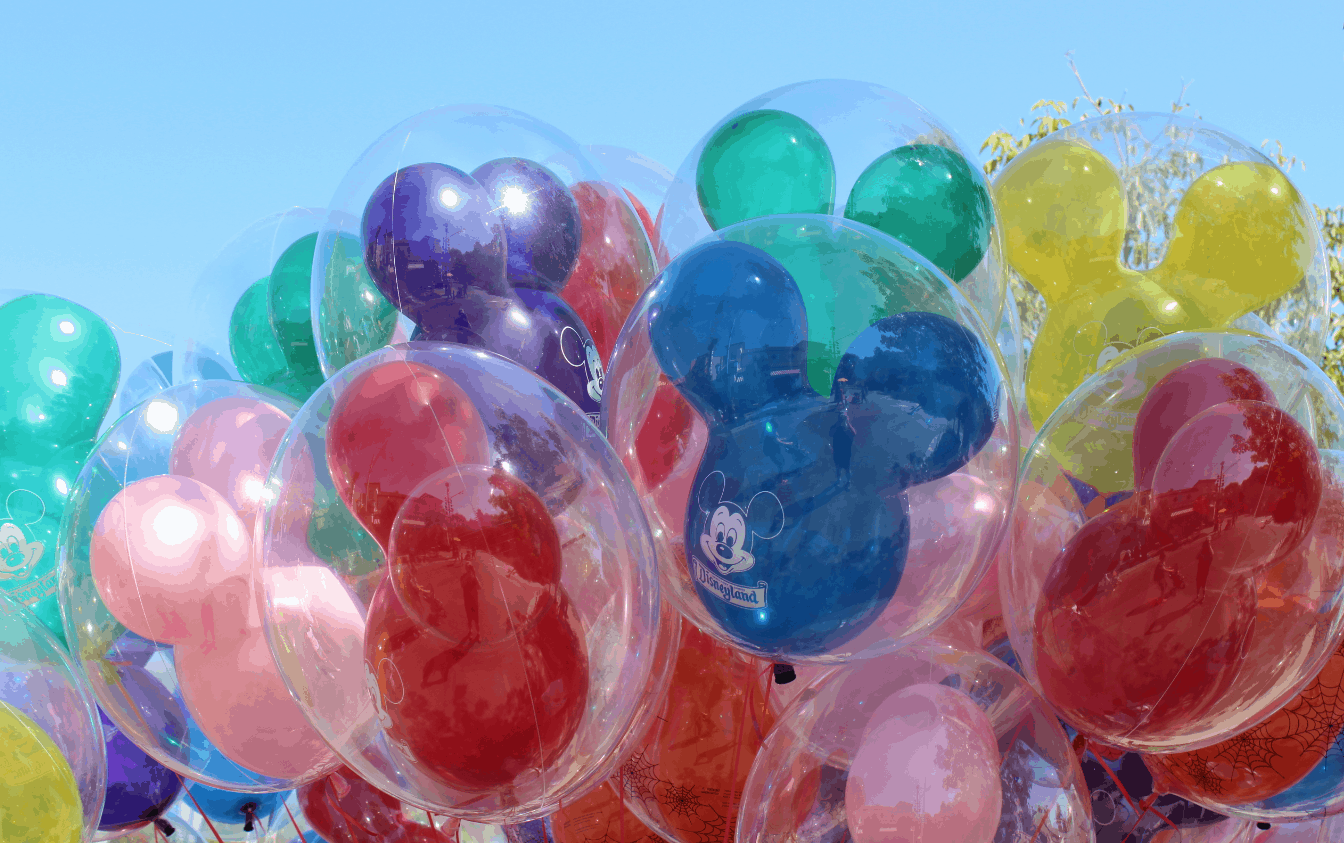 This is a great tip for families going to Disneyland or Walt Disney World. The Rider-Switch Service is one of the best-kept secrets around. Once you figure out how it works, it's great. One of the hardest part of traveling with young kids where one of them might be too short to ride certain rides, one parent often gets left out. The "rider switch" pass lets each parent enjoy the attraction with the child who is tall enough, while one stays behind with a child who can't ride. All without doubling your wait time.
When someone doesn't qualify…
We're a family of four, but our youngest is just a year old. Some rides, I don't care to ride and am happy hanging out with Addie. However, there are many rides that I want to ride too. It wasn't until we all waited in line for an attraction when we realized it wasn't appropriate for Addie. As we made our way to the exit, a Cast Member gave us a "Rider Switch Pass" and explained how it works.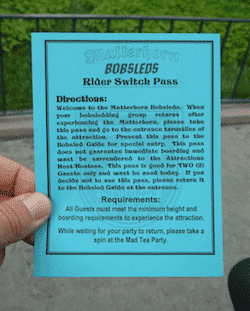 Photo credit: Cory Doctorow
Find a Cast Member once you get to the front of the line. Tell them you'd like to get a Rider or Child Switch Pass, so that one parent can ride, while the other parent waits behind with the child who can't ride. When the first parent and child are done riding the ride, the second parent who was watching the child get's to ride without waiting in line again.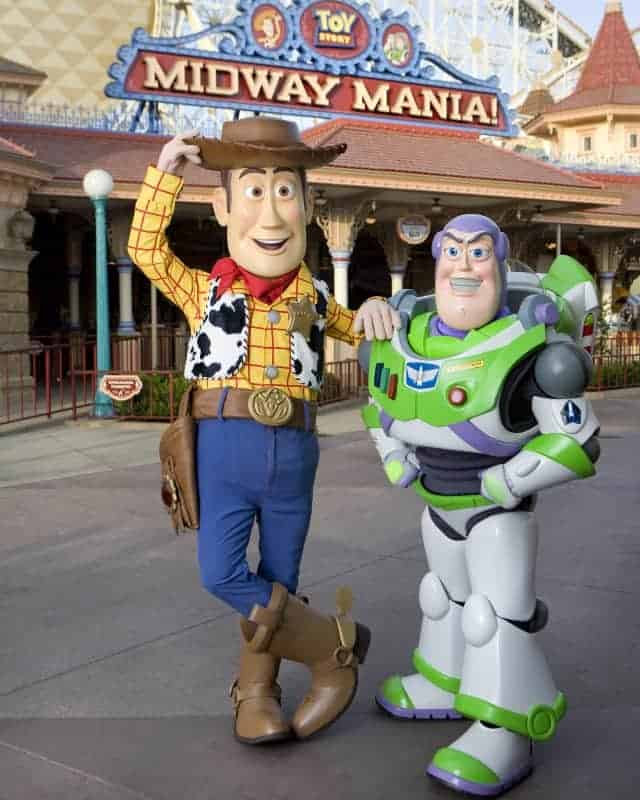 Here are the directions from our Toy Story Midway Mania Ride:
"Welcome to Toy Story Midway Mania. When your party returns after experiencing the wacky midway games, please take this pass and go to the left of the entrance of the attraction queue, through the by-pass gate. Present this pass to the Attractions Host/Hostess for special entry. This pass does not guarantee immediate boarding and must be surrendered to the Attractions Host/Hostess. This pass is good for TWO (2) guests and must be used today. If you decide not use this pass, please return it to the Host/Hostess."
Directions for Indiana Jones Child Switch Passport:
"One or two guardians wait outside with the child that does not meet the 46″ height requirement. The rest of your party waits in line. After the first group rides, they watch the children. The Guardian(s) then proceed up the exit to the load dock and rides using this pass. This pass is only good on the day it is received. While waiting you may wish to visit Tarzan's Tree House or the Jungle Cruise."
Directions for Incedicoaster:
" When your party returns after riding the attraction, take this pass to the FASTPASS return area for special entry. This pass is good for two people. If you decide not to use this pass, please return it to the Host or Hostess at the entrance. All passengers must meet the minimum height requirement of 48″. Young children must be accompanied by an adult. While waiting for your party to return, why not enjoy a whimsical voyage with your favorite sea creature on King Triton's Carousel."
Rider Switch Pass Rides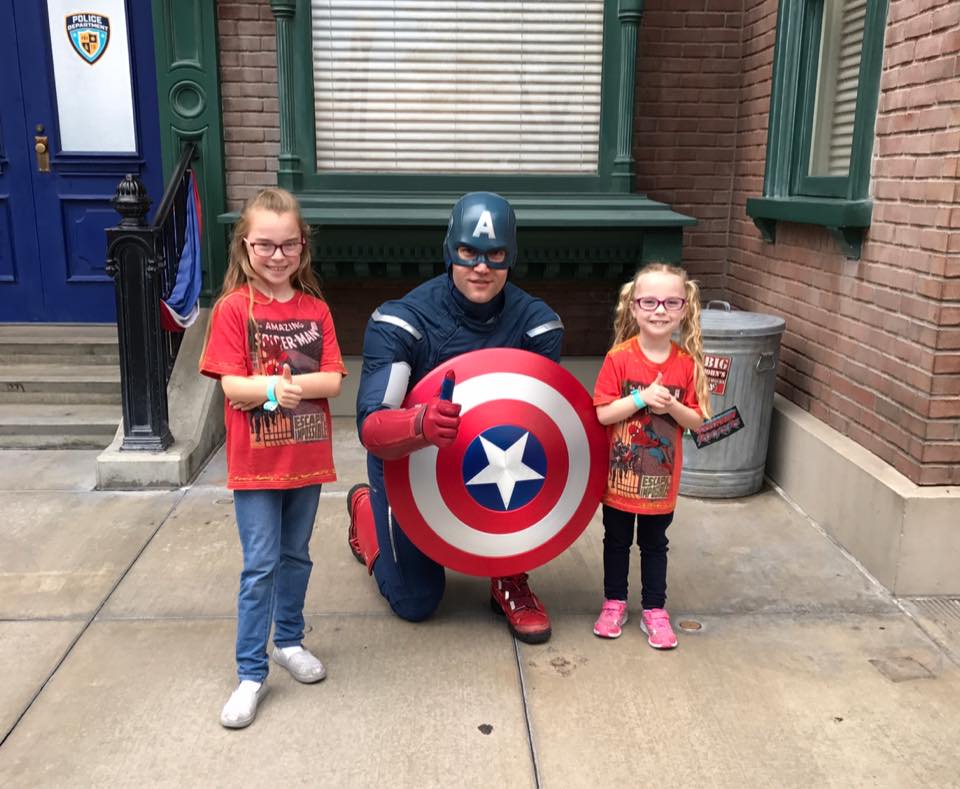 The Rider/Child Switch passes are only offered on larger attractions. Currently, the Rider Switch passes are good on the following rides at Disneyland:
Autopia
Big Thunder Mountain
Gadget's Go Coast
Goofy's Sky School
Grizzly River Run
Guardians of the Galaxy
Hyperspace Mountain
Incredicoaster
Indiana Jones Adventure
Jumpin' Jellyfish
Luigi's Rollickin' Roadsters
Mater's Junkyard Jamboree
Matterhorn Bobsleds
Millennium Falcon Smugglers Run
Radiator Springs Racers
Silly Symphony Swings
Soarin' Around the World
Splash Mountain
Star Tours
The Rider Switch pass is offered at both Disneyland and Walt Disney World. Take advantage of the fact that they can be used anytime on the day they are issued. We've taken advantage of the switch passes now for a while, I don't think we'd be able to enjoy ourselves as much without them. I love that you can use them anytime throughout the day. Just don't forget to use your pass if you've obtained one!