Taking your preschooler to Disneyland
We've been taking our girls to Disneyland since our oldest daughter was just 15 months old. Since then, we've been hitting the parks with both of our kids on a regular basis. Our oldest daughter is now eight years old, and our younger daughter is four. Our older daughter is fearless and will try anything. […]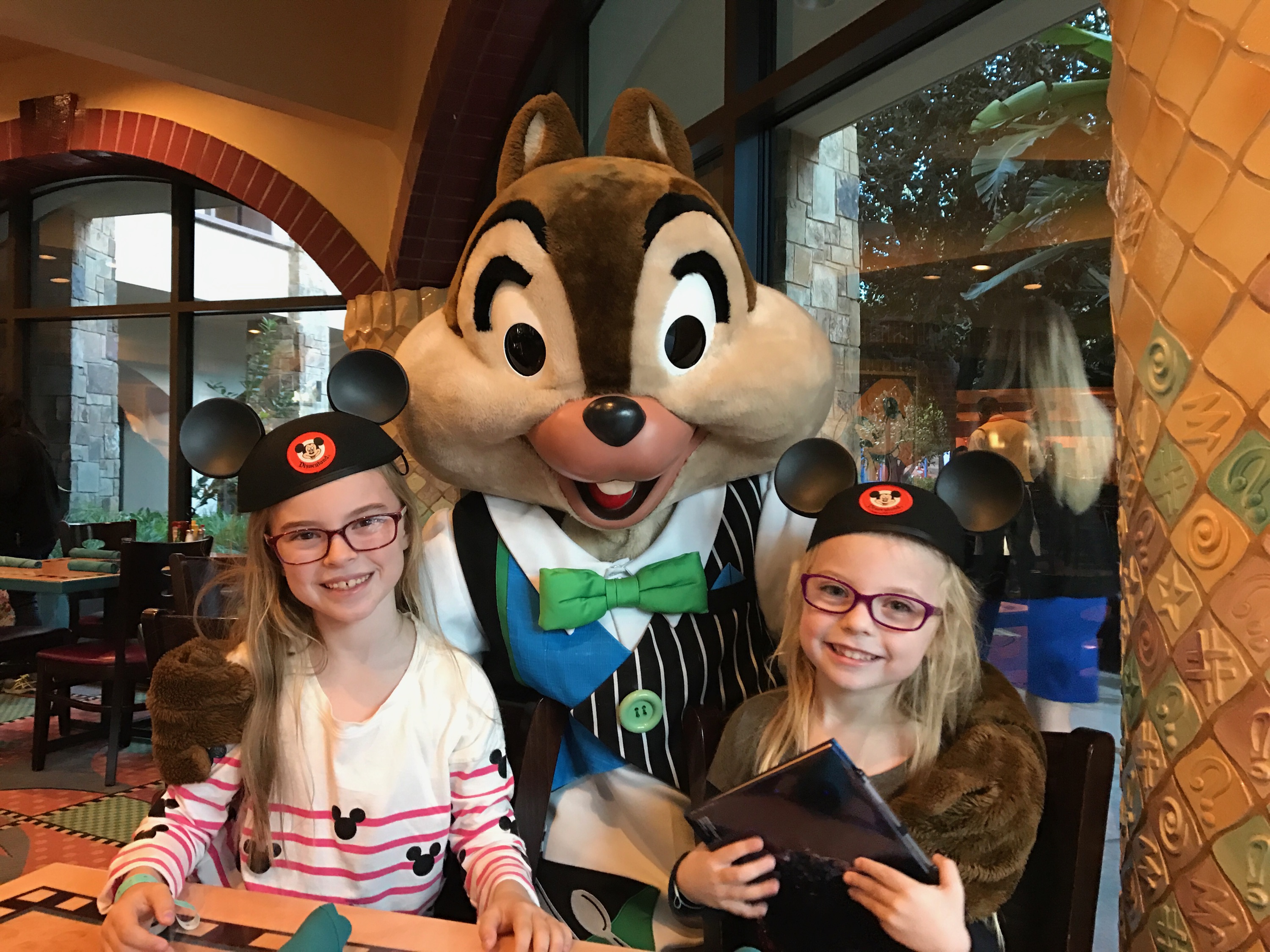 We've been taking our girls to Disneyland since our oldest daughter was just 15 months old. Since then, we've been hitting the parks with both of our kids on a regular basis. Our oldest daughter is now eight years old, and our younger daughter is four. Our older daughter is fearless and will try anything. Our younger daughter is much more cautious and timid. Regardless, taking them to Disneyland at early ages has been such an awesome thing for us, and given us really precious memories.
We've heard friends that think they must wait until their child gets older before taking them to Disneyland. But in our opinion and experience, taking your preschooler to Disneyland is a must. There's so much for them to see and do, and you can really get the best value at Disneyland when your kids are this young.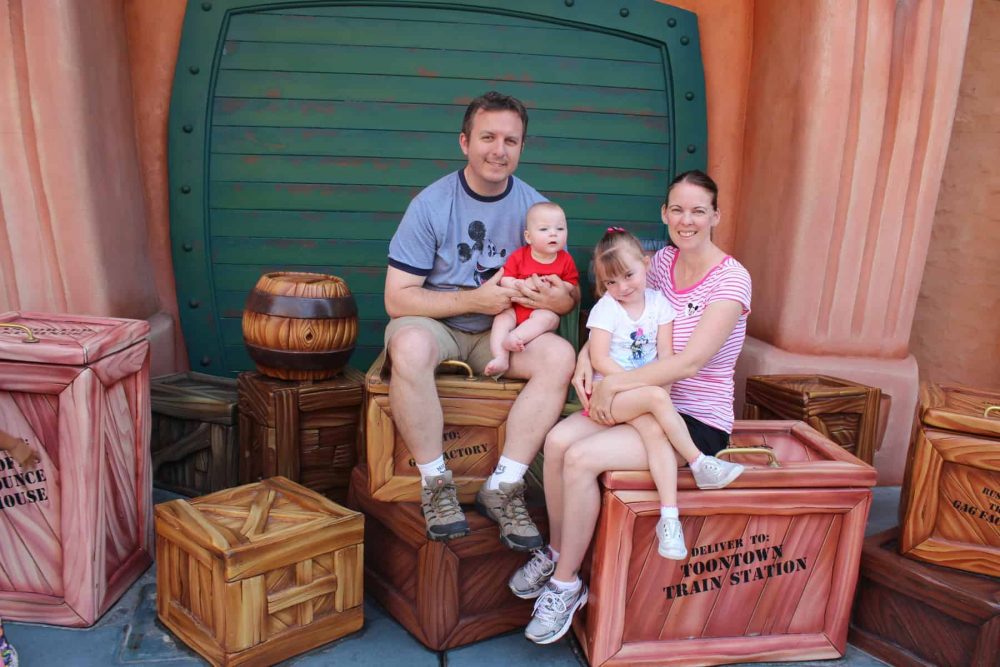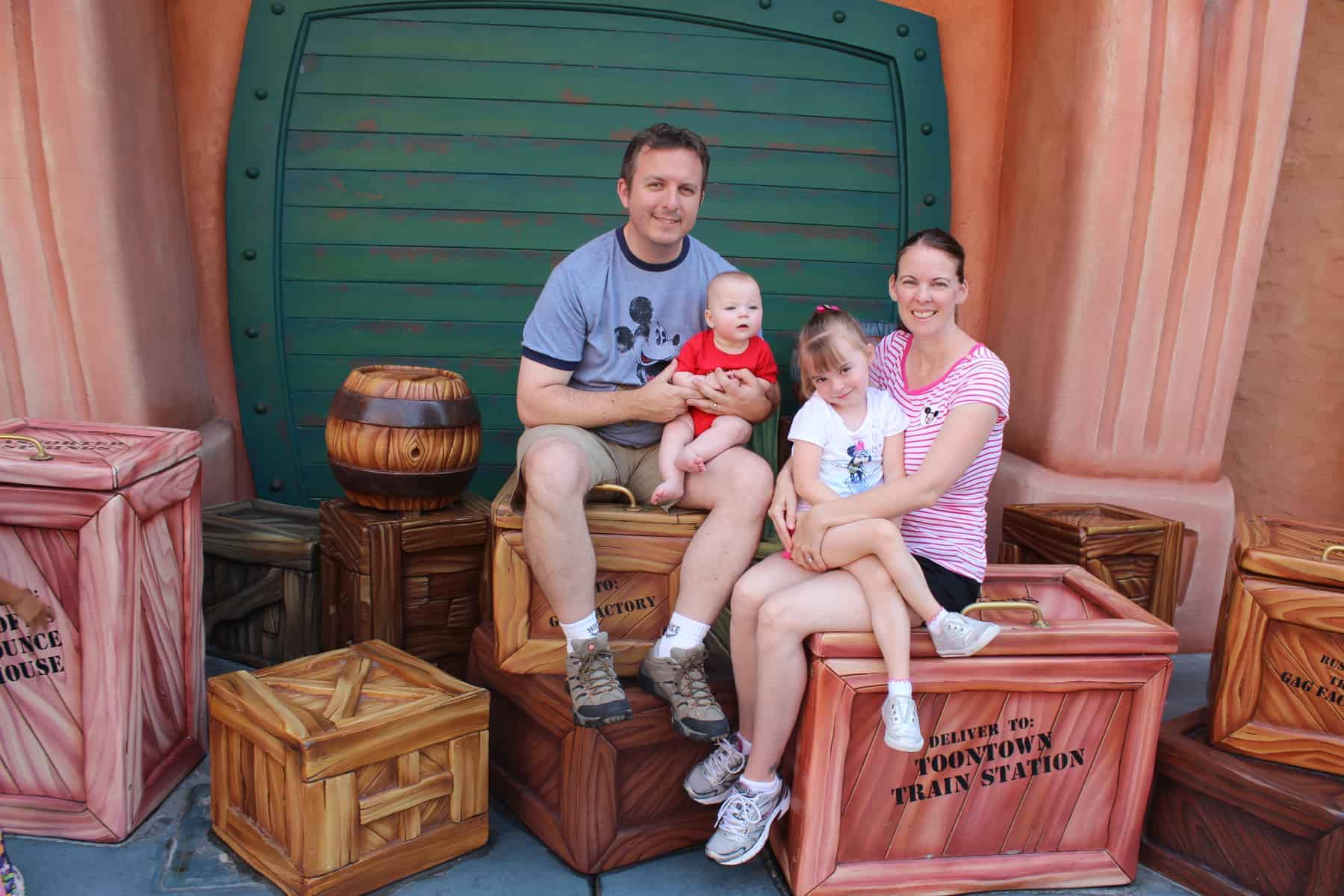 On a recent trip to Disneyland, we were reminded about all the things you can do with a preschool-aged child. From Character dining to the Hollywood Backlot, every corner of the park has something just for these curious kids.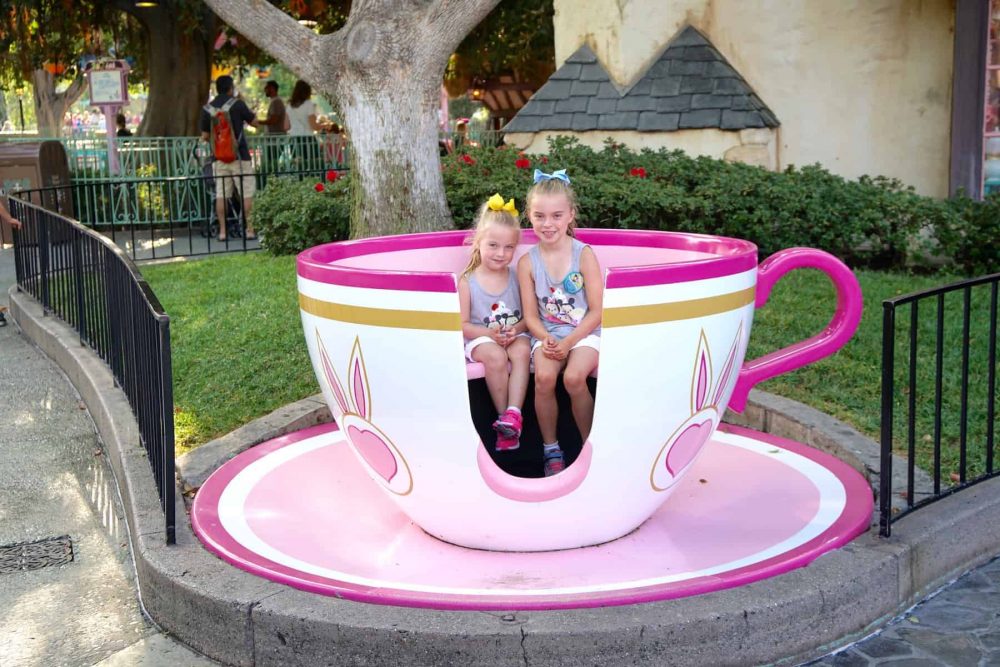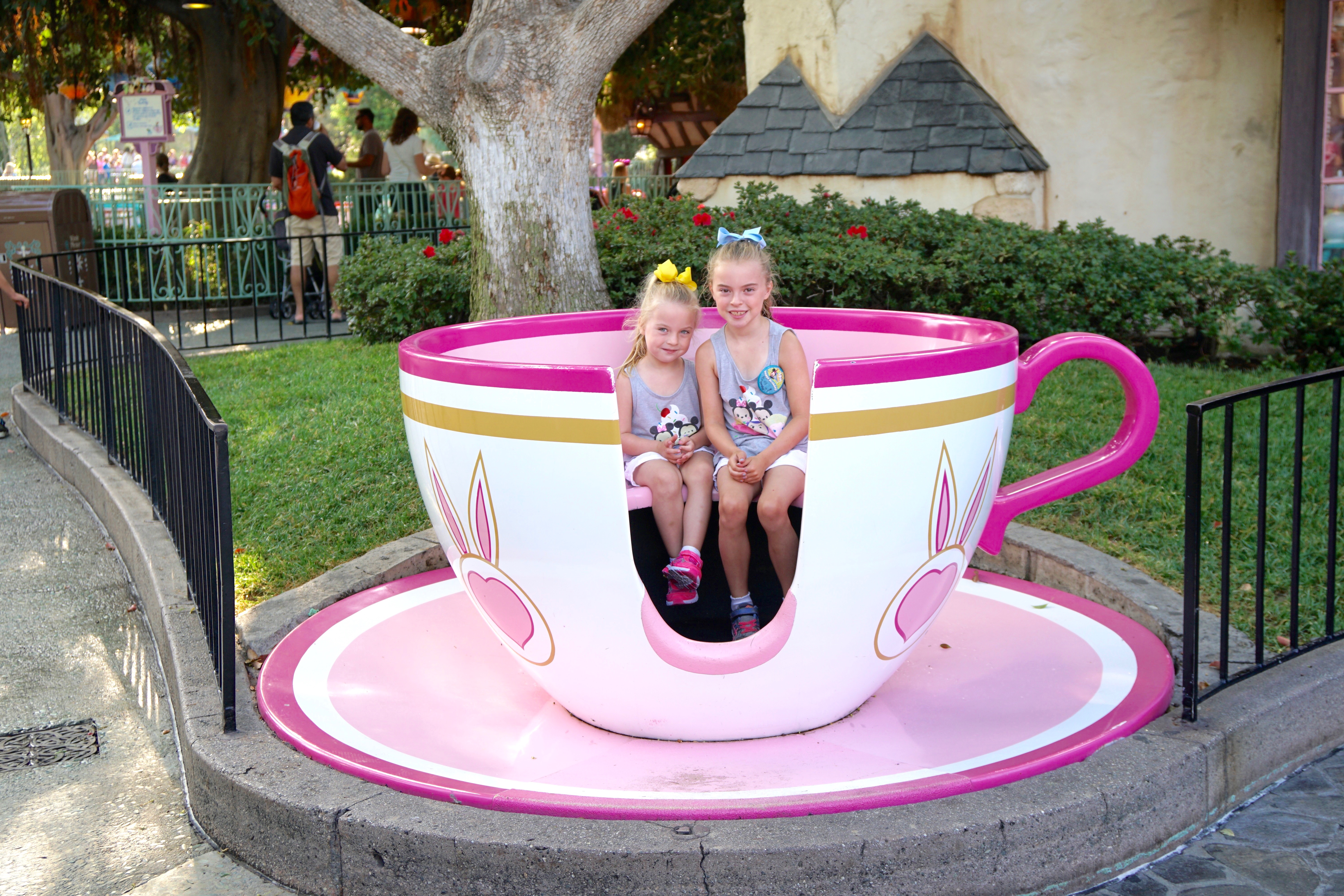 Addie, our youngest, hasn't had as many Disney experiences as her big sister. Their awe and wonder and shared interests are still plentiful enough that we haven't needed to split up as much as we thought. It wasn't until this trip that we realized how much they both still love seeing the Characters. And Emma, our eight-year-old, gets to experience the magic with us through the eyes of a four-year-old all over again. Regardless of their age difference, the magic that lit up their faces was still there. There was a moment when both Doug and I had tears in our eyes when we saw the legitimate joy in both of them.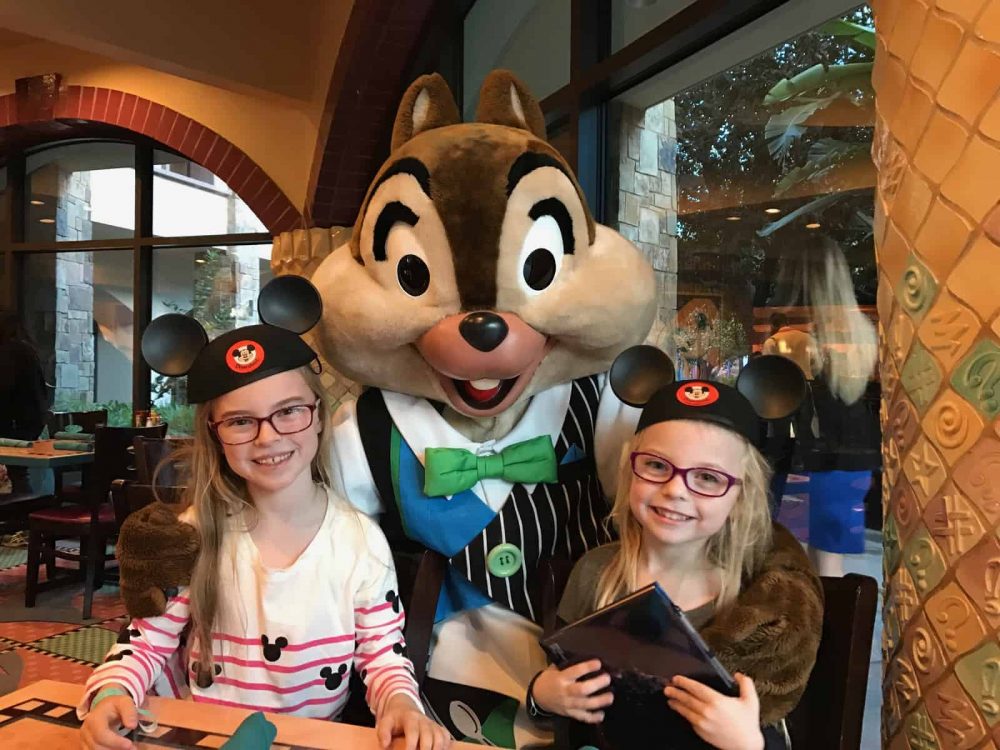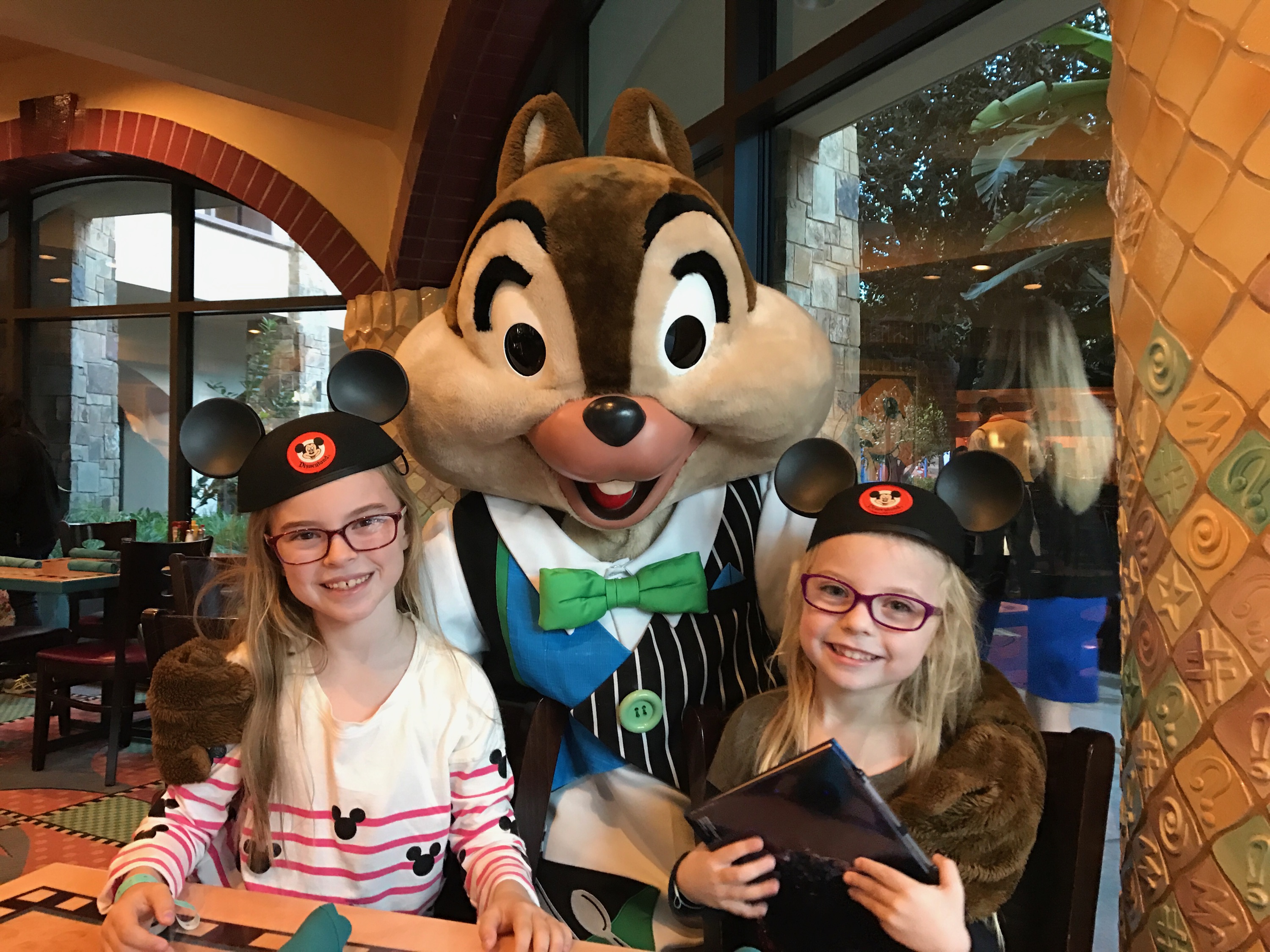 We like to start our trip with a Character dining experience at Goofy's Kitchen. The Characters come by and try to eat your breakfast, or take your ears, which our kids think is hilarious. They asked asked for autographs to fill their books and took time to pose for multiple photographs. In true Disney fashion, there was something for everyone to eat from the buffet, including cakepops for breakfast!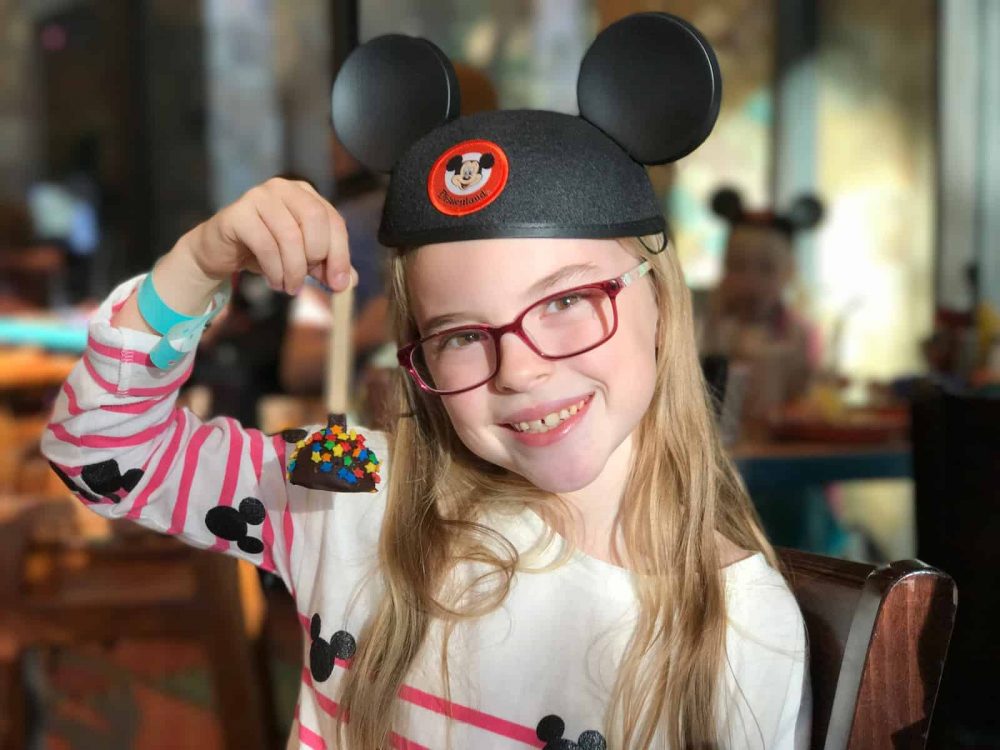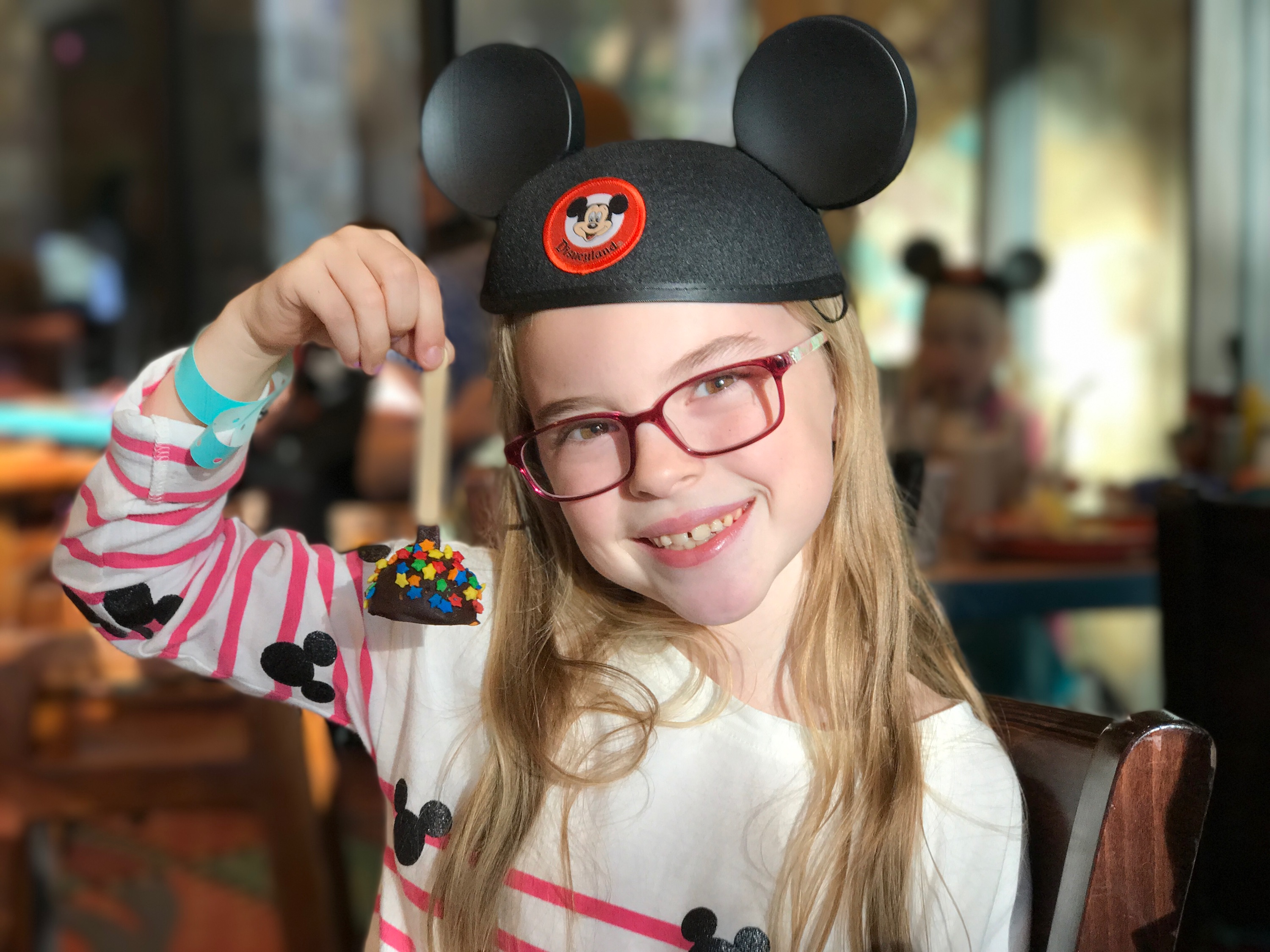 After a fun breakfast, we make our way into the park. Walking down Main Street, U.S.A into Fantasyland is still my favorite way to enter Disneyland. Who wouldn't be in awe of Sleeping Beauty's Castle? Fantasyland can be one of the busiest areas of the park. But it also has the most rides for our preschoolers.
If you're staying at one of the Disney hotels, or have a minimum 3-day park pass, make sure you take advantage of early admission options, which gives you a full hour entrance into the park before the rest of the guests are allowed in. Aside from some longer lines at Peter Pan (the most popular attraction in Fantasyland), you'll accomplish a lot in that first hour before the park gets more crowded.
Both of my girls were beaming when they saw Dumbo, their favorite ride in Fantasyland still to this day. Fantasyland brings all of our favorite classic Disney movies to life. This area is great because you can really utilize your time best here. If one ride's line is too long, another ride is right next door to try instead.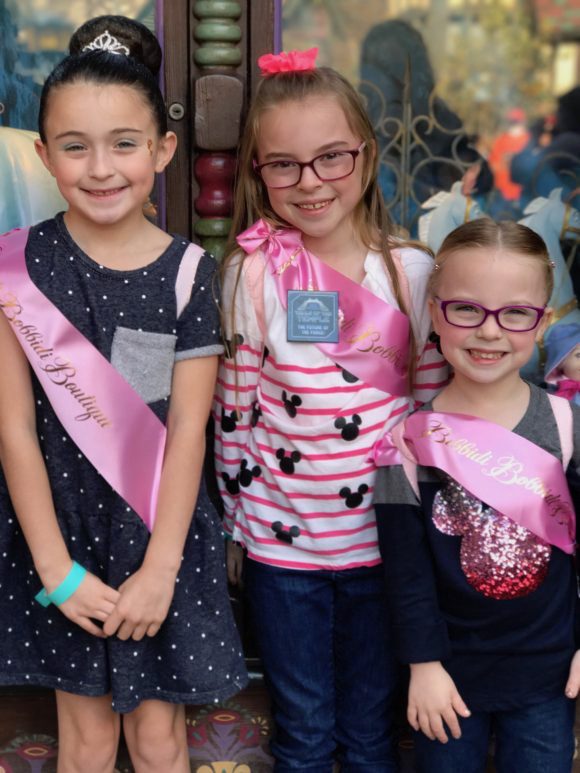 One of the special treats planned for this trip was a visit to the Bippity Boppity Boutique for Addie and Jedi training for Emma. Neither of my girls have ever experienced these things before and couldn't wait for our reservation time. While our oldest daughter was off to Jedi Training, Addie got to get her hair and nails done. I was a little apprehensive going in, but she loved it. They make every little girl (and boy) feel like a true princess. If you want to incorporate this into your trip, you'll need to make a reservation far in advance.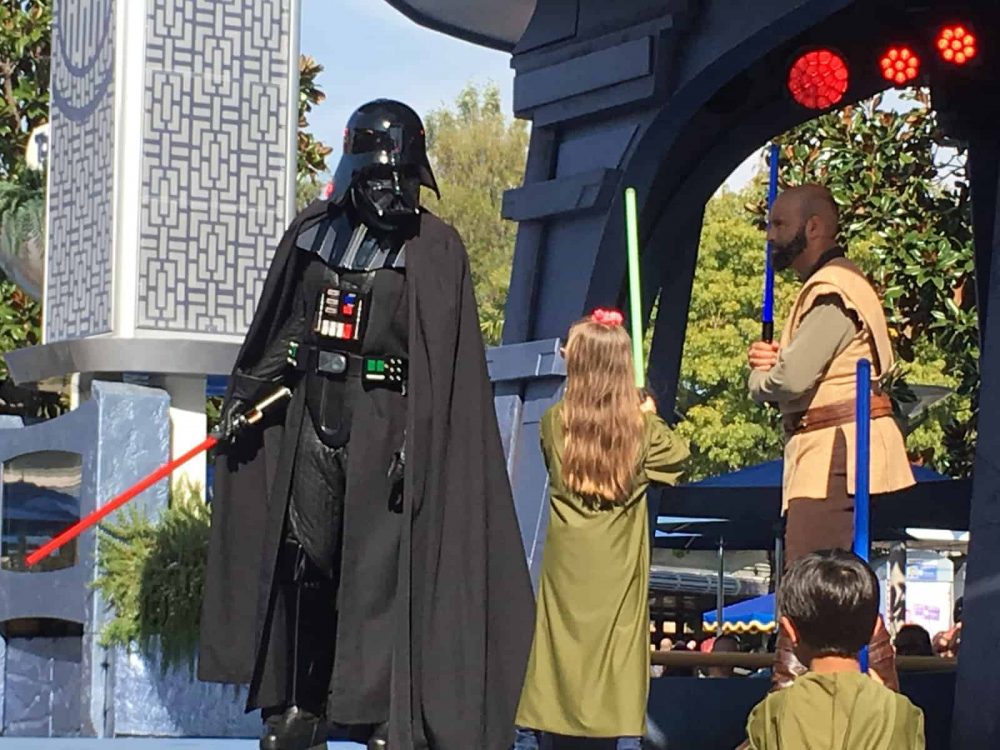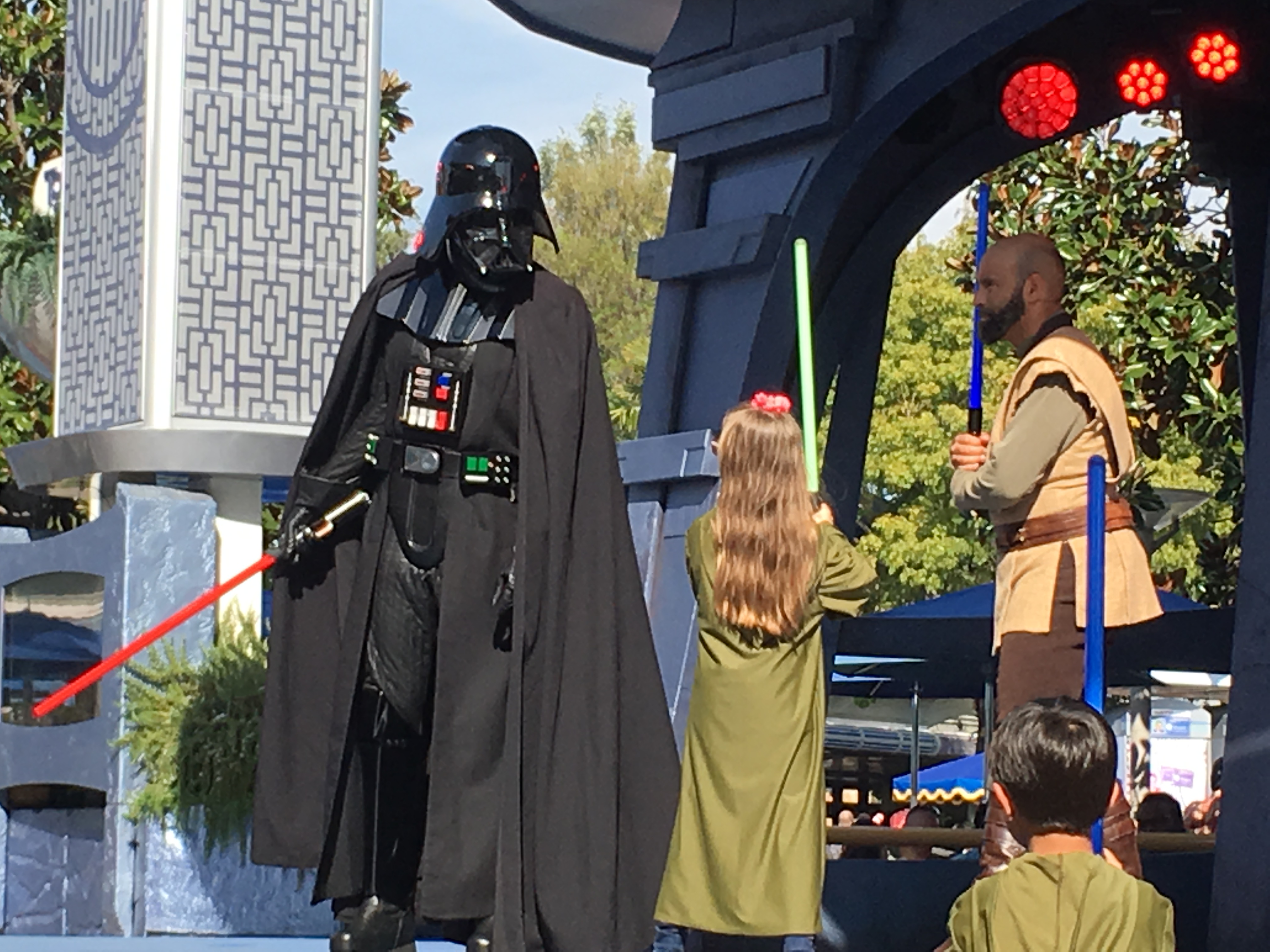 Doug took Emma over to check in for Jedi Training. Emma was nervous. But she can't wait to do it again. She says fighting Darth Vader was a little scary, because he was so much bigger in real life. The kids get to wear a Jedi robe, are handed a light saber, and get instructed in some basic moves they end up using to face and defeat Vader or another character from the Dark Side.
Jedi Training has become so popular at Disneyland, it now has it's own reservation system too. Get to the park early on the day you want to participate, head over to Tomorrowland Expo, just to the right of Autopia. There you can sign up to be part of one of the daily shows. You must have your child with you at the time you sign up. If the time slots are full, they have a waiting list, and frequently pull from it when other families don't show up.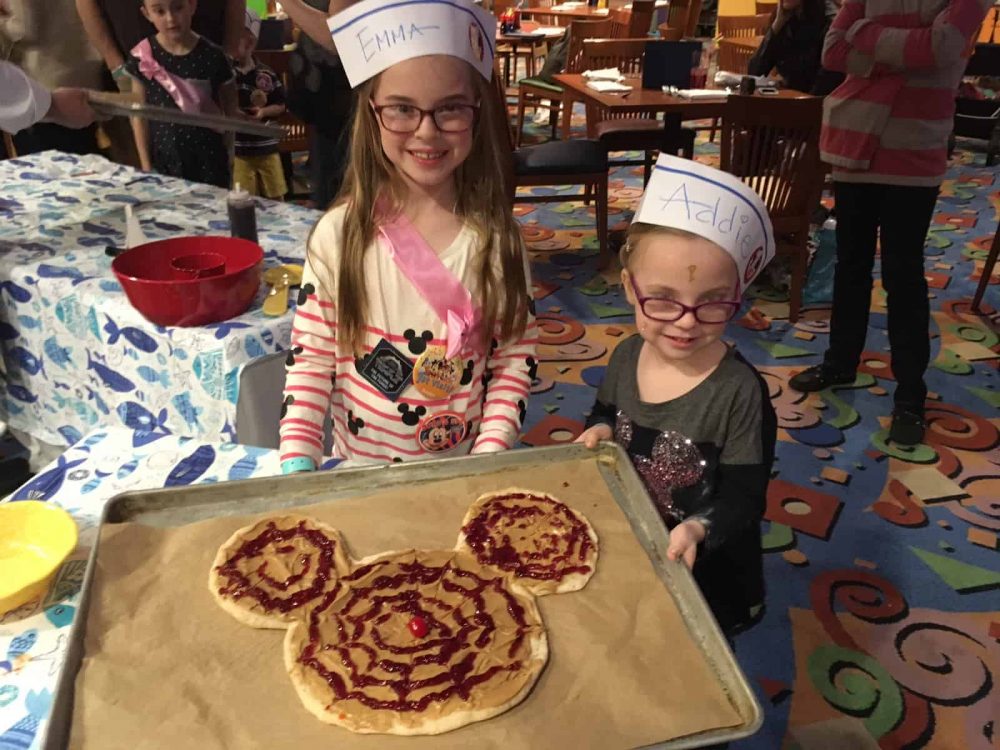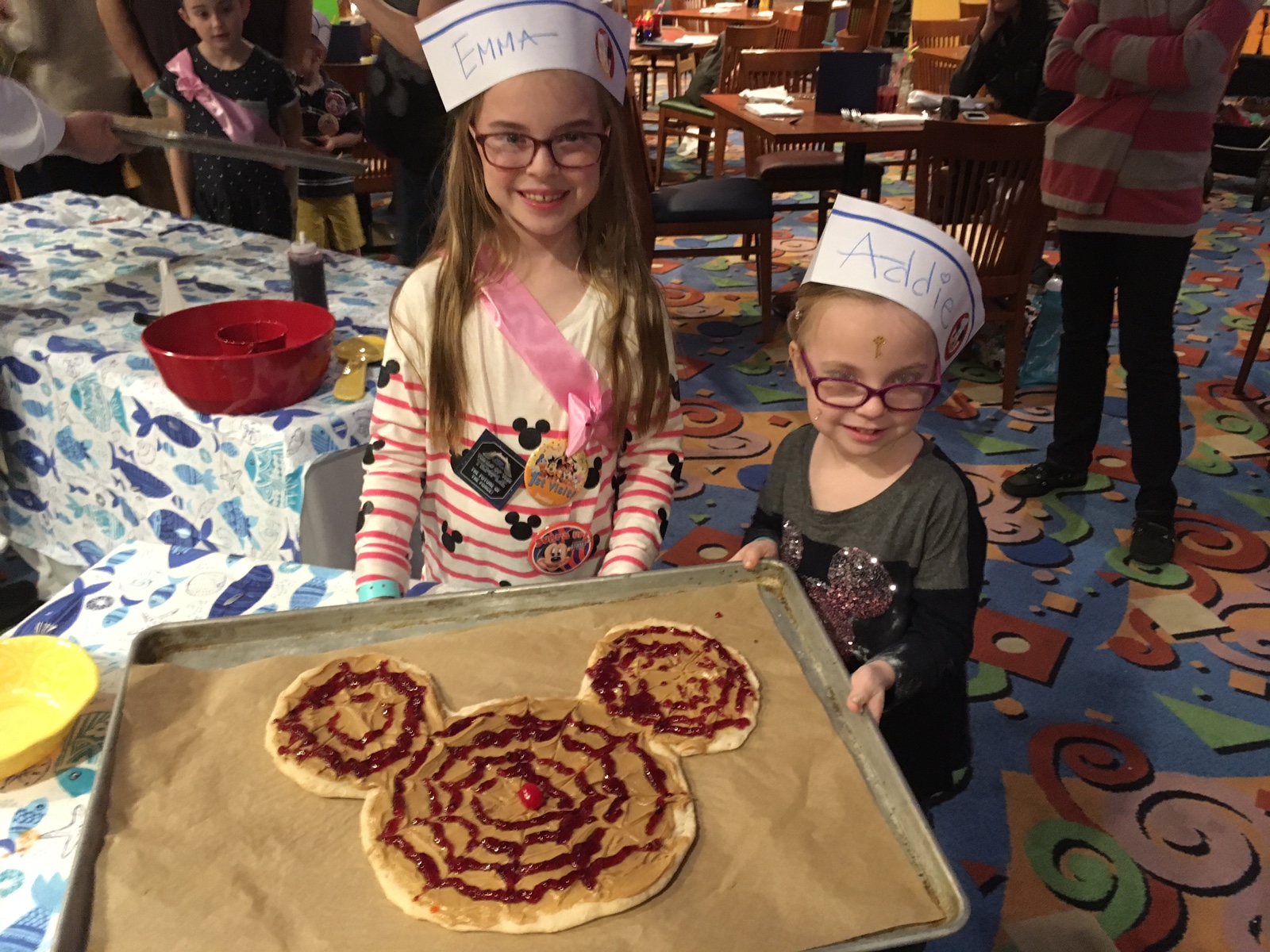 The kids got to make peanut butter and jelly pizzas with Disney Chefs and cook them in a Magic Oven at PCH Grill in the Paradise Pier Hotel. They have a very casual dining option which is perfect after a long day in the park. Although making pizzas isn't available as a typical option yet, your family can experience Jr. Chef at the Food & Wine festival starting March 10, 2017 at the Food & Wine festival in Disney California Adventure.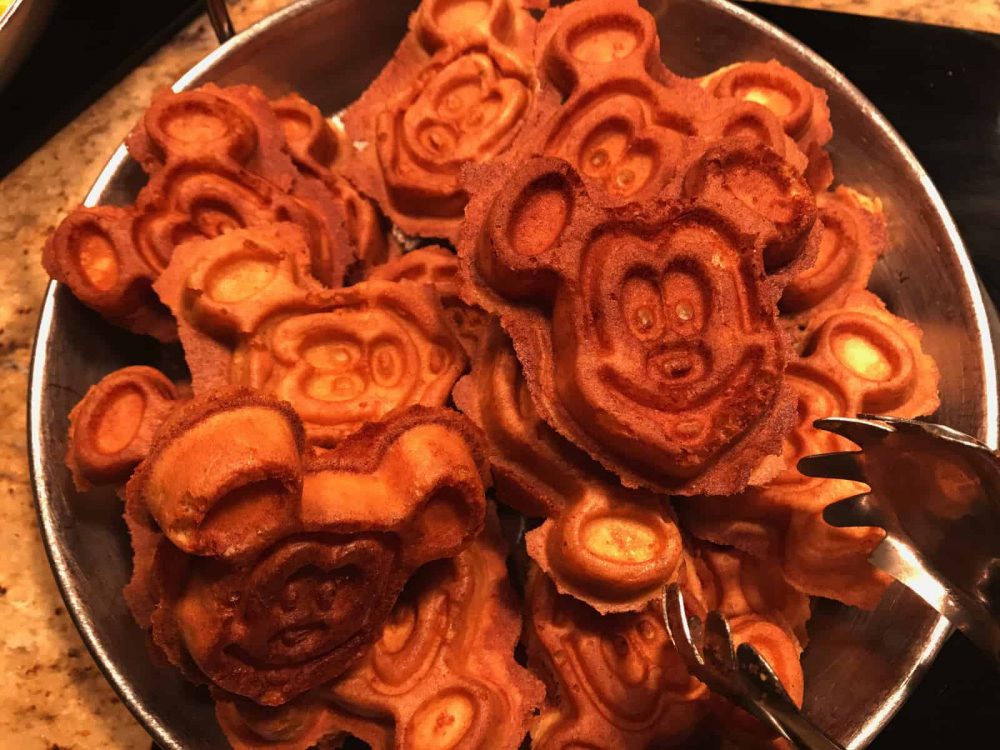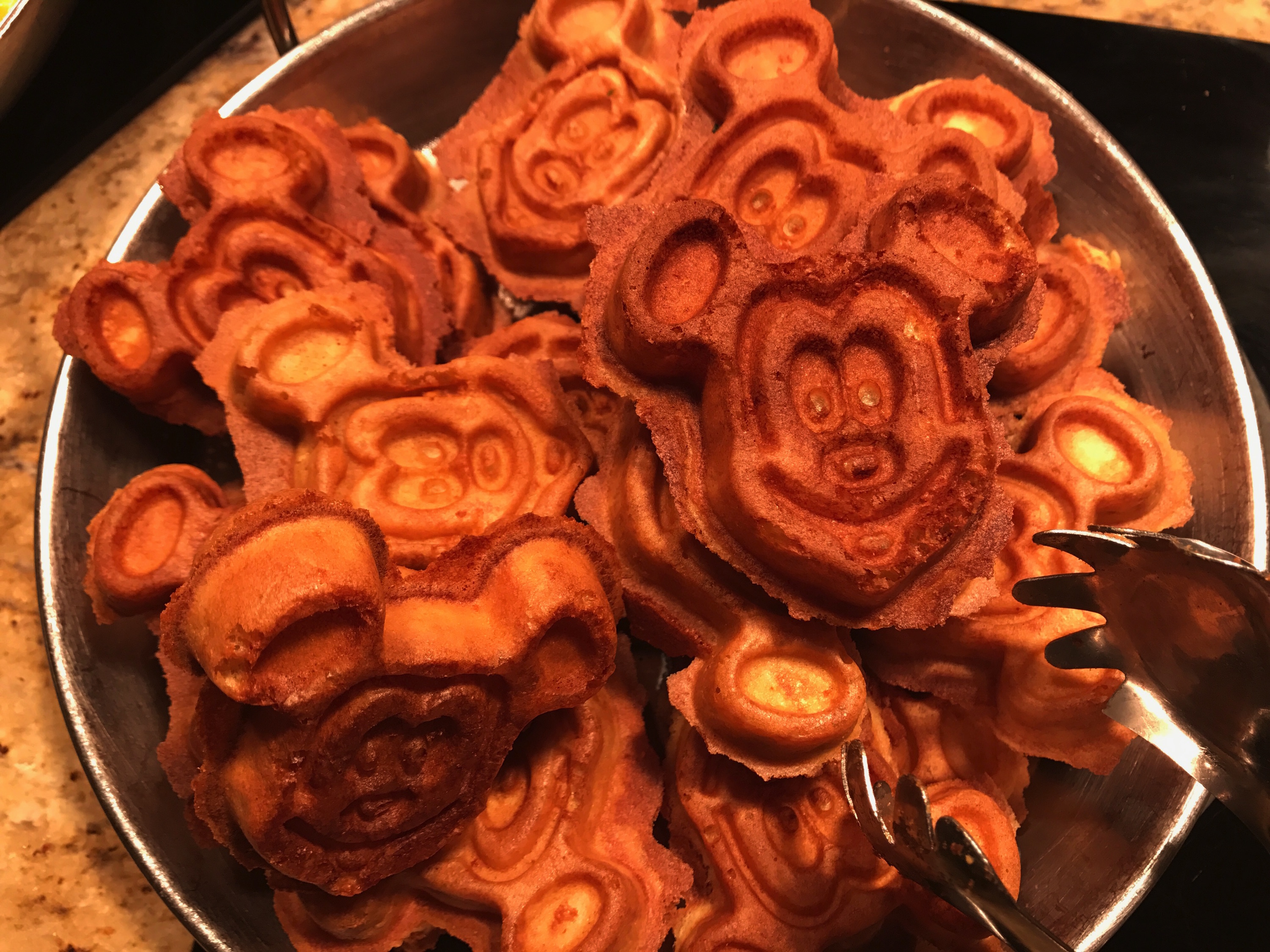 Our second day in the park was just as magical. We started off with Mickey waffles from Tangaroa Terrace before heading into California Adventure for the day. Tangaroa Terrace is a quick serve option by the pools at the Disneyland Hotel, and is perfect if you're up early and ready to get going. We've found that if we don't eat before going into the park, it can throw off the schedule for the rest of our day. After breakfast, we met up with our friends Emelia, Half Crazy Mama, and waited for the Disney Junior Live on Stage! show to begin.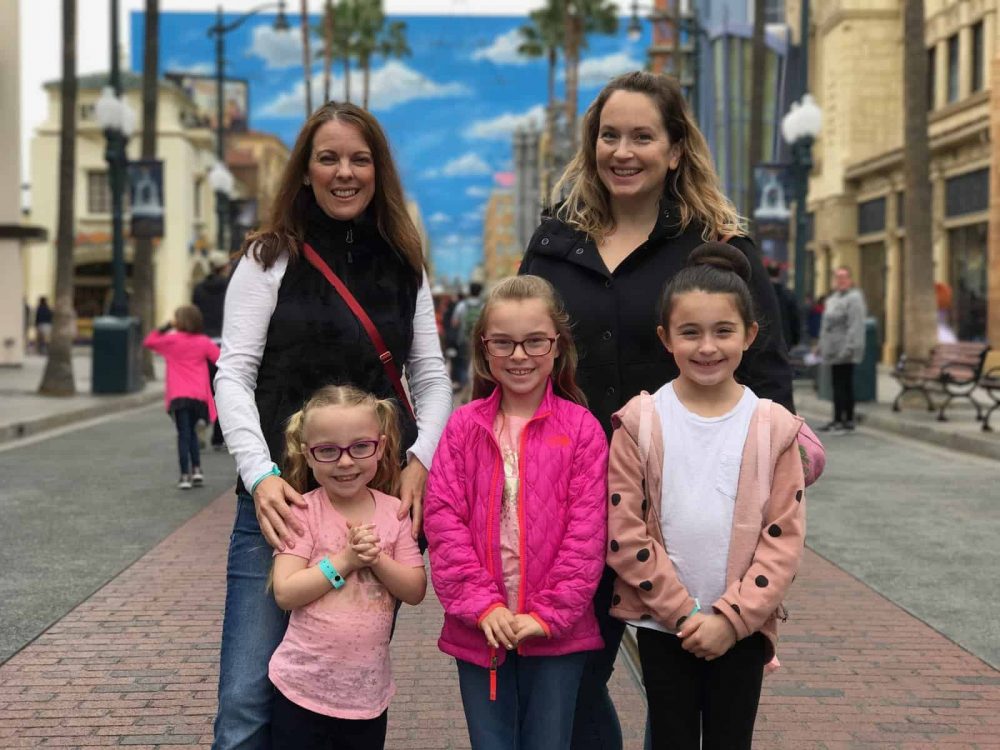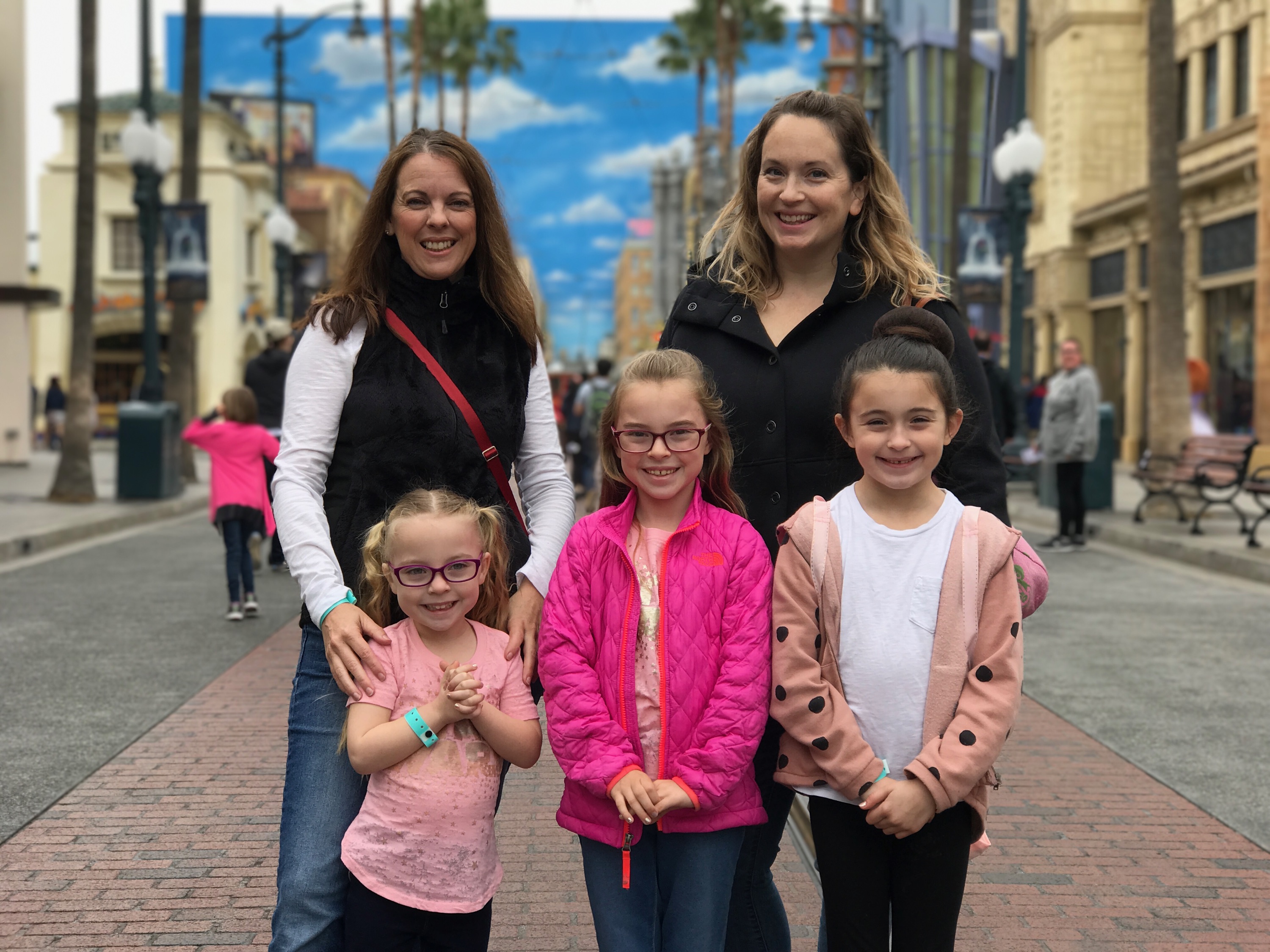 I love watching my kids as they fully immerse in the lives of their favorite Disney Junior friends. When the Gold Doubloons fall from the sky, ever child is on their feet singing to Jake and the Neverland Pirates. I don't think it matters what age you are, this show is really for everyone. We're still at the age where Doc, Sophia, Jake, and of course, Mickey are still in our living rooms each day. It was especially exciting when we know we were going to meet Anna & Elsa next. Even my eight year old couldn't contain her excitement when seeing her favorite Frozen sisters.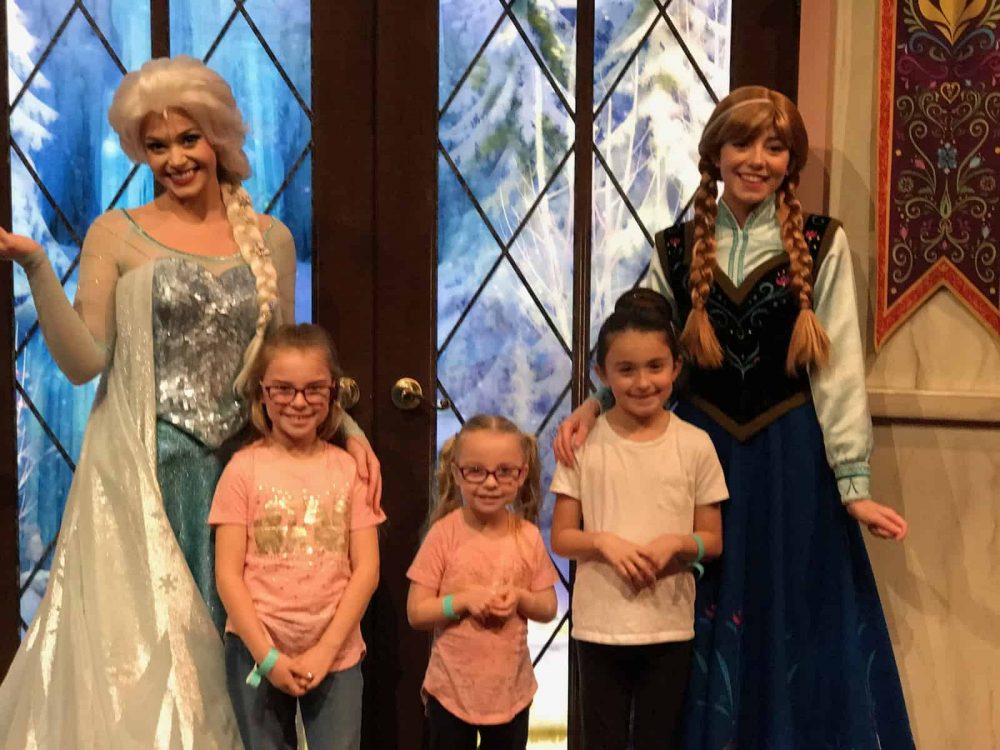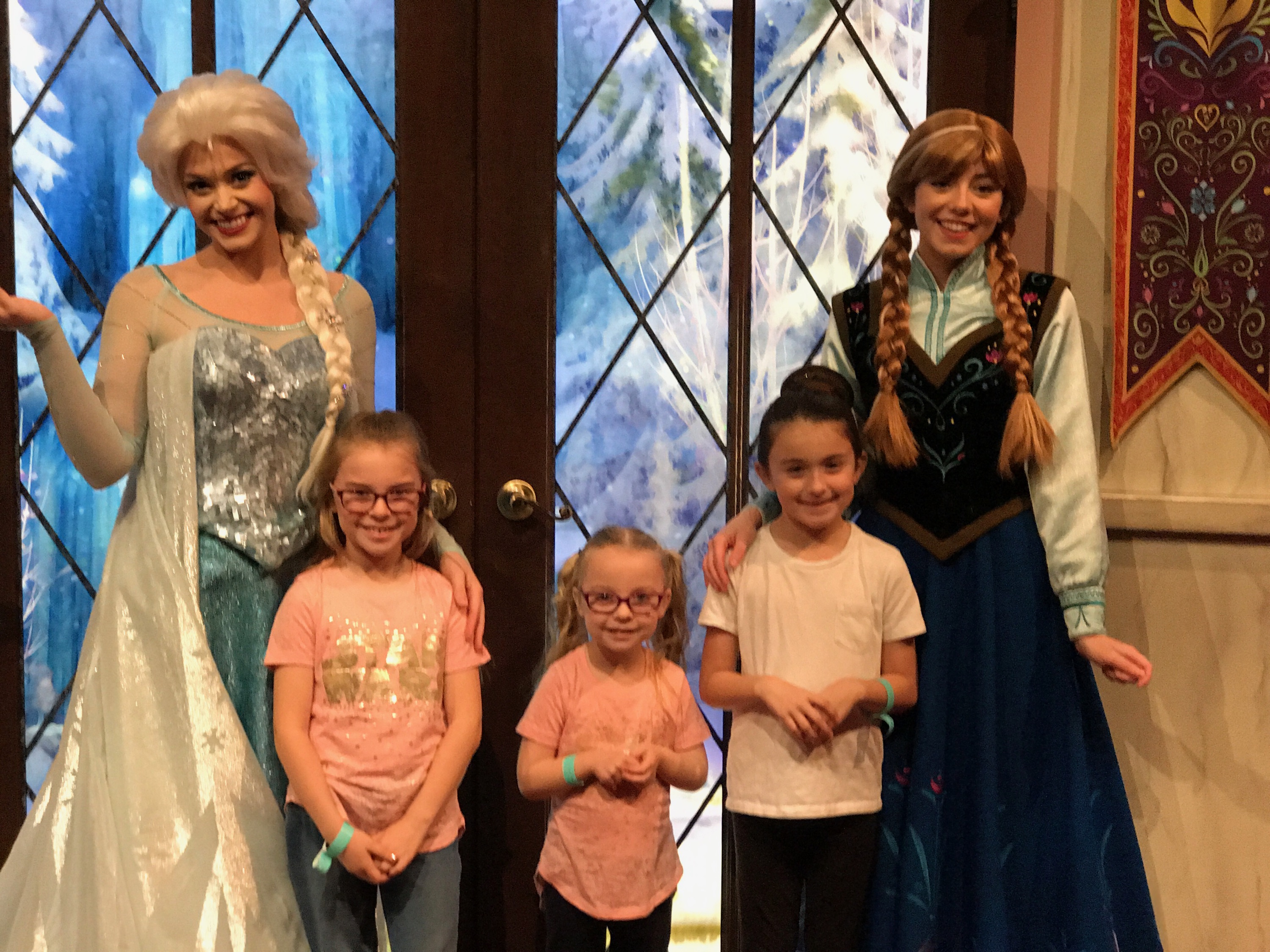 After a visit with Anna & Elsa in the Animation Building, we walked across the street to meet a couple of our favorite Super Heroes. Both Spider-Man and Captain America were waiting on Sunset Boulevard. You can find out the time and place for Character meet and greets in the Disneyland App. The app is really helpful for schedules and times, and for planning out the rest of your day. You can find ride wait times, make dining reservations, look up entertainment options, and most importantly… find your nearest restroom!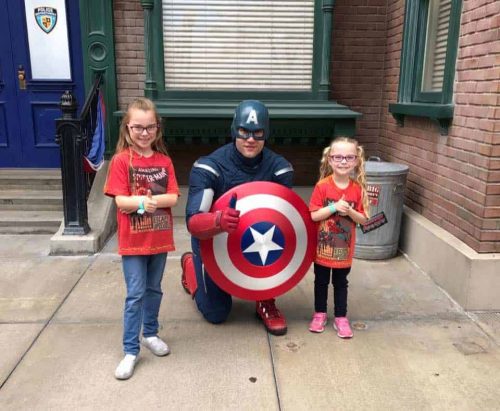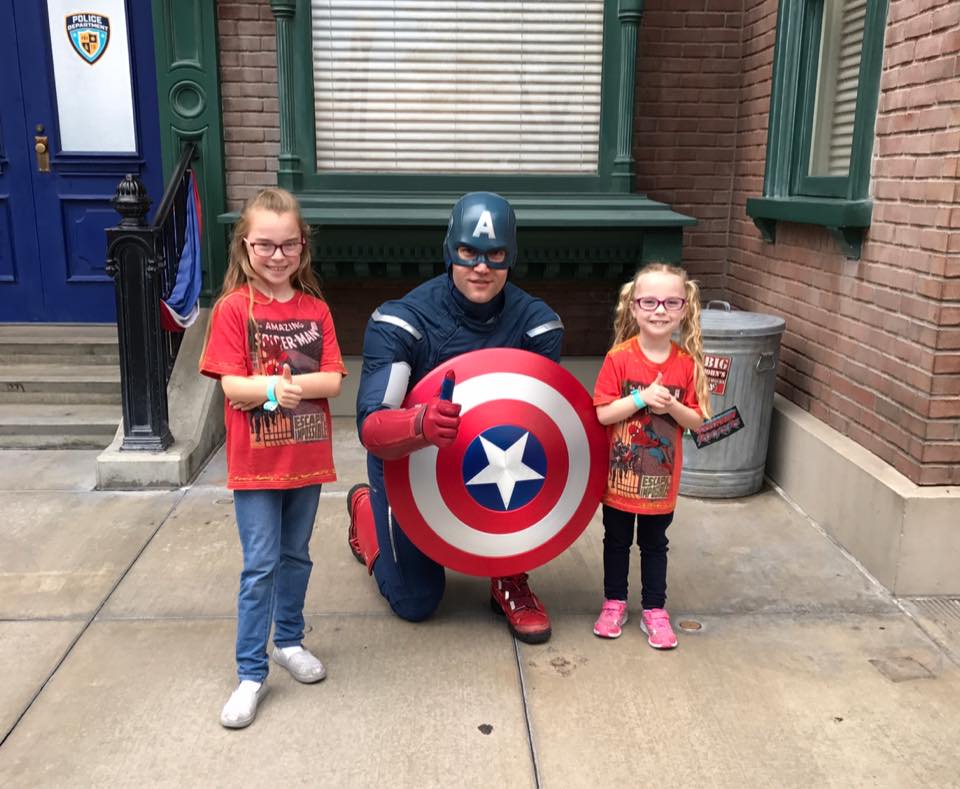 The girls wore their new Spider-Man t-shirts, but they were in even more awe of Captain America. Feeling like they had their own super powers, we thought it was time to hit up our favorite ride in California Adventure, Toy Story Mania. We all love it. Our four year old is getting better and better each time we visit. This family-friendly 3D arcade-style ride is a must.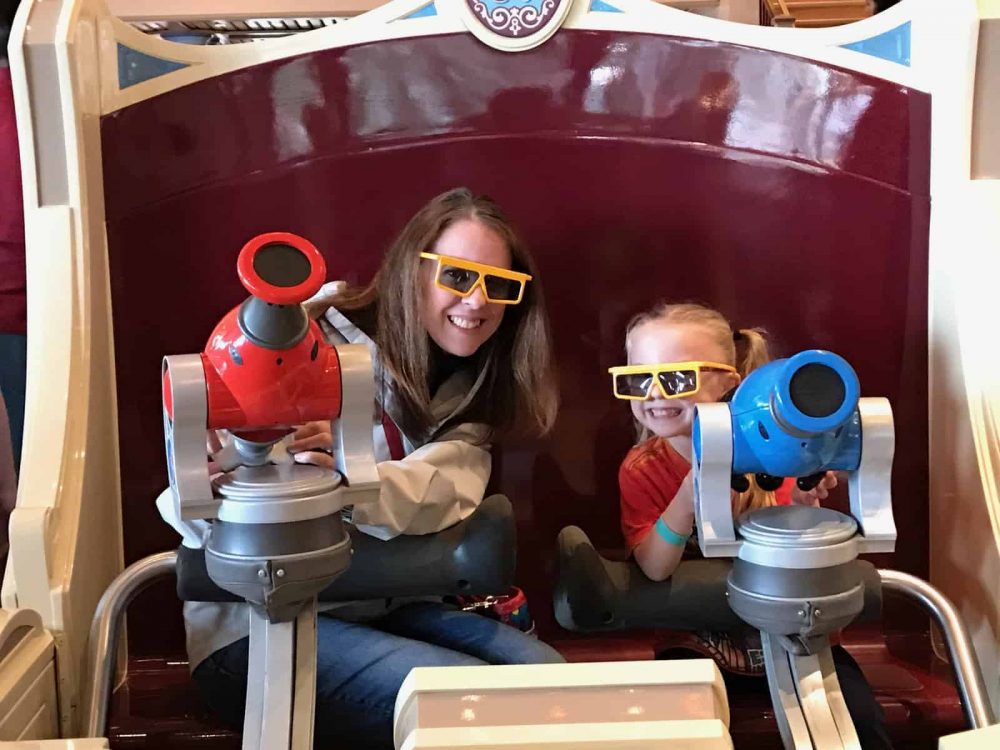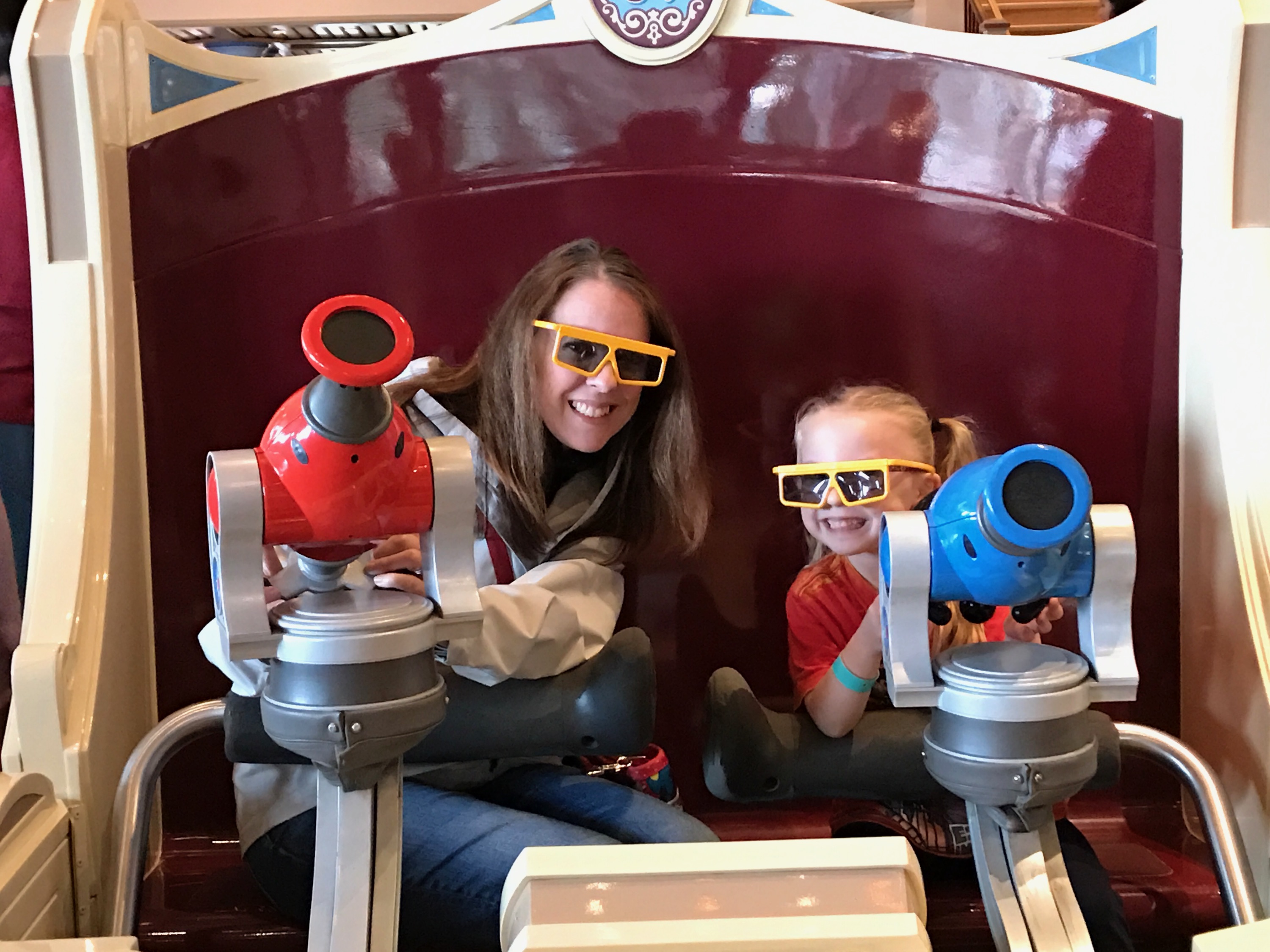 It's so hard to leave Disneyland after a fantastic trip. We are annual passholders so we try to go as often as we can. For those of you who live in Southern California and want to take your preschooler to the park for the first time, now's a great time to do so. Disney has a special offer for So Cal residence now through May 29th.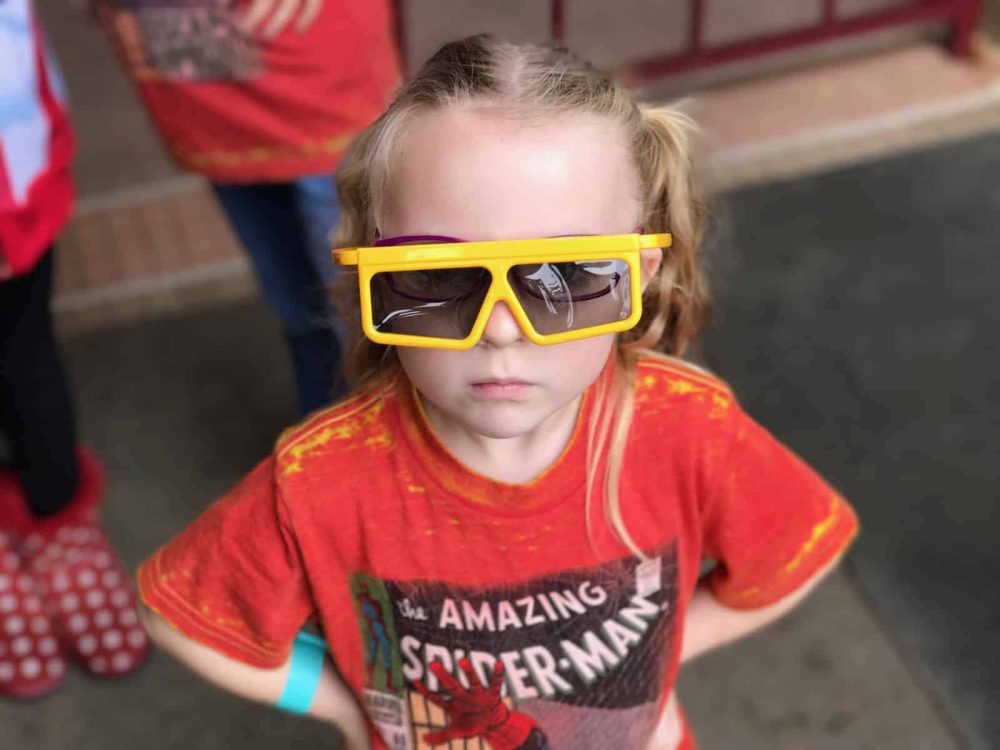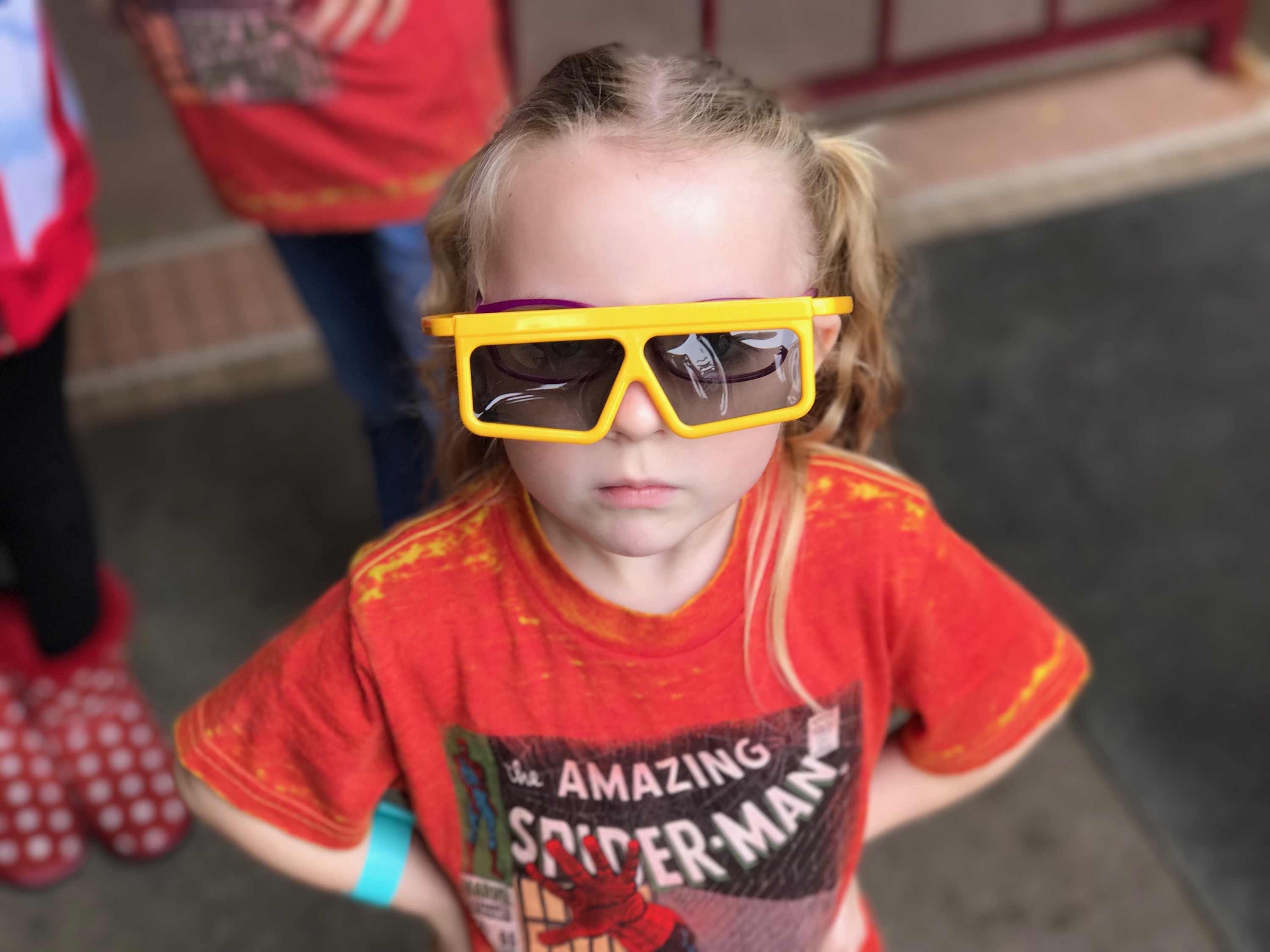 We had a fantastic time. Seeing Disney through the eyes of our four year old brings us so much joy. Disneyland makes it so easy for families to visit. Not only do they have Baby Care centers for families who need changing tables, privacy for feeding your babies, or extra diapers for sale if you forget to bring extra. They also have kid-friendly meals that any preschooler will enjoy. Knowing these services are available can really make a trip with a preschooler stress-free. Download the app before you go and start planning your trip now!
Disclosure: We were hosted by Disneyland to share our preschool experience. Tickets and accommodations were provided by Disney. All opinions are my own.