The true magic of Disneyland
Disney really is magical. We feel it every time we step foot into the park. We're so glad we have these memories to share. You can never be too old or too young for Disneyland. These memories aren't just magical, they're priceless.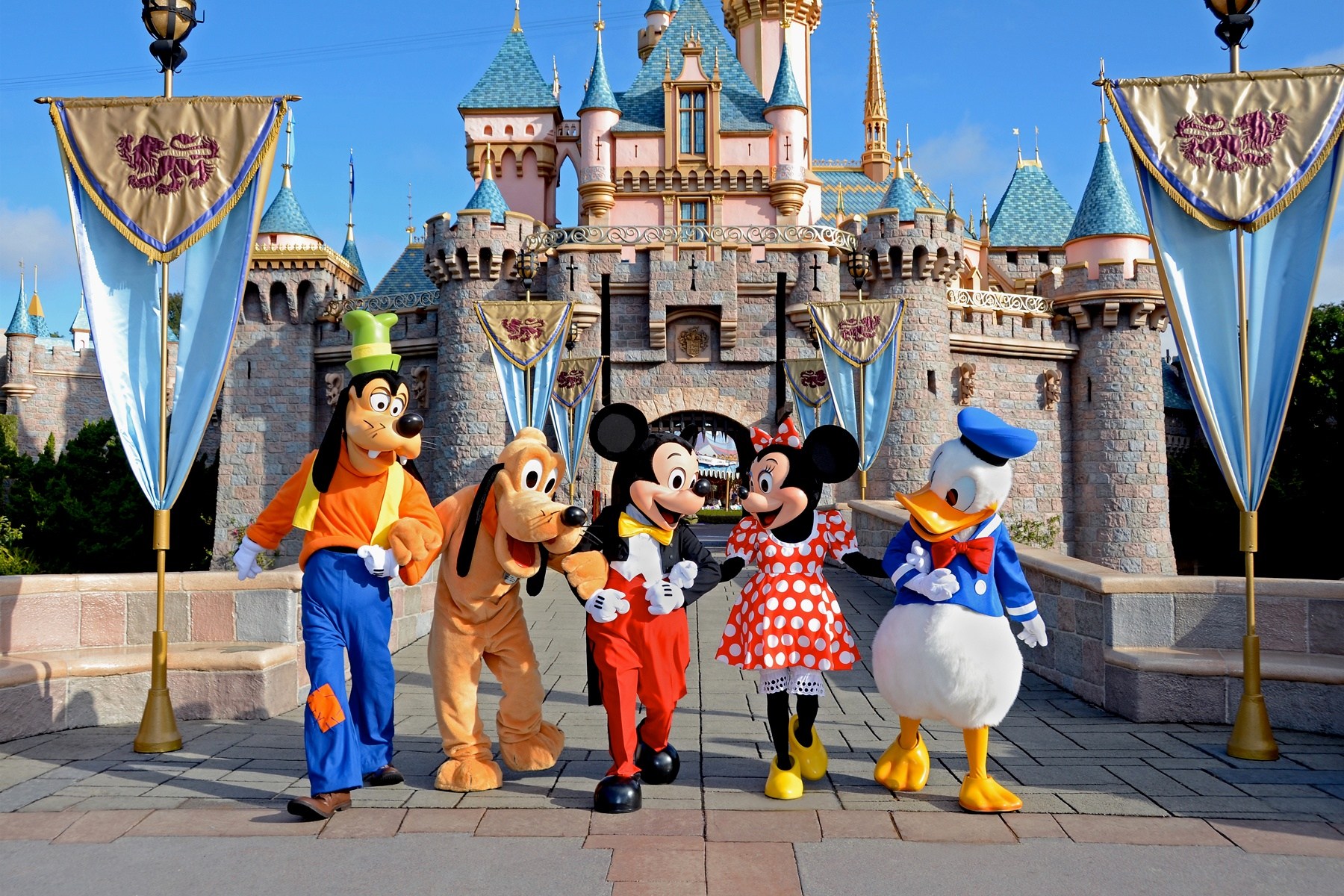 Using anything "Disney" and "magic" in the same sentence can sometimes feel cliché to me, especially when I've written so much about Disneyland over the past few years. Regardless, I'd like to go back and recount two stories I've shared verbally with friends many times, where our family actually witnessed some of that magic Walt intended for visitors to his park.
Prior to having children, my husband and I had each been to Disneyland a handful of times. A family trip or two when we were kids, quick one-day trips with friends during our college years, and a couple visits together as adults. Somewhat typical for anyone who grows up or lives near Southern California. We'd visited enough to become familiar with the park layout, ride most of the rides, and thoroughly enjoy the experience.
However, it wasn't until we brought a child of our own to Disneyland for the first time that we truly began to appreciate the wonder and awe of Walt's vision. Visiting Disneyland with her was transformative. It allowed us to see everything through her eyes. My husband and I became kids again as we shared in our daughter's delight as we'd turn each corner and spot something new.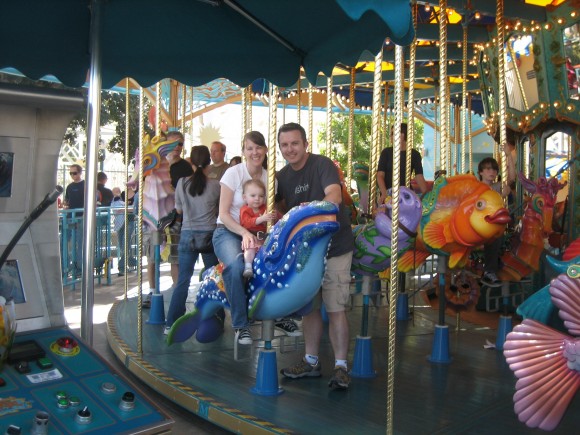 Our daughter was only 15 months old for her first visit. She was barely walking, and hadn't really started talking much yet. We were curious and cautious as to how she would react to rides at Disneyland. Some of the slow-moving, all-ages rides in Fantasyland like Snow White and Pinocchio have dark and potentially scary parts for little ones. From a very early age, we had been teaching her basic sign language so she could express her needs and reactions.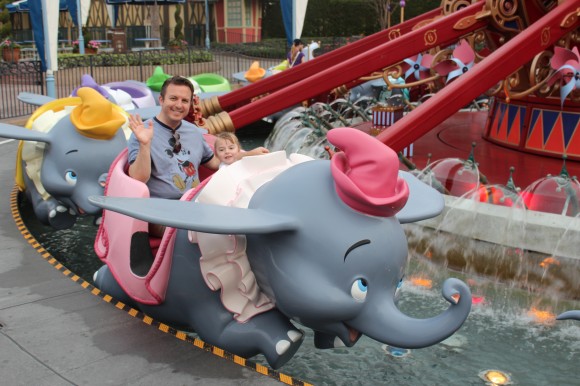 For whatever reason, we took her on Snow White for her first ride. In hindsight, perhaps should have started with the Casey Jr Circus Train, or Small World. Nevertheless, we ended up on Snow White. So we watched her closely as she quietly and timidly looked around, taking in new scenes as we rounded each corner. We couldn't quite tell whether the look on her face was joy, curiosity, fear, or a combination of all those and more.
As we neared the end of the ride, we began to wonder if we had made the right choice by taking her on this ride at such a young age. But as we cleared the last door, and burst back into daylight, we looked down and noticed, clear as could be, our daughter smiling and giving us the hand sign for "more". She wanted to ride it again. It was then that a whole new world opened up for us, and we can trace all of our love for Disneyland as a family back to that specific moment.
* * *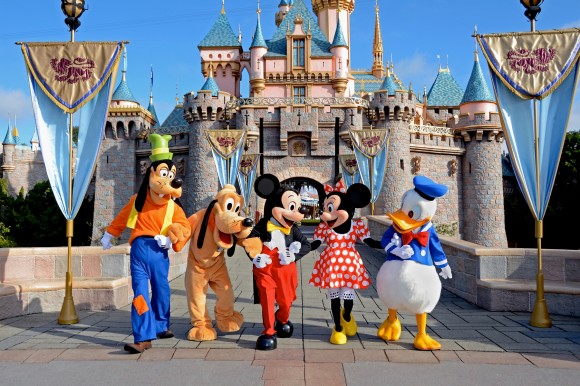 Fast forward a couple years. Another daughter added to our family, and a few more trips to Disneyland under our belt.
One of the amazing aspects of bringing a toddler to Disneyland is how they react to seeing Mickey, Minnie, or any of the Disney characters for the first time. Watch the look on a child's face as they encounter these larger-than-life representations of characters previously only seen on screen that can walk, high-five, give out hugs, and sign autographs. I still beam with joy when I see someone else's child run with abandon up to Mickey to hug him as hard as they can as if they'd been waiting an entire lifetime for the opportunity. (Well, that's usually true.)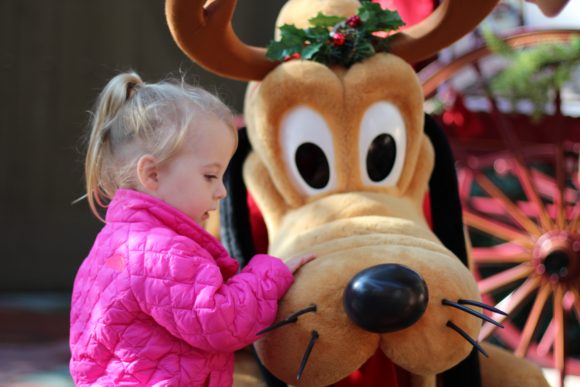 Meeting these characters in the park is sometimes a hit or miss opportunity. Sometimes you get lucky with a short line waiting to see them. Or you'll randomly bump into Peter Pan, Captain Hook, or the Mad Hatter walking to their next location.
There's another way to encounter these characters at a high concentration and without much waiting. Disney calls it "character dining". It's a pricier option than other dining options. But the opportunity to meet multiple characters all in one location in a short amount of time is worth the occasional splurge. And the characters actually come to you!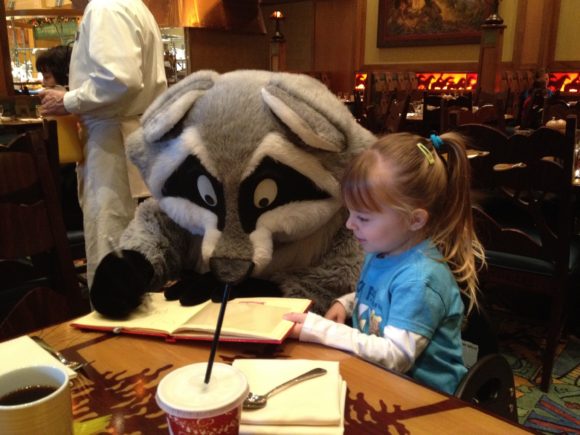 We had been to a character breakfast at Storytellers Cafe when our daughter was younger. But she didn't recognize all of the "critter" characters you get to meet there. We got to experience a different character breakfast at Goofy's Kitchen when our first daughter was around three years old. We were prepared with an autograph book and pen this time. And our daughter somewhat knew what to expect.
Still, nothing prepared us for how excited she got with each new character that walked right up to our table. Pluto, Chip, Dale, Cinderella, Mulan, the Fairy Godmother, Jasmine… They kept coming. And our daughter couldn't believe what was happening. She was smiling from ear to ear, and her eyes bursting with emotion. How was this possible that random characters kept showing up to tease her hair, tap her shoulder, sign her autograph book, and blow her kisses? And no waiting in line to see each of them.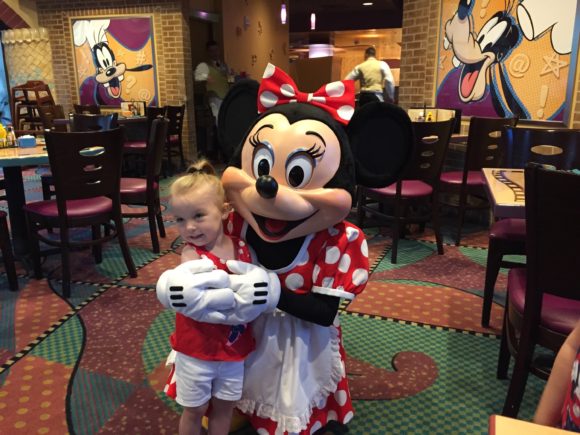 The overwhelming experience came when Minnie Mouse stopped by our table. Our daughter was fascinated with Minnie at the time, and was even wearing a Minnie Mouse shirt. She got out of her chair to give Minnie a big hug, and didn't want to let go. Only the offer to take their picture, and a reminder to have Minnie sign her autograph book got her to let go. Minnie parted ways with a quick blow of a kiss, and a little backwards kick of her foot. But our daughter held on to that magical memory for a long while after. (And we did too.)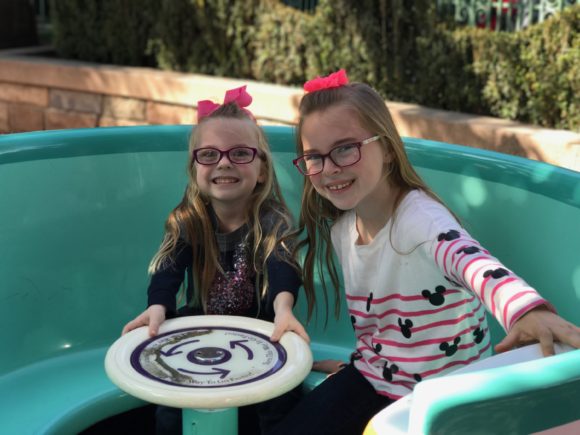 We hope these feelings never change. Disney is magical. We feel it every time we step foot into the park. We're so glad we have these memories to share. You can never be too old or too young for Disneylan. The kids love looking at their pictures with a "remember the time…?" These memories are not just magical, they're priceless.