Disclosure: This post contains affiliate links, from which we will make a small commission if you click thru and complete a purchase.
On my very first trip to Europe, I blew up my straightening iron, which left my hair in a big frizz ball the entire trip. This past summer, we spent three weeks in Europe with no problems. So of course on my latest trip to Italy, I ruined all my hair styling tools from my straightening iron to my favorite beach waves curling iron. I've been dragging my feet on re-purchasing these items until I saw Megan and Wendy's video using the Revlon Salon One-Step Hair Dryer & Volumizer.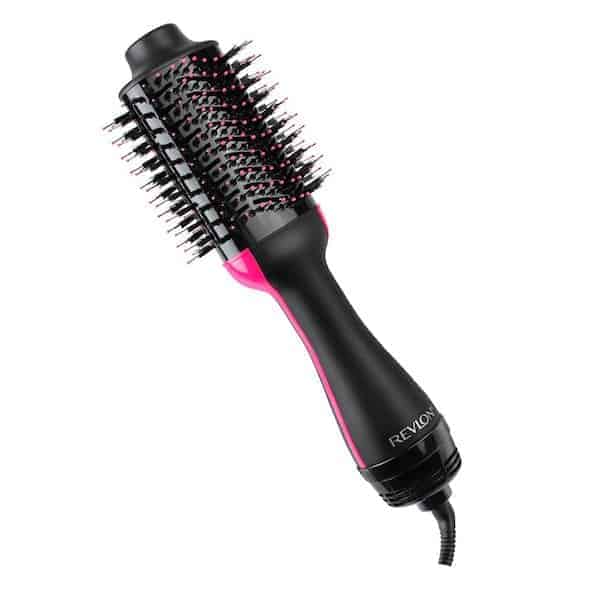 You should just stop what you're doing and go watch Megan's youtube video. Becuase once you do, you'll realize why I immediately purchased this blow dryer. The Revlon Salon One-Step Hair Dryer & Volumizer changed my life. It used to take me thirty minutes from the time I got out of the shower to finish my hair. Now I'm down to ten minutes. I'm not joking. Just watch for yourself…
As you can see in my video, my only complaint is that it could get a little hot around my face. Other than that, this blow dryer is magical and can give you a pretty good blow out in just a few minutes.
What I really like about this blow dryer is that it's easy to pack. I've gone on several trips now and loved having it with me as my one styling tool. I still need to replace my beach wave iron, but it's so expensive. This blow dryer does the trick and it's not that pricey for what you get.
Did the Revlon salon one-step hair dryer really change my life?
As you can tell, I'm pretty low maintenance. I don't have a lot of time in the mornings since I'm trying to get everyone else ready. And if we're traveling, I really don't care too much about what I look like. But I cannot leave a house or hotel with wet hair… ever. So, yes. Getting that extra 20 minutes a day has changed my life, no joke. Now getting up and out on travel days is a lot easier. I've even started using this on my girls who have really long hair.
Let me know if you have any questions. I'd love to know what you think!
Update: I have been using this hair dryer for over a year now. I can blow out my wet hair in just ten minutes. I have also introduced this to many friends and they've invested in this tool. They love it as well. If you can only buy one product, this is it.