My latest obsession: StitchFix
No shopping, no dressing rooms, and a fun surprise once a month. StitchFix is a personal stylist that helps you create a wardrobe based on several questions you answer and what you appear to like.
Disclosure: This post contains affiliate links, from which we will make a small commission if you click thru and complete a purchase.
I'm going to be honest here. I have ZERO fashion sense. None. Sadly, I've been wearing the same frumpy clothes since my oldest daughter was born. Which means that nothing really fits me anymore. It's either way too tight, or has holes in it. My yoga pants are even in dire straits. I have worn the same dress to my husband's holiday work party for the last three years. Some of you are shaking your heads because you know I was pregnant for one of those parties. Yes, I did.
I've been seeing a lot of talk in the blogosphere about StitchFix. My curiosity got the best of  me and I started poking around. Basically, StitchFix is a personal stylist. They help you create a style based on several questions you answer. You give them your sizes, tell them what you like, and shoot for a budget. Then a stylist puts together a box of five items and sends them to you. I think it's great that a stylist took the time to check out my Pinterest boards to get a feel for my style. The things I post there, I would never take the time to shop for.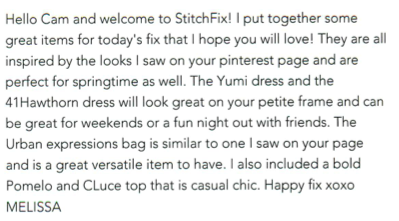 Once you have your box, you have three days to decide what you are going to keep or send back. If you love everything, that's great. Nothing works? No problem; they include a shipping envelope to make the returning easy. However, for me? Melissa was spot on.
Dear @stitchfix, I just got my first box. You have complicated my life; I LOVED everything! #clothes #fashion

— Cam Bowman (@CamBowman) March 23, 2014
She picked out two dresses, two shirts, and a handbag. Included in your package is a style sheet that shows you how to wear each item. They give you suggestions on how to wear them in a casual setting or how to dress them up a bit. Everything she picked out for me was beyond my comfort zone. I would never have tried any of these things on in a retail store. Apparently, I just needed someone to give me a push because I loved everything.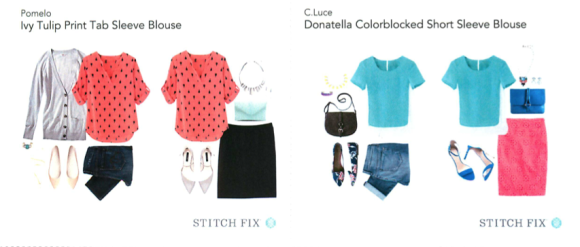 No shopping, no dressing rooms, and a fun surprise once a month. Head over to StitchFix and sign up. You'll pay a one time $20 stylist fee that can be applied to your first purchase. Other than that, it's free.
Have you tried StitchFix? What are your thoughts? I'd love to know if the boxes keep getting better and better, or if I'm going to be canceling my order like all the other boxes that have come my way.