Holiday update, 2007
It seems like yesterday that we were writing our first holiday letter as a family. Time flew by this year and brought many changes. Last Christmas we split our time between Ohio and California. We had a wonderful dinner with Ohio family on Christmas Eve. Then we took a late flight home to California that […]

It seems like yesterday that we were writing our first holiday letter as a family. Time flew by this year and brought many changes. Last Christmas we split our time between Ohio and California. We had a wonderful dinner with Ohio family on Christmas Eve. Then we took a late flight home to California that night in time to spend Christmas with Cam's family.
Doug has been busy with his design job at Google and hasn't had much time for anything else. However, he officially started speaking at conferences again, which is fun for Cam too, since she often travels with him to events. We flew to Austin in March where he spoke on a panel at South by Southwest. He also spoke at another conference in San Francisco where he nailed a well-received presentation that he worked on for months. He plans on speaking at both events again this year, and possibly a few more.
Cam changed jobs this year. She's still working in recruiting, but no longer for Google. She is now at a rapidly growing company named VMware, and she loves it. We don't get to commute together to work each day. But we are very fortunate with the careers we have. And we feel lucky that we get to travel together when conference organizers invite Doug to speak. The hardest part of leaving home is being away from our dog.

Jackson is now a year and a half old. He's not quite a puppy anymore, that's for sure. He's HUGE! He loves to show off and fetch his ball. He could do that all day if we let him. Don't say the word "park" around Jackson, or you'll experience Crazy Dog! Cam's mom found this out when she watched Jackson for three weeks in May while we escaped on our first vacation since the honeymoon.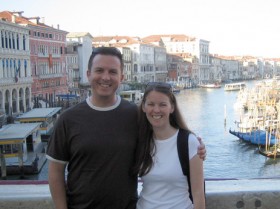 For this year's vacation, we spent fourteen days touring around Italy. We arrived in Milan. Then took a train to Venice. Venice was Cam's favorite stop of the trip. She liked the romantic, twisting canals and small streets, and overall manageable size of the city. After Venice, we took a train to Florence. The heart of Tuscany was hotter than usual, but we managed to explore and conquer the dense, bustling city, finding plenty of Gelaterias for ice cream along the way. We even took a day trip to Sienna and a few surrounding towns, which required renting a car and navigating in and out of Florence's confusing network of one-way streets and roundabouts. After a week in Florence, we made our way to Cinque Terre, a small set of five quaint villages along the Ligurian (Mediterranean) coast, and Doug's favorite stop for this trip. We can't tell you how relaxing and peaceful Cinque Terre was. We ended our trip by returning to Milan where Cam finally found the top Italian designer stores. She left empty handed because Gucci wasn't having a sale!

Four months after moving into a rental house in Menlo Park, just as we had unpacked the last box, we unexpectedly found a little house for sale not far away that we fell in love with. We weren't looking to buy a home yet. But once we saw this house, we couldn't pass it up. Due to an unexpectedly short escrow period, we received keys and were moving in just three weeks after the open house. If you're counting, yes, this marks the third time we moved within one year. Please… no more boxes to pack, move, and unpack!
We've been in our house now for about three months and we absolutely love it. Jackson has a large back yard and loves chasing balls back there. Our home, while small, is very warm and welcoming and we'd love to have you visit.
We hope you have a wonderful and reflective Holiday Season and a very Happy New Year!
Love and peace,
Doug, Cam, and Jackson