Emma: 8 months old
Emma is now 8 months old. Just when we think she couldn't get any cuter, she does. Emma's 8 month birthday fell on Easter weekend. We got to spend the weekend with great friends. On Saturday, we went to Jim, Susannah, and Finn's house for a fun-filled day. Then we hopped on over to Brian, […]
Emma is now 8 months old. Just when we think she couldn't get any cuter, she does.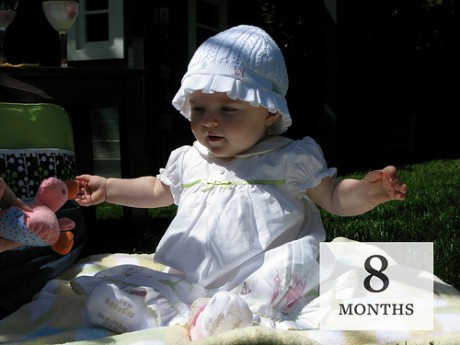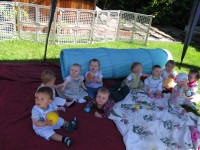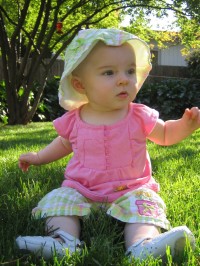 Emma's 8 month birthday fell on Easter weekend. We got to spend the weekend with great friends. On Saturday, we went to Jim, Susannah, and Finn's house for a fun-filled day. Then we hopped on over to Brian, Janet, and Norah's house on Sunday for another Easter day celebration. It was a beautiful weekend and a great way to spend her 8 month birthday!
I absolutely love to watch her. She has these little moments that are priceless. She now watches her hands in amazement. Realizing for the first time they are connected to the rest of her little body. She is also eating finger foods. This might be how she discovered those cute little fingers. She'll eat just about anything. She loves breakfast the most. Her favorites so far are oatmeal, yogurt, and apple/plum purees. We've also tried whole pieces of blueberries, carrots, chicken, apples, cherrios, and avocado. It's great that she eats dinner with us too.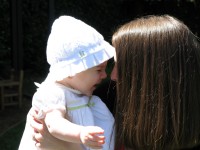 Emma isn't crawling yet, but I think it's going to happen sooner than later. She's getting really frustrated that she can't reach her toys and her mama isn't helping! She is realizing fast that if you just flop to one side or go on your belly you get a greater reach! I've also been watching her on her baby monitor while she is napping. She is getting much better at turning over and back on her own.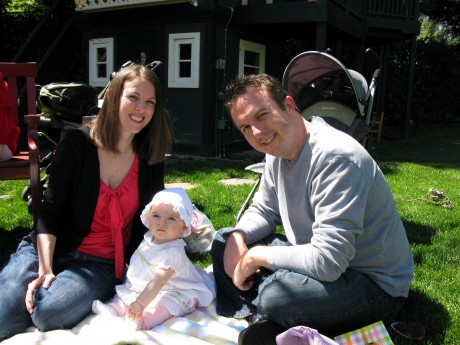 We also started a sign language class. The instructor is amazing and Emma is just mesmerized by him. We go once a week for an hour. I can't believe how much we learn in one day! It's fun to sing and sign to her.
We are still going to play groups too. We go each week on Monday, Thursday and Friday. It use to be more for me than Emma, but this is rapidly changing. She has grown up with these babies. It's so much fun watching them interact with one another.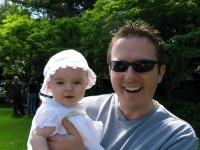 Another milestone is Emma's relationship with Jackson. When I go to get Emma after her nap, Jackson comes with me to greet her. I tell her that the "doggie" is here and she squeals with excitement. He is also a great distraction when Doug walks out the door for the day. Jackson has become a huge part of her life. I hope they continue to entertain each other.
This has been a very busy month for us. Doug left Google and took a job at Twitter as their Creative Director. So far he loves it. It's great to see him really excited again about his career. It's just a bummer that he's now working back up in San Francisco during the day. That's too far away for Emma. We've taken the changes in stride, but it's been hectic to say the least. Emma just takes it all in as she sits with her shapes and plays all day.