Sunny days are here again, exploring the Bay Area
I wish I could tell you how awesome the weather was this weekend. We didn't even have weather like this the entire summer last year. The temperature in the Bay Area was in the high 70s to mid 80s all weekend. We really took advantage of it by getting outside as much as possible. On […]
I wish I could tell you how awesome the weather was this weekend. We didn't even have weather like this the entire summer last year. The temperature in the Bay Area was in the high 70s to mid 80s all weekend. We really took advantage of it by getting outside as much as possible.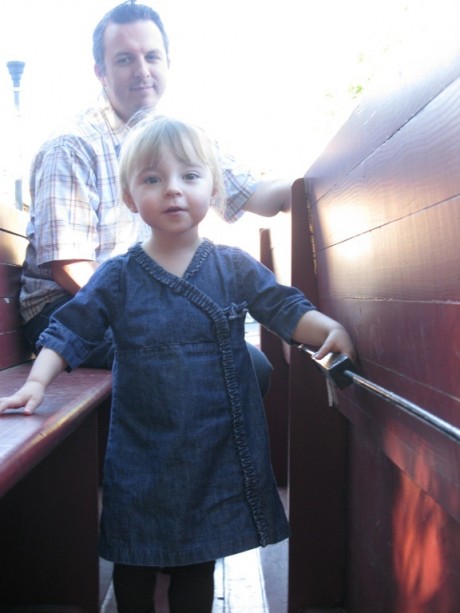 On Saturday, we drove up to Marin and spent the morning in Tiburon. We had a great brunch and a nice walk around the harbor. Emma loves looking at the water and wanted to hop on a boat and take it for a ride. We should have taken the ferry over from San Francisco, but we didn't think of it until we were already in Tiburon. We drove around the peninsula and saw some gorgeous homes that we'll never be able to afford. Emma still wanted to be outside when we got home late in the afternoon, so we went on a long ride with the tricycle she got for Christmas.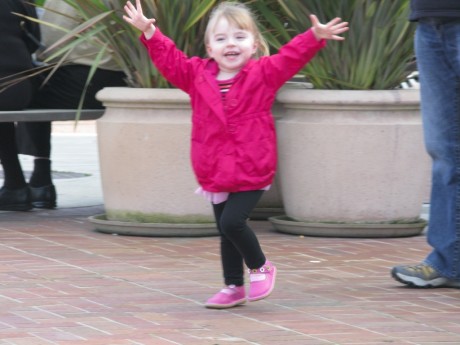 On Sunday we drove back up to Marin. This time, we spent most of our time in Mill Valley, where we hung out at the central plaza's Depot bookstore and cafe. There, Emma talked us into getting her a red velvet cupcake. Imagine that! Note her excitement as she prepares to dig into this cupcake with cute little hearts sprinkled on top.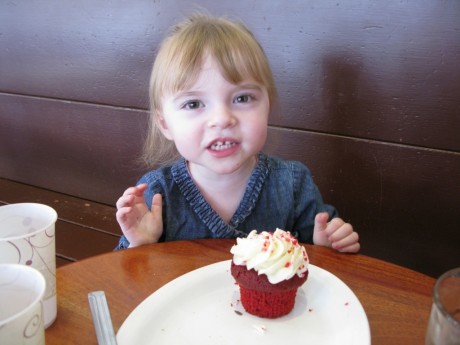 The town square also has a cute outdoor area where people watching is great fun. Emma even made a new friend: a big fluffy dog. We walked across the street to this unique toy store where Emma and Doug played for an hour with every toy they could find. I went next door to Baskin Robbins to get us some rainbow sherbet just to help us cool down a bit. Overall, we had a great weekend!