How to throw a quick and easy brunch
Two of my very dear friends have had birthdays while I've been on bed rest. This is such a bummer since I would love to have taken them out for brunch at one of our favorite spots. I hate IOU's, so with the help of my mother and Pinterest I was able to get a […]
Two of my very dear friends have had birthdays while I've been on bed rest. This is such a bummer since I would love to have taken them out for brunch at one of our favorite spots. I hate IOU's, so with the help of my mother and Pinterest I was able to get a quick and easy brunch together in no time.
Bacon Cheddar Quiche
This is my go to recipe when I'm having a brunch or I can't think of anything to fix for dinner. I love quiche and this one is super quick and easy. My secret, I use a ready-to-bake pie crust to save even more time. Once you have a basic quiche recipe that you love, you can add anything to it to change it up a bit. I've made this quiche for my friend before and have added other veggies for something different.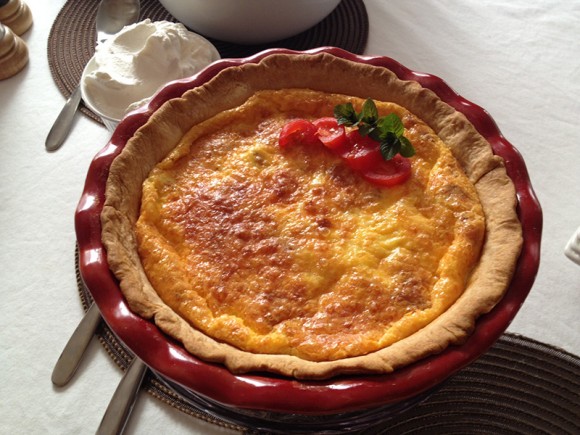 Layer a pound of chopped bacon and 1 cup of cheddar cheese on the bottom of your ready to bake pie crust. Beat and add 4 eggs plus 1 cup of heavy cream, then pour over the top of the bacon and cheddar. Add salt and pepper to taste. Bake at 350 for 1 hour.
French Breakfast Muffins
These super easy French Breakfast Muffins are from Ann at Velvet Lava Cafe. She has taken such simple ingredients and made something decadent. I had all the ingredients in my pantry so I didn't need to send anyone out to the store to make these beauties. One taste and you'll feel like you are eating at a Parisian Cafe! If you don't use cupcake wrappers, you can actually coat the whole muffin in the sugar mixture. YUM!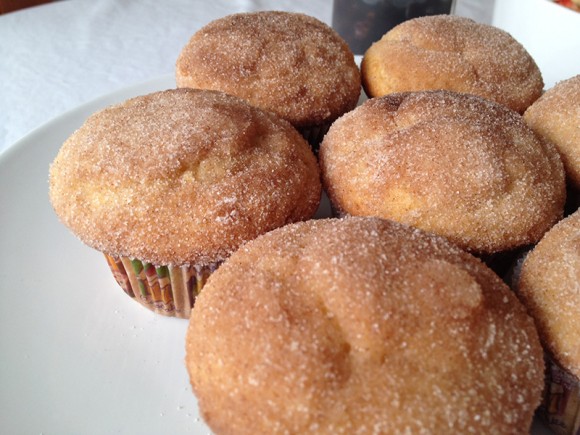 Cherry Blossom Puffed Pastries
I love just about anything made with puffed pastry. Just Get Off Your Butt and Bake had a super easy way of creating a messy scrumptious treat. This is also a recipe that requires very little ingredients and isn't time consuming. Both of these are very important when you are the supervisor shouting out directions from afar!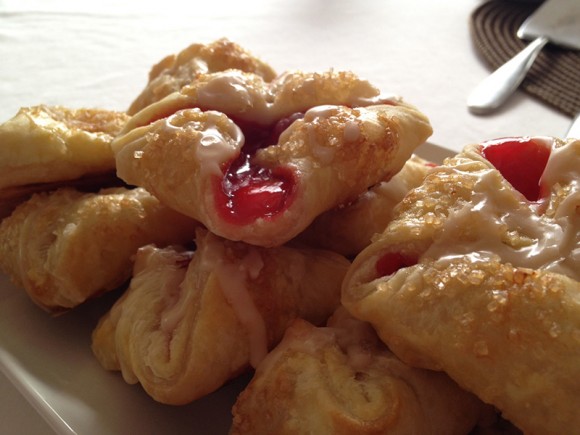 Simple Fruit Salad
Having a fruit salad with seasonal fruits will be refreshing and add color to your table. I make a quick whipped cream for topping. Nothing is better than fresh whipped cream and it's so easy. Put 2 tablespoons of sugar, a little vanilla, and a cup of heavy cream in a chilled bowl. Use your whisk attachment to get the perfect consistency. It takes my mixer about 5 minutes.
Set it up buffet style, add flowers, and break out the champagne glasses. See, it's that easy to throw together a quick and easy brunch. This is also an easy way of letting the ones you love know how much you appreciate them!