Summertime raspberry cupcakes
Take advantage of the fresh berries that scream summertime. These raspberry chocolate cupcakes are the best and perfect for any summertime event.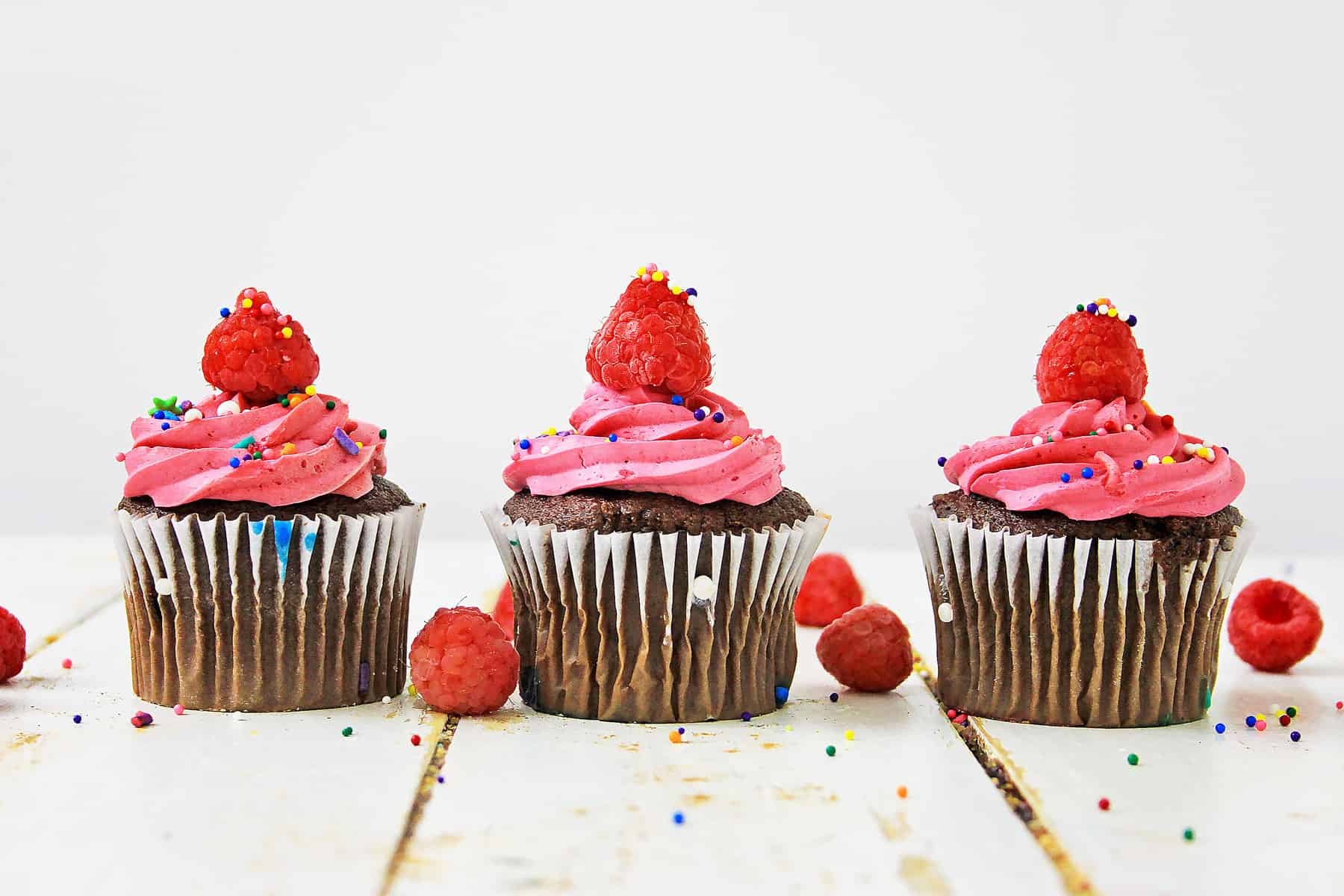 We love fresh fruits and veggies during summertime months. We love baking with them just as much. Summertime raspberry cupcakes will take you back to those summer months when you were a kid eating raspberries by the handful, barefoot, and playing in the sunshine. They're so good, easy to make, and a real treat everyone is sure to love. These will be a summertime favorite in no time. Here's how you make the best summertime raspberry cupcakes your whole family will love.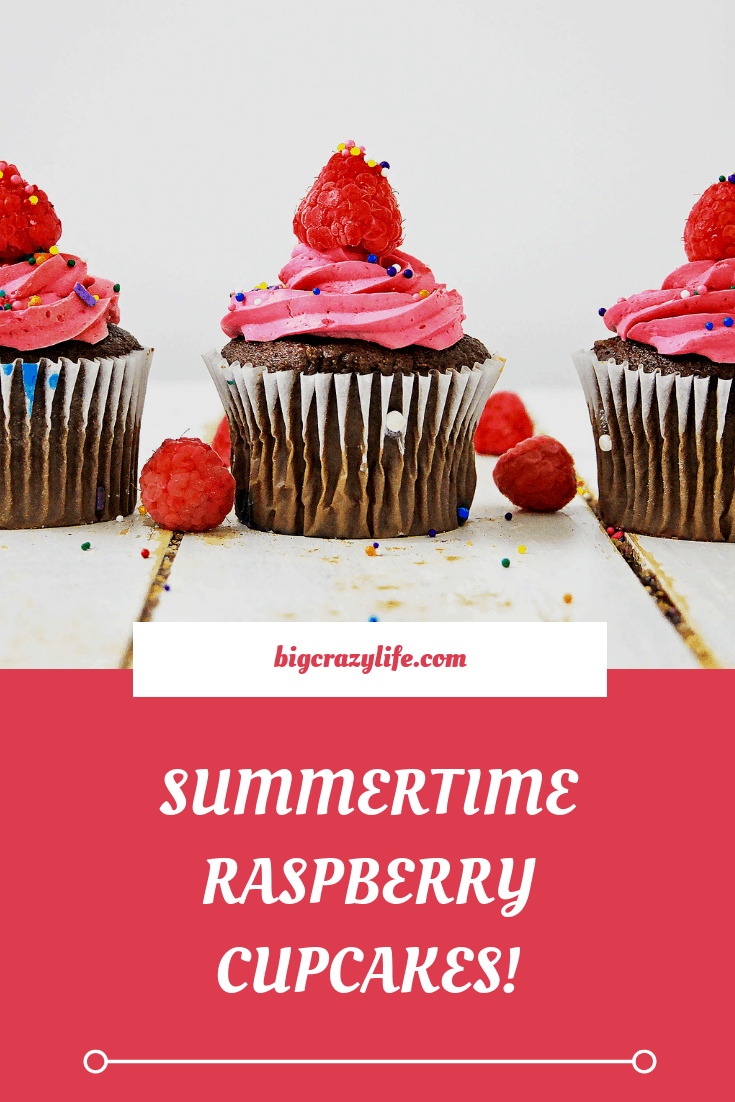 Summertime Raspberry Cupcakes
Here's what you'll need
2 1/2 cups of all purpose flour
1 teaspoon baking powder
1 teaspoon baking soda
1/4 teaspoon of salt
3/4 cup of butter – softened
1 1/2 cups of sugar
2 cups of fresh raspberries – rinsed and drained – divided; see instructions
2 large eggs
1 cup heavy cream
1/2 cup of chocolate milk
1/3 cup of cocoa
1 teaspoon of vanilla
Nonpareils – or favorite sprinkles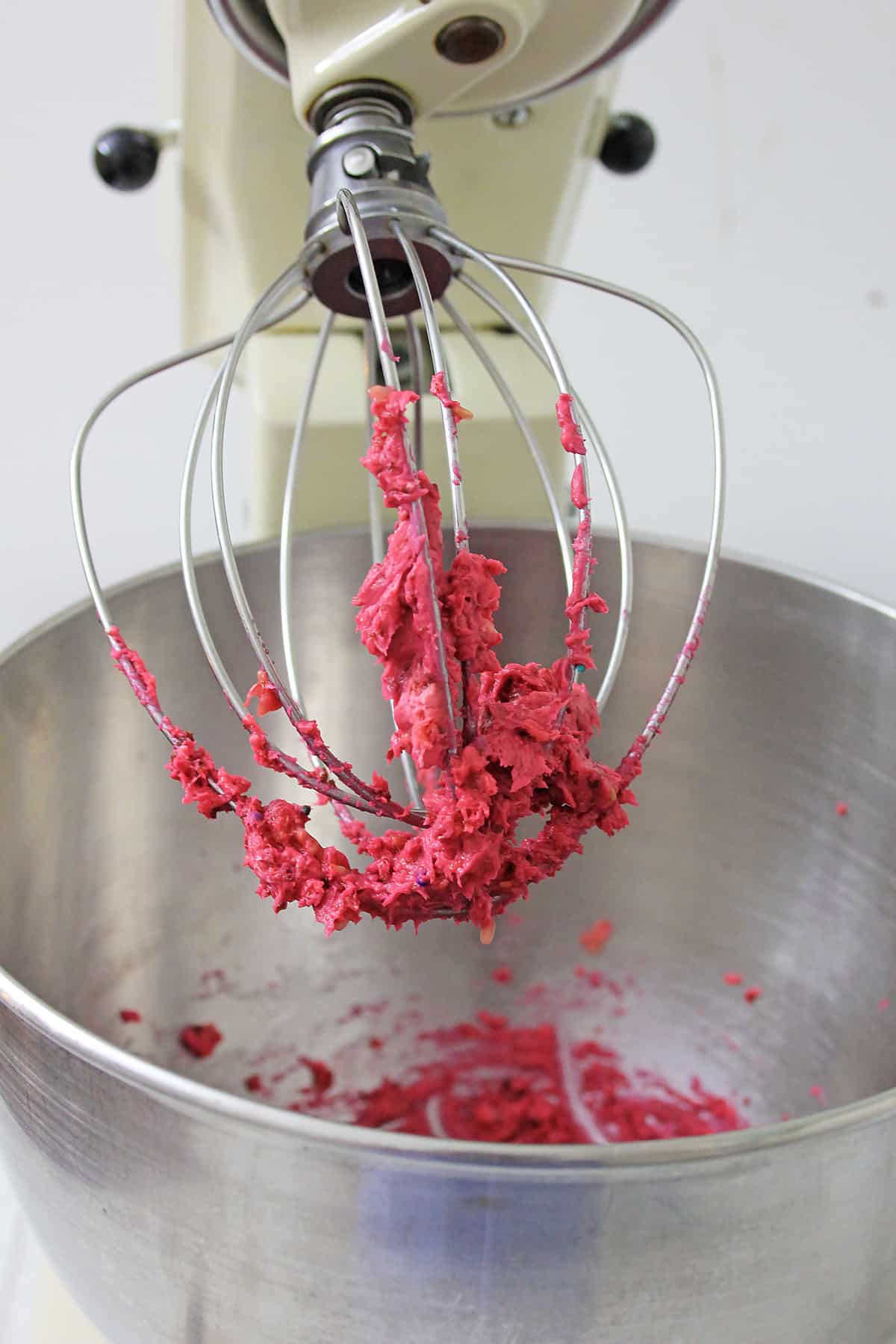 For the Frosting
1 cup mashed raspberries – pulsed in the blender
1/2 cup of sugar – for mashed berries
1/2 cup of cream
1 8-ounce package of cream cheese, softened
1 stick of butter – softened
2 cups of powdered sugar
1 teaspoon of vanilla
Nonpareils for topping – or your favorite sprinkles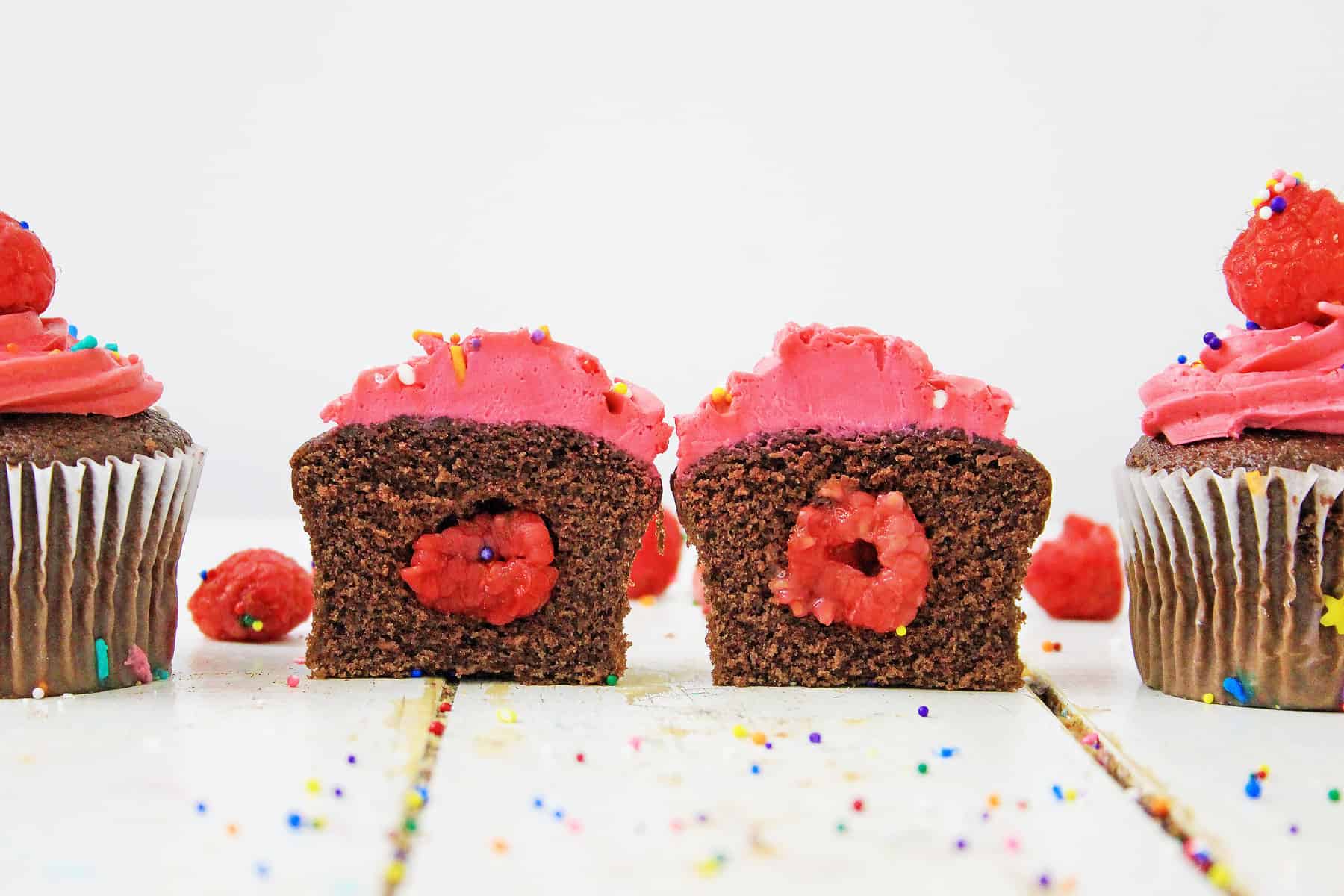 For the cupcake center
Whole raspberries for the cupcake center
Sugar for dipping berries for the center of cupcakes
Whole raspberries for the top of cupcakes
Cooking tools you'll need
One 24-count muffin tin (or 2 12-count tins)
1 pastry bag
1-star tip
1 corer (to remove the center of cupcakes)
A stand mixer (or equivalent)
Blender
Cooling rack
Foil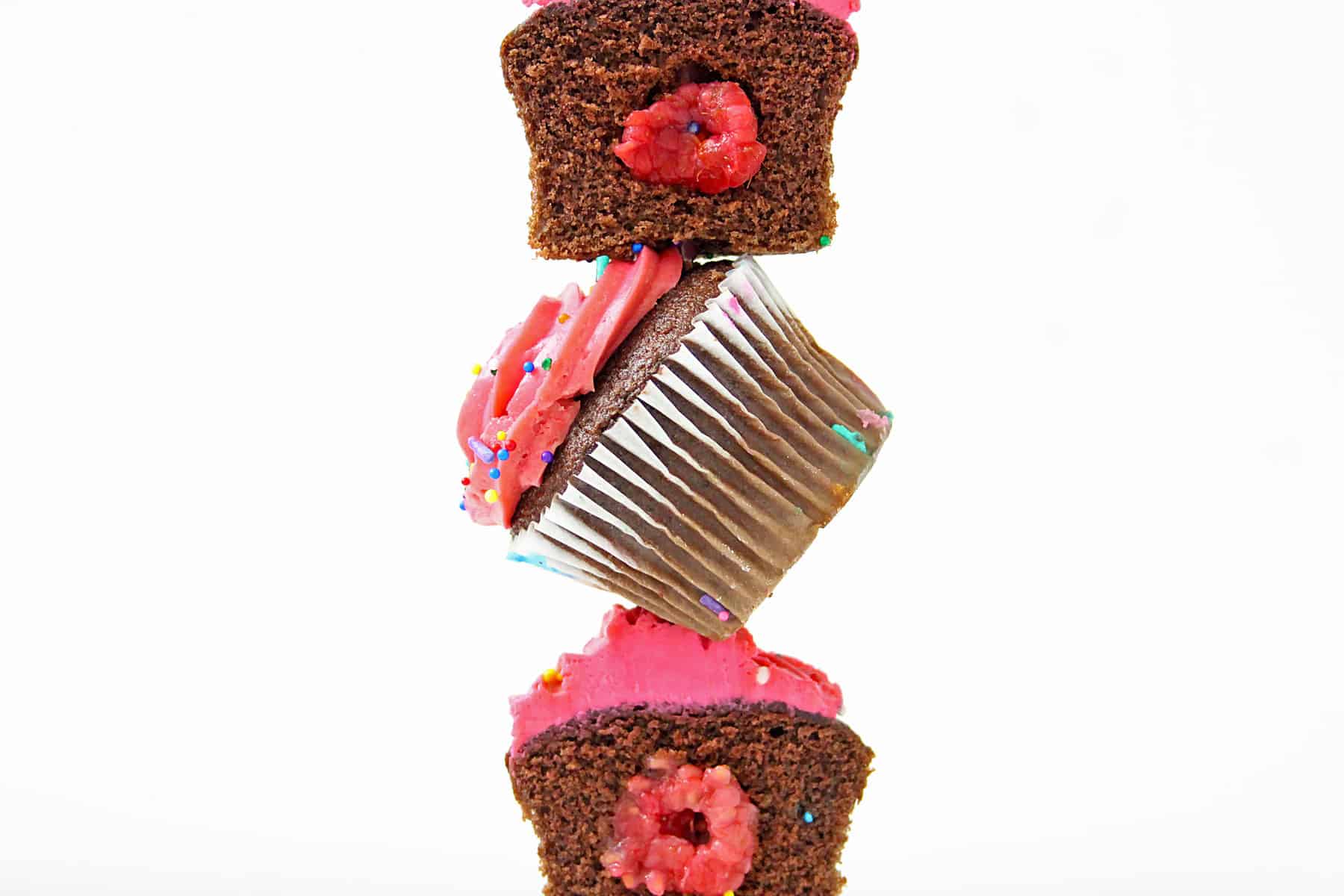 How to make the cupcakes
Preheat oven to 350 degrees.
In the mixing bowl of a stand mixer, add the flour, baking powder, baking soda, salt, cocoa, and sugar, and stir on low, to blend ingredients. With the mixer turned off, add the butter, heavy cream, eggs, chocolate milk, and vanilla, and mix on low until all ingredients are blended. Then mix for one more minute on medium high. Turn off the mixer and remove the bowl from the stand. Scrape sides of the bowl with a spatula, and mix in any ingredients that were not mixed with the mixer. Place 24 cupcake liners in either one 24-count cupcake pan, or 2 12-count cupcake pans, and fill 2/3 full with batter. Bake at 350 degrees for 20 to 25 minutes, or until a toothpick inserted in the center comes out clean. When cupcakes are baked, transfer them to a wire cooling rack, and cool completely before frosting.
Rinse the raspberries in a colander under cool water, and drain on paper towels. Place 1 cup of the raspberries in the blender with 1/2 cup of sugar, and pulse until the berries are mashed. Set aside.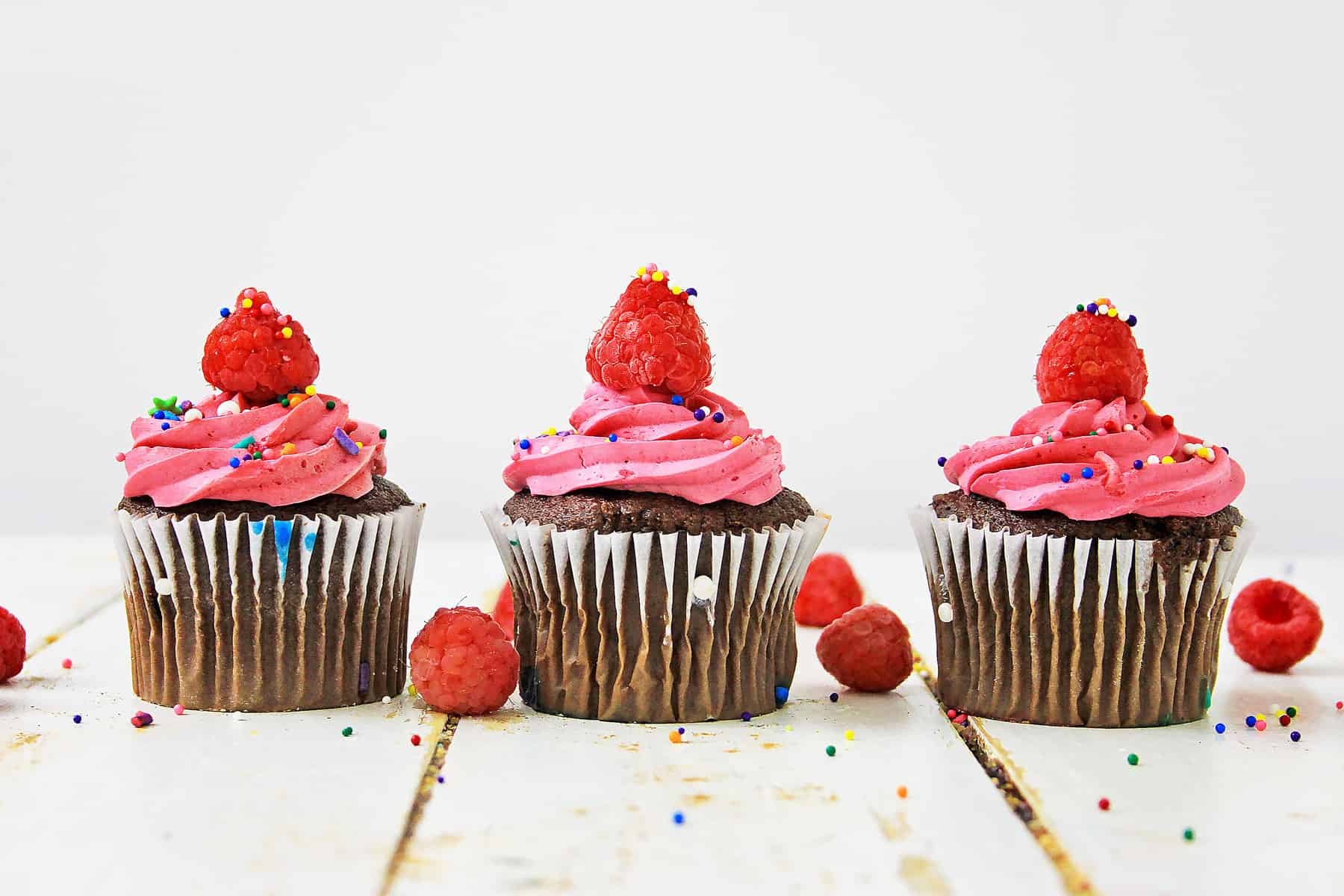 While cupcakes are baking and cooling, make the frosting:
In the bowl of your stand mixer, mix the butter and cream cheese until light and fluffy. Add the cream, smashed raspberries and vanilla, and blend on low to medium until well blended. Turn off the mixer, and add about a third of the powdered sugar. Mix on low until blended, and repeat until all powdered sugar has been added. If the frosting needs to be a little thicker, add a little more powdered sugar. If it's a little too thick, add cream, one teaspoon at a time until you have the desired consistency. Remove the mixing bowl, scrape down sides, and blend with a spatula. Cover the mixing bowl with foil, and place in the refrigerator until cupcakes are completely cooled and ready to frost.
When cupcakes are completely cool, using the corer, core the center out of the top of the cupcake, and lay the cored out piece next to the cupcake. Place a whole raspberry, dipped in sugar, in the center of the cupcake. Place the cored out piece of the cupcake back in the cupcake, pressing down slightly. Repeat until all cupcakes have a sugar-coated raspberry in the center.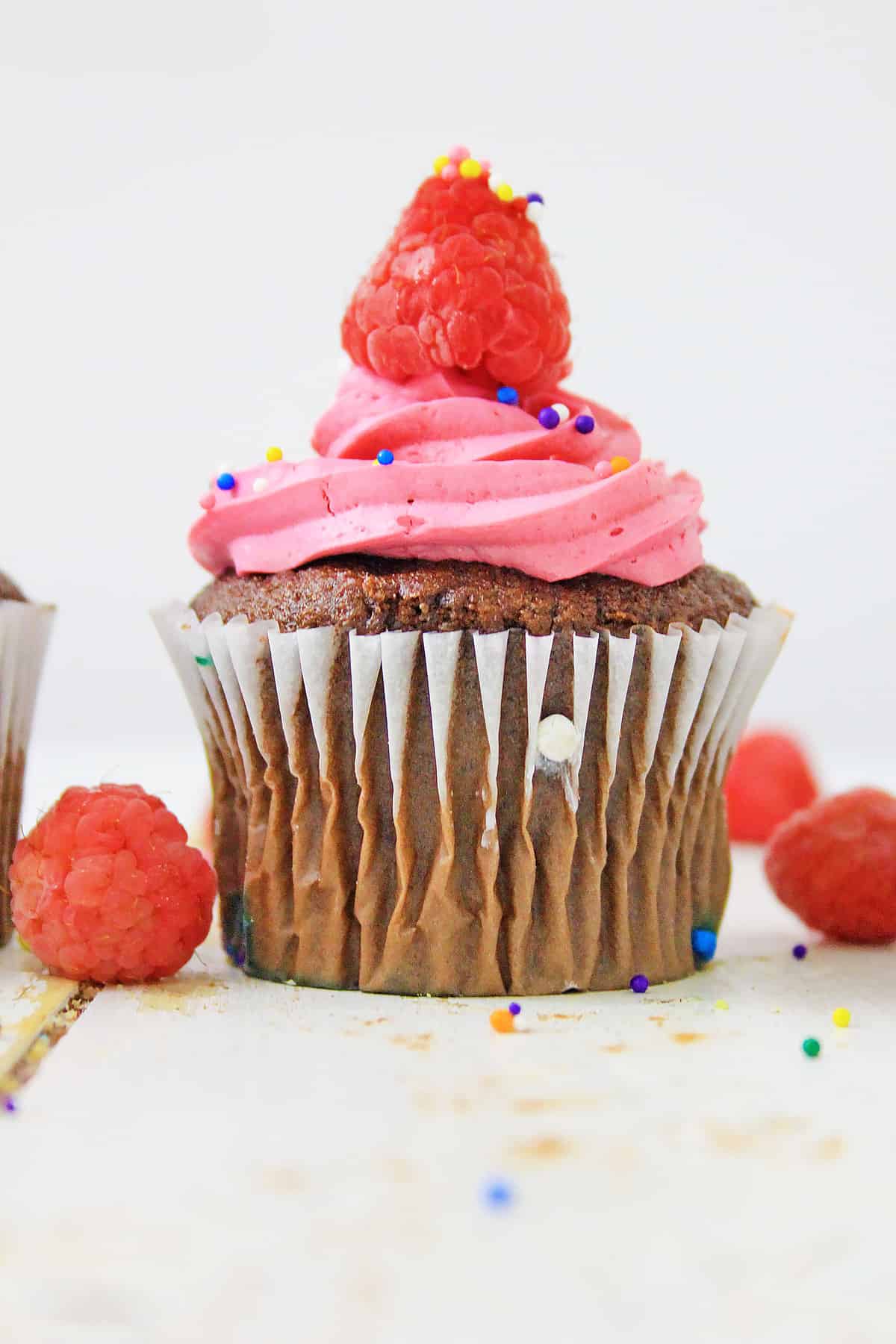 Remove the icing from the refrigerator, and place icing in a pastry bag with the large star tip, and swirl icing on top of cupcakes forming to a peak. Top with a raspberry, and sprinkle with nonpareils or your favorite sprinkles. Serve immediately, or place cupcakes in a cupcake container in a single layer, and place in the refrigerator until time to serve. Cupcakes kept in the refrigerator will keep for up to 6 days. Enjoy!