All aboard the new Disney Wish
Want to know about the latest Disney Cruise Line fleet? Here's everything you need to know about the new Disney Wish setting sail summer of 2022!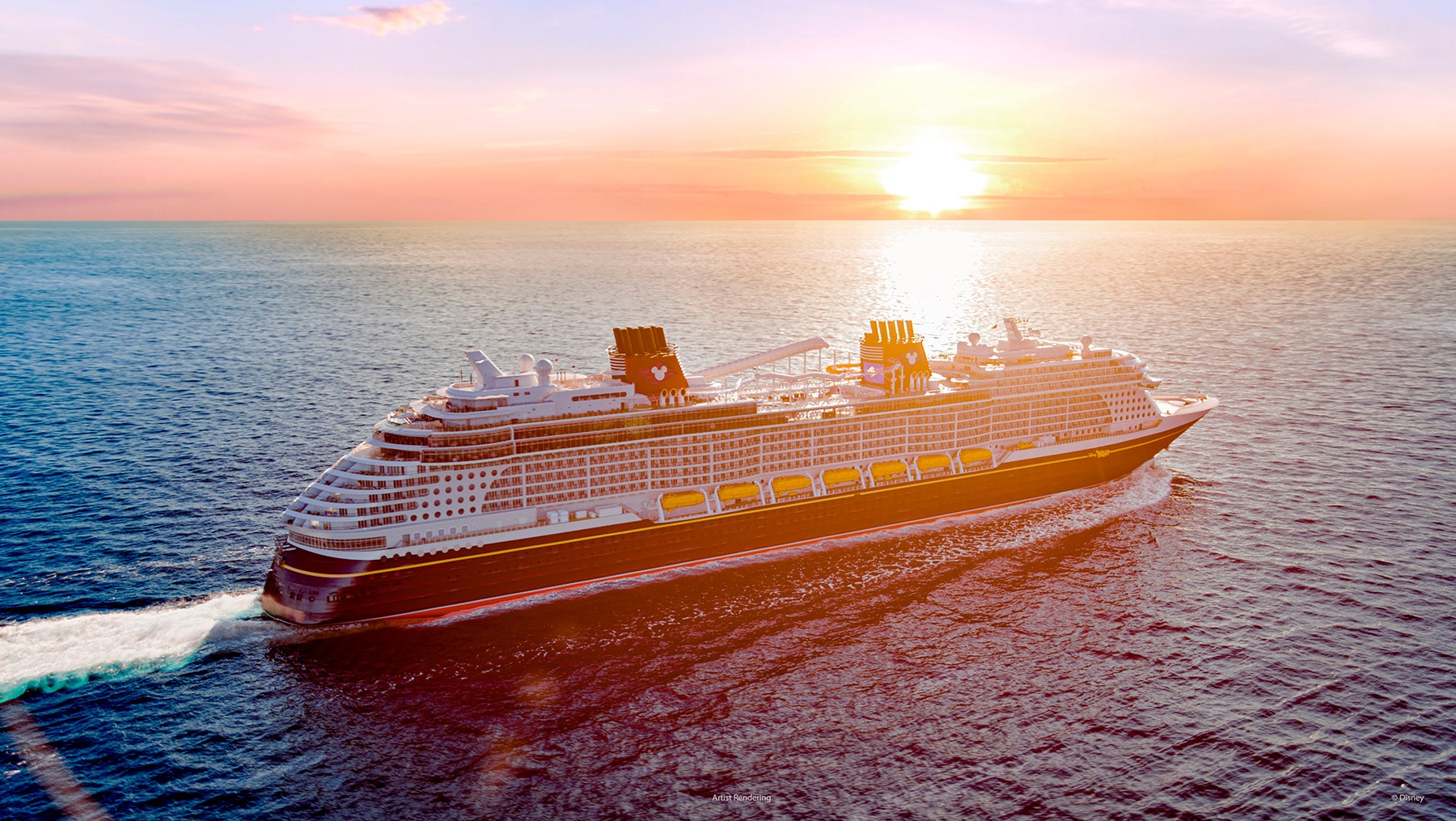 Disclosure: We were provided a complimentary (or discounted) product or service and/or given compensation in exchange for our thoughts about it.
Disney Cruise Line is about to embark on another amazing journey at sea with their new ship, the Disney Wish. The Disney Wish was revealed in April 2021 and will be accepting reservations as early as May 27, 2021, for voyages starting next Summer, 2022. What sets apart the Disney Wish from their other ships? Well, let me tell you…
Disney does an exceptional job at making these cruises enjoyable for both kids and adults. They didn't spare anything with the Disney Wish. From newly designed pools to out-of-the-world dining experiences, there is something for the young and old at heart.
On deck: introducing AquaMouse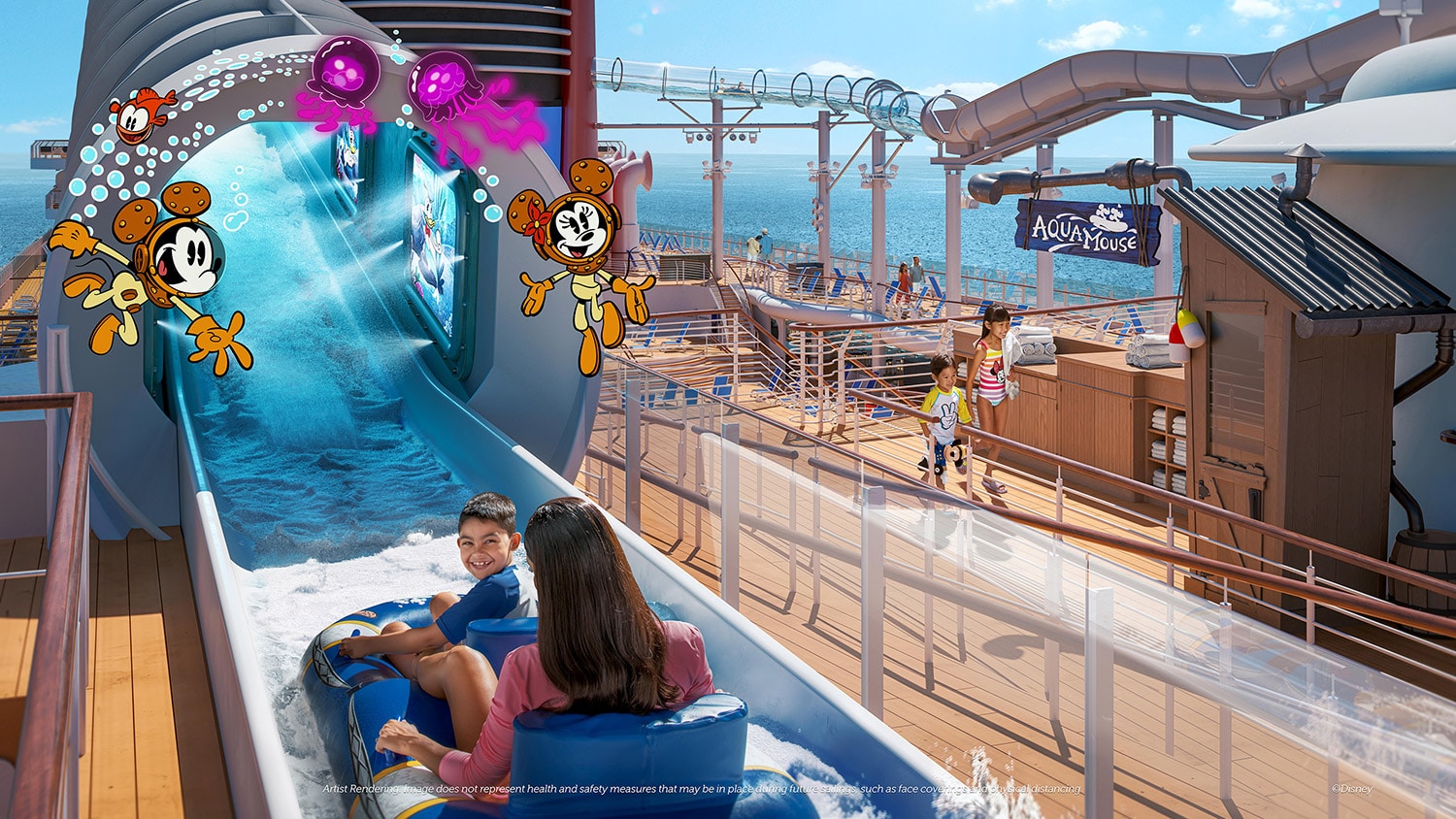 The Disney Wish will be the first of its kind. They weren't kidding either. The upper deck has something new to the Disney fleet. AquaMouse is the first-ever Disney attraction at sea. With animated short scenes, special effects, and a 760-foot winding water slide, it's sure to keep all of us in awe as we wind around the deck, or watch others do the same.
If your children are looking for something a little more on deck level, don't worry. Disney has a "Toy Story" themed splash area just for smaller children. Parents can even enjoy an adult-only pool area if their kids are away for the day at any of the kid-exclusive options.
For the kids
Speaking of the Oceaneer Club, this will be the only place adults aren't allowed. This club, just for kids ages 3 to 12, has some of the most amazing experiences I have ever seen. There are three new areas for kids to explore and let their imaginations run wild.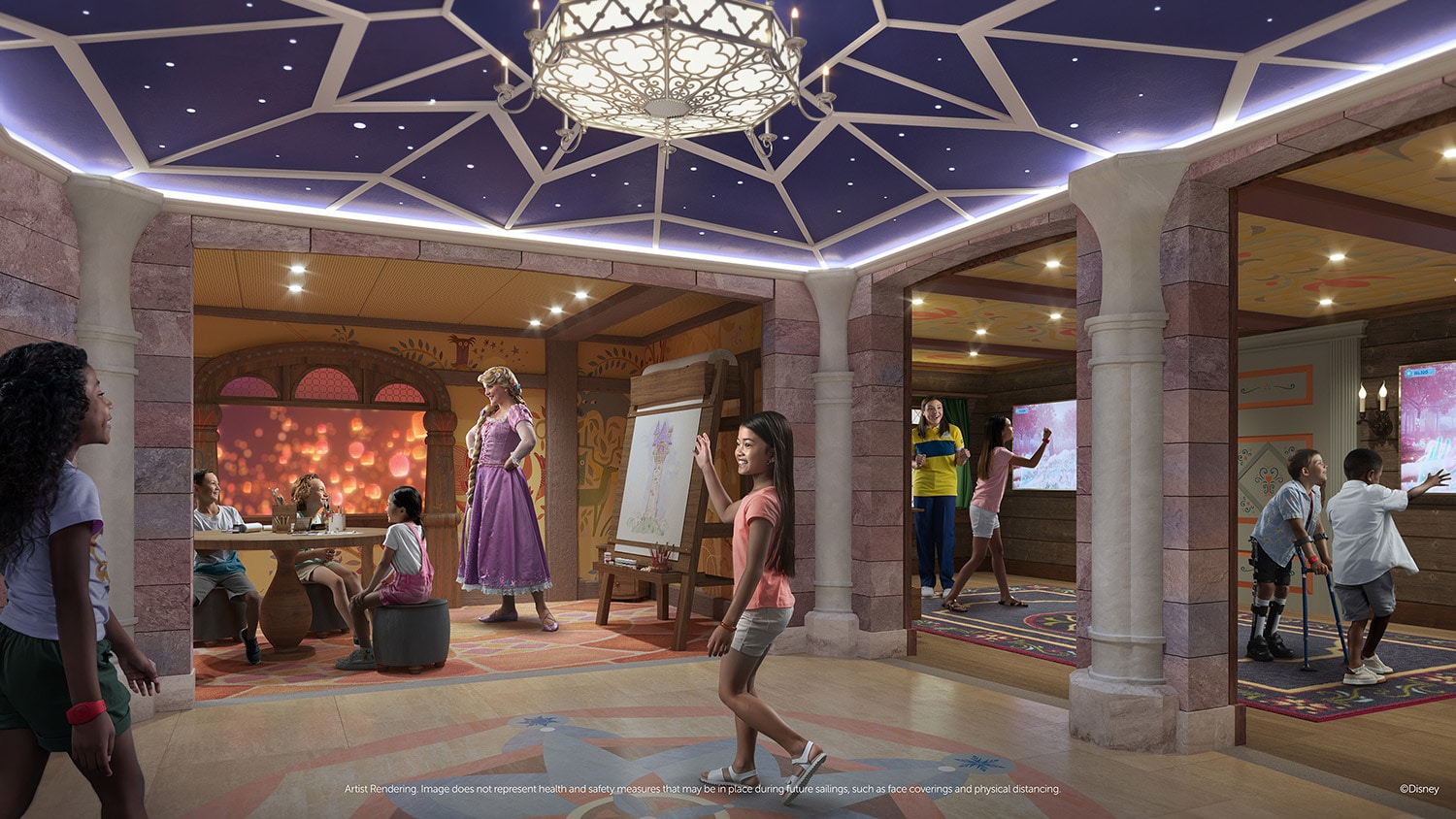 For our older crowd, we have Imagineering Interactive Lab, where they can design, create, and ride (virtually) their own roller coaster creation. Next, they have Fairy Tale Hall, where they can meet Rapunzel, Belle and even hang out in Anna and Elsa's house. But as a Marvel fan, one of my favorite spots would be the Superhero Academy. Some of the most loved Characters will be there and they can even make their own costumes.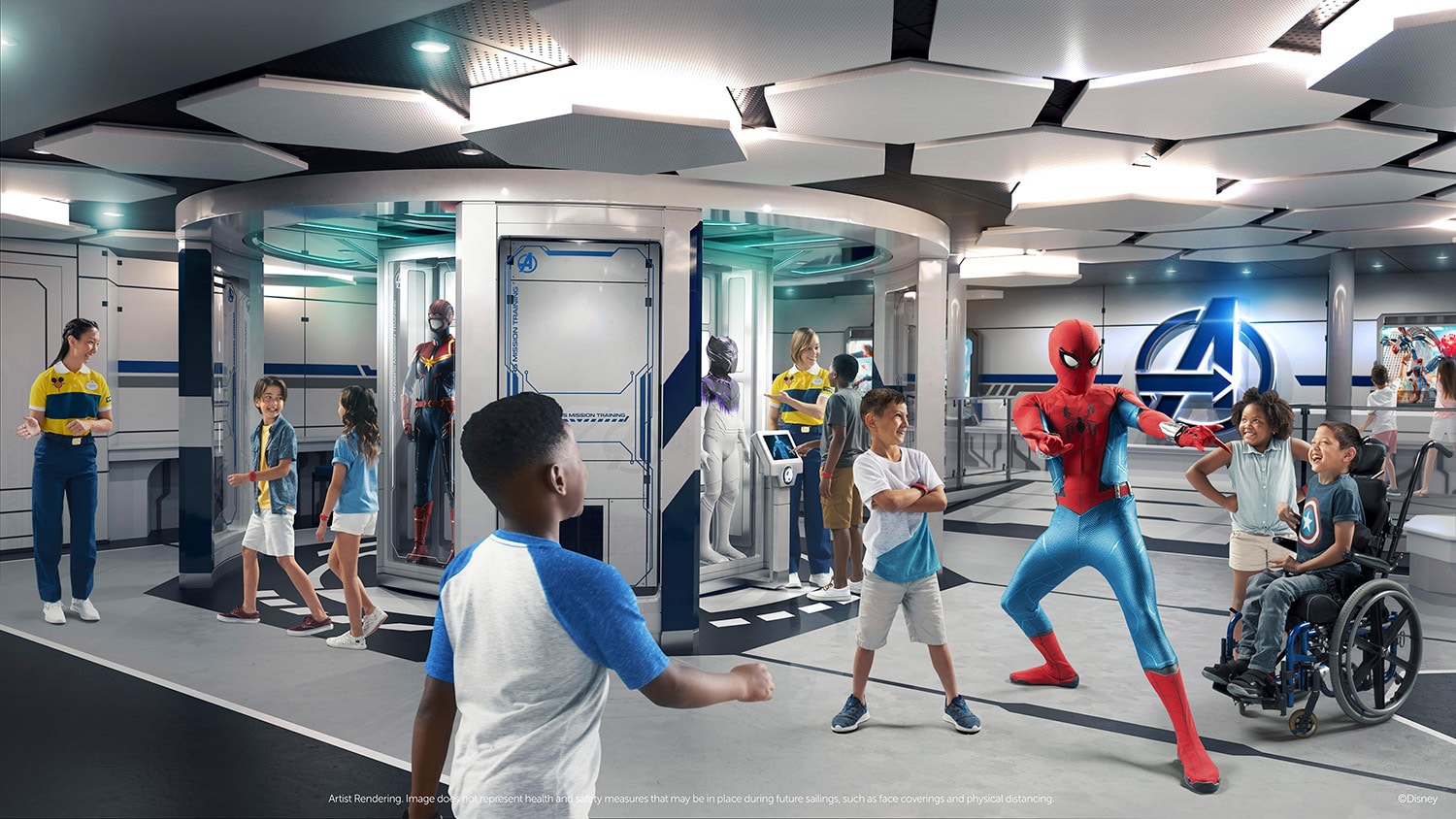 Wondering what the rest of the kids will be doing? Don't worry, For the youngest cruisers ages 6 months to 3 years, It's a Small World Nursery will offer babysitting services in a whimsical environment inspired by the beloved Disney attraction of the same name.
Edge (ages 11 to 14) and Vibe (ages 14 to 17) are trendy hangouts where tweens and teens can chill and play in their own way, with dedicated programming designed to engage the unique interests of these age groups.
Just for the adults
We all know that a child is going to have the best vacation ever aboard the Disney Wish. But what can adults expect? Aboard the Disney Wish, adults will be able to escape, relax, dine and play in more ways than ever.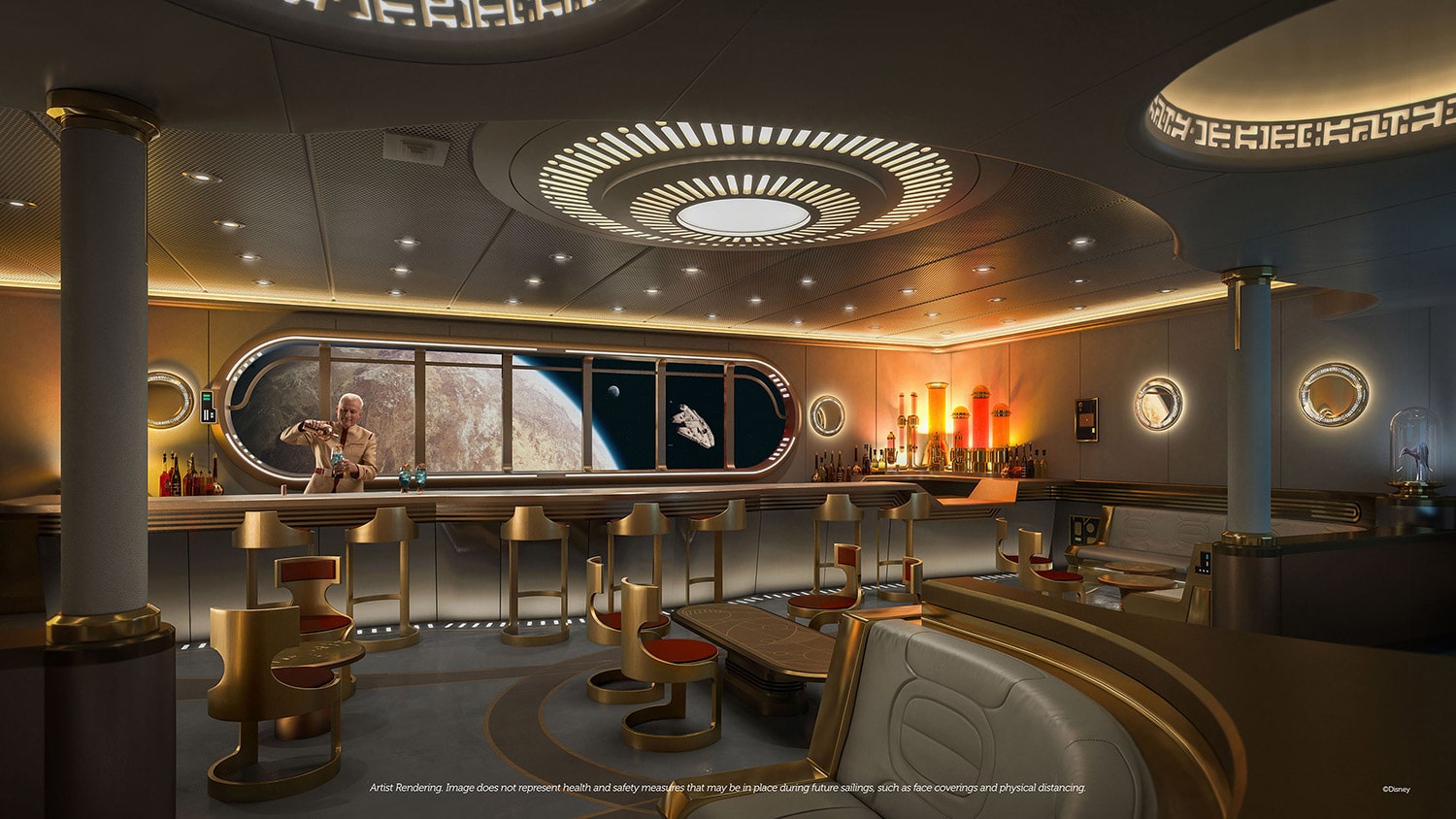 For the first time on a Disney ship, guests will embark on a space-jumping tour of the Star Wars galaxy at Star Wars: Hyperspace Lounge, a high-end bar styled as a luxurious yacht-class spaceship. This richly themed, immersive experience will be reserved for adults every evening, offering interactive tasting experiences and signature beverages inspired by destinations such as Batuu, Tatooine and Mustafar.
Aboard the Disney Wish, guests will savor gourmet meals and exceptional beverages at Palo Steakhouse, Enchanté by Chef Arnaud Lallement, and The Rose, an upscale suite of epicurean excellence exclusively for adults, inspired by the elegant icons of Walt Disney Animation Studios' "Beauty and the Beast."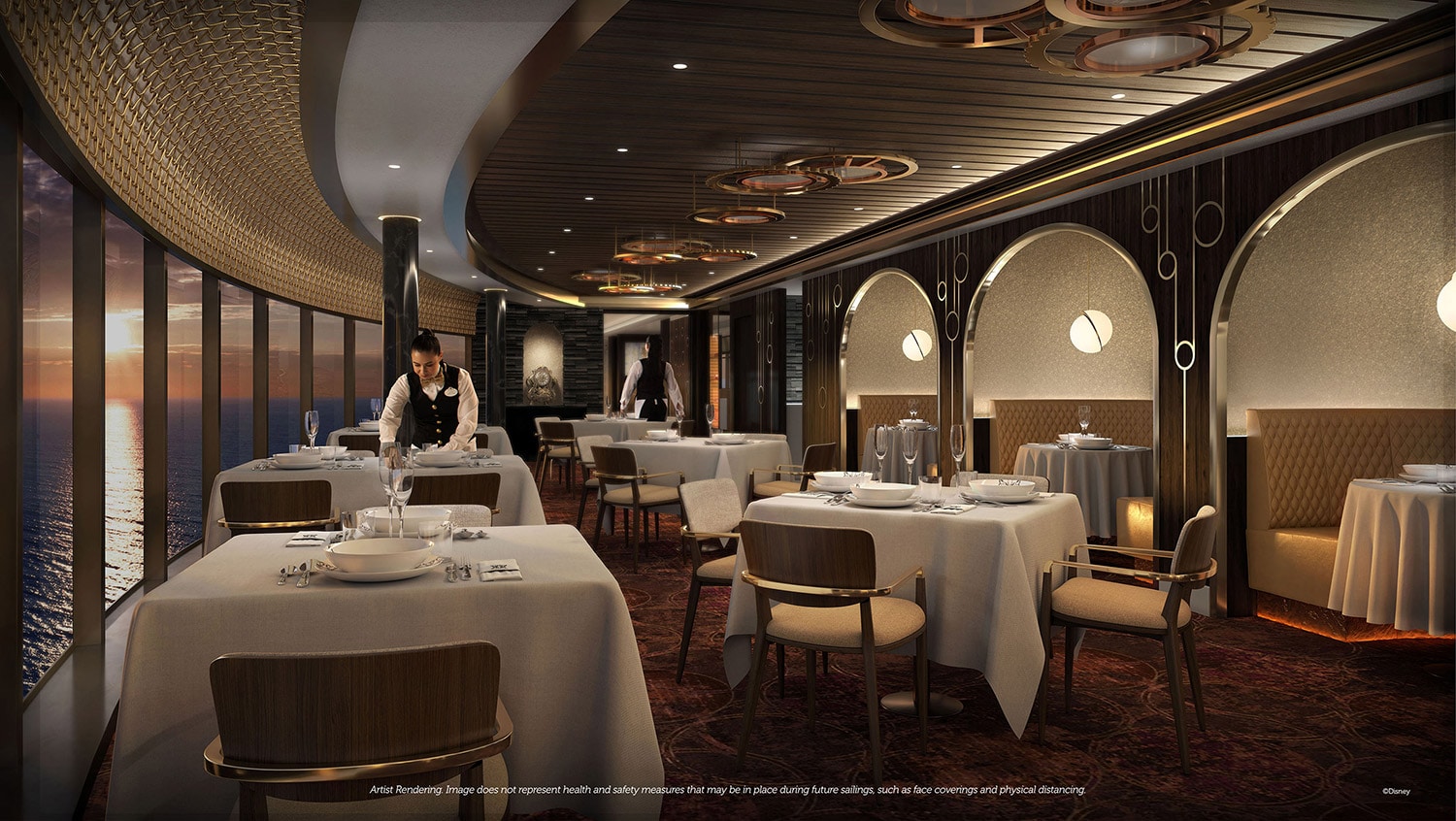 And don't forget about the Senses Spa. This spa is a tranquil oasis offering indulgent spa and beauty treatments, drawing on the serenity of natural elements to promote pampering and relaxation. The spa will feature private treatment rooms, lavish spa villas, and steam and aromatherapy rooms, while the reimagined Senses Fitness will offer state-of-the-art exercise and wellness facilities.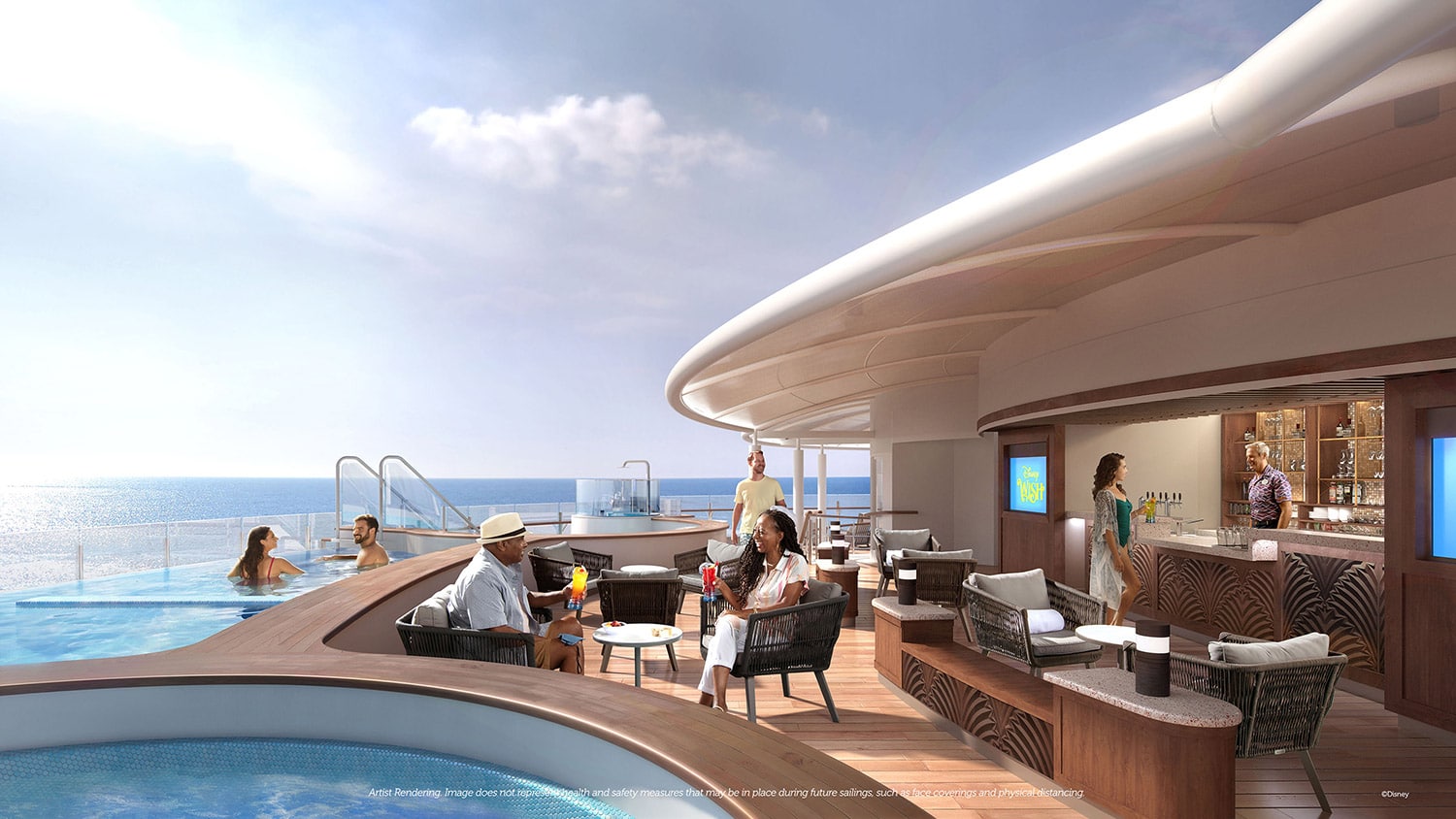 Other adult-exclusive spaces on board the Disney Wish will include the Quiet Cove pool district; a variety of gourmet cafes, relaxed bars and upscale lounges, and more. So will adults have as much excitement as the kids? I think so.
Dining experiences
One thing for sure, you will not go hungry on the Disney Wish. Disney has many great dining options. From cocktails at a Star Wars themed Hyperspace Lounge, to dining and actively participating with your favorite Marvel characters at Worlds of Marvel, families can have an out-of-this-world experience. And if you want to keep things a bit more traditional, Disney has you covered with the beautiful 1923 family dining restaurant named after the year Walt Disney Company was founded.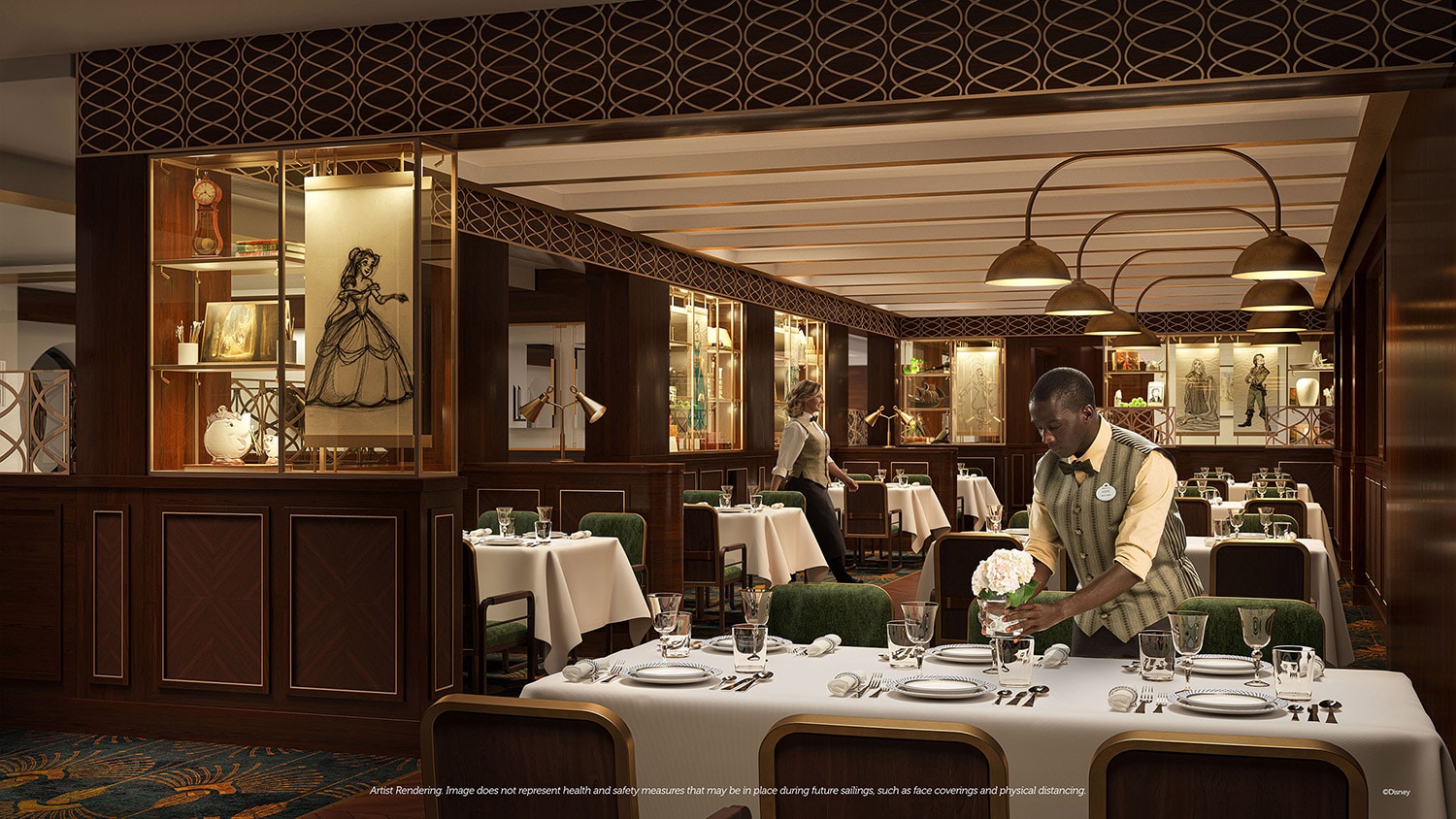 In addition, several theatrical dining options will always offer a fun family experience. In addition to elaborate dining experiences, Disney will of course still be offering quick serve opinions, in-room dining, and casual dining for those that would like to spend a bit more time exploring the ship.
Staterooms
The name of this cruise ship is not a coincidence if you're wishing to stay in one of the beautiful suites. The Disney Wish will debut four royal suites that celebrate the gilded world of Disney Animation's "Sleeping Beauty," with two Princess Aurora Royal Suites and two Briar Rose Royal Suites. Each suite includes a single-floor option and a two-story configuration, the first of their kind for the Disney fleet. Now that would be a wish come true.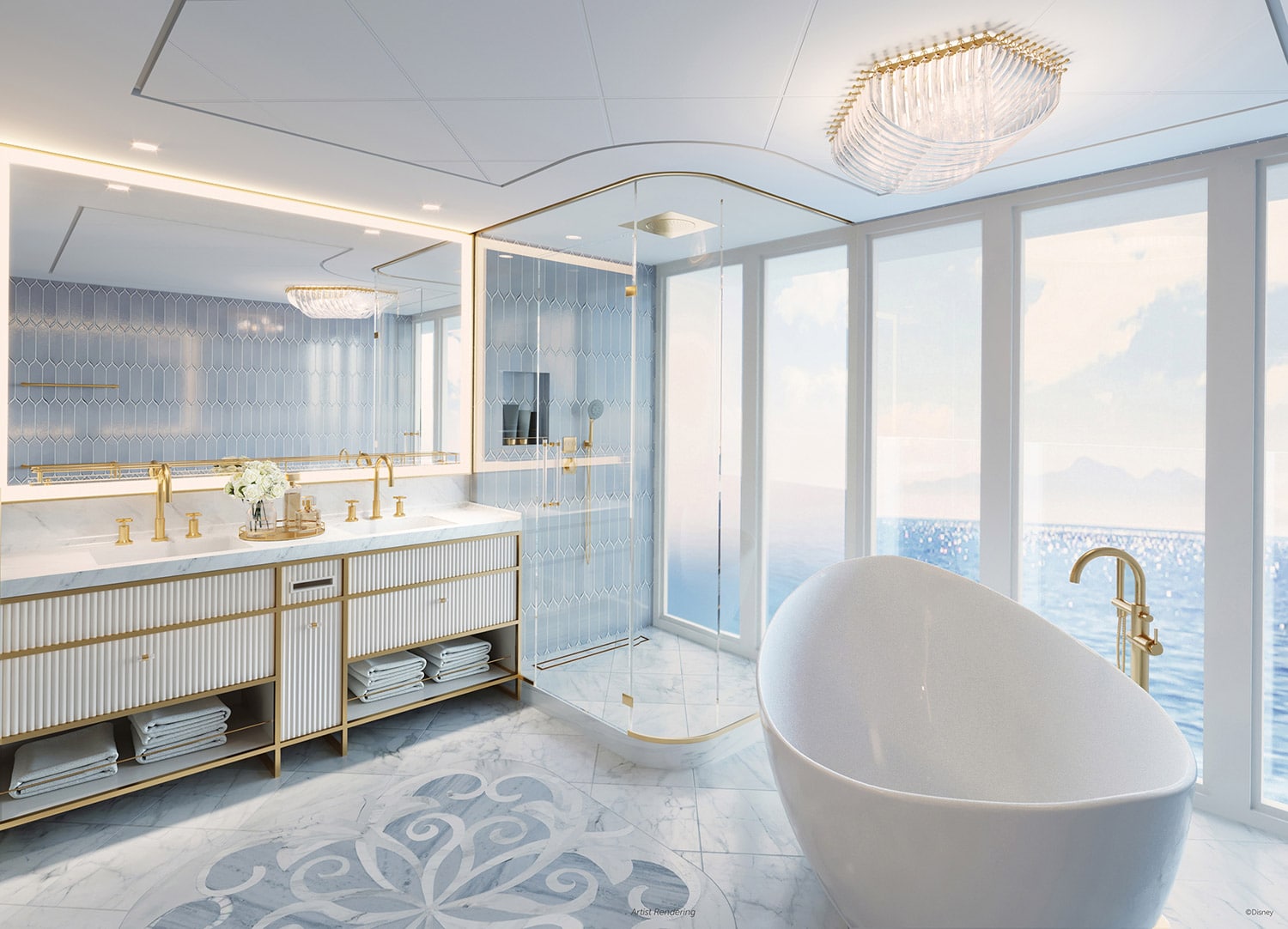 If you're not one of the lucky four families sleeping in these rooms, don't worry. Disney has plans for the rest of us starting with enhanced features for each stateroom. Every room will tell a story and be just as magical as the next. Each room is designed with ample space for families, lots of storage, and upscale amenities. Ninety percent of Staterooms on the Disney Wish will offer ocean views, and seventy percent of them will have their own verandahs.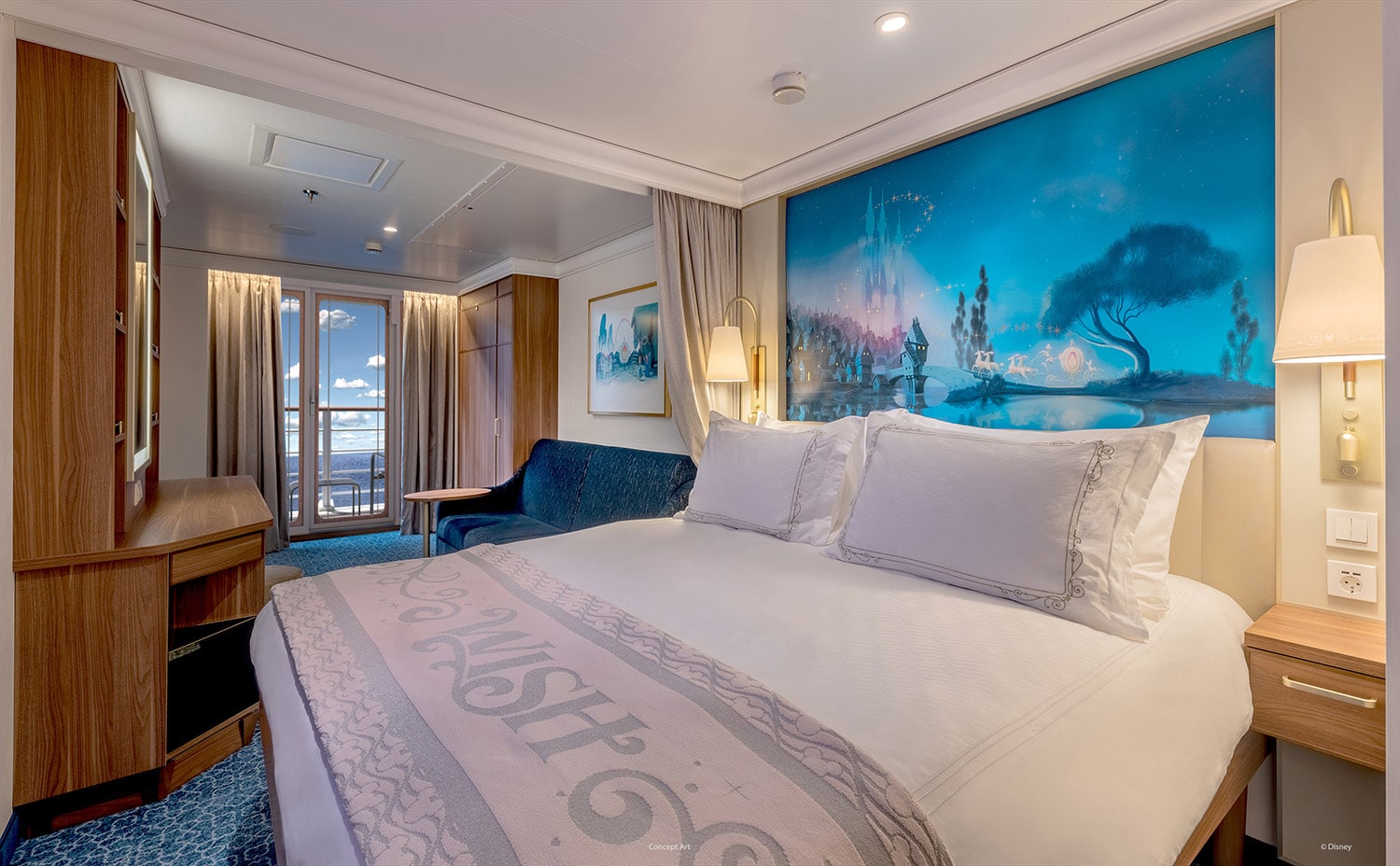 Booking details
There's so much more to share about the Disney Wish, but for now, we hope we've given you a glimpse into what's to come in the Summer of 2022. Even though the Disney Wonder sets sail from San Diego, you better believe will be making a trip east for this new voyage.
The Disney Wish will sail its maiden voyage — a five-night cruise to Nassau, Bahamas, and Disney's private island, Castaway Cay — on June 9, 2022, followed by an inaugural season of three- and four-night cruises to the same destinations from Port Canaveral, Florida. Bookings open to the general public on May 27, 2021.
Until then, enjoy the Disney Parks Blog Virtual Deck Party to get a few Disney ideas and see what's ahead!