Disneyland Hotels: Paradise Pier
We've had many friends travel to Disneyland, and many have asked us where we stay. They are typically surprised to find out that we have stayed on-site almost every time. We stayed off-site once, and discovered the value in staying closer. Many find it hard to believe that staying on-site might be more affordable. Before […]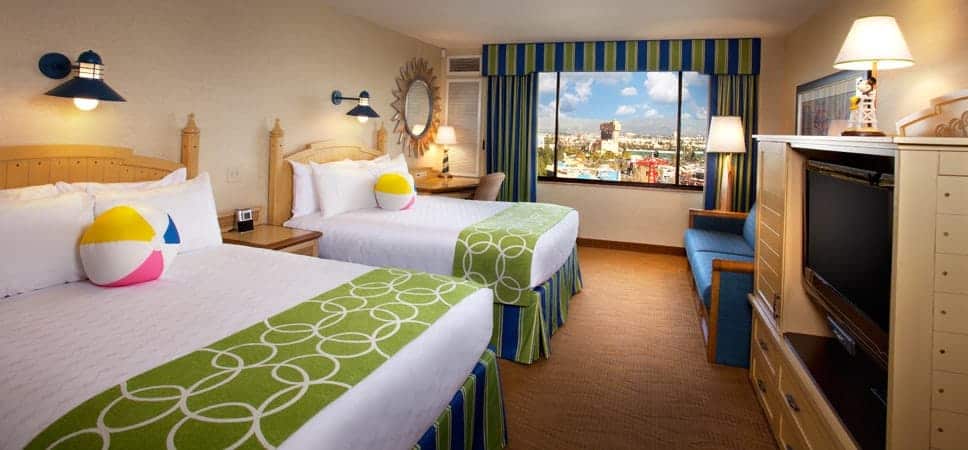 We've had many friends travel to Disneyland, and many have asked us where we stay. They are typically surprised to find out that we have stayed on-site almost every time. We stayed off-site once, and discovered the value in staying closer. Many find it hard to believe that staying on-site might be more affordable. Before you book your next trip, find out about each hotel. If budget is a factor, explore Paradise Pier.
There are three hotels on-site at the Disneyland Resort: Paradise Pier, The Disneyland Hotel, and the Grand Californian. There is a big difference in price and amenities amongst the three hotels. Paradise Pier is the most affordable, Disneyland Hotel is moderate in price, and the Grand is on the higher end.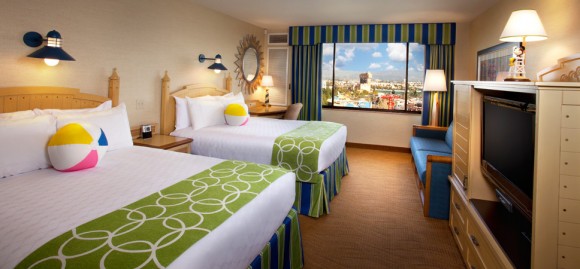 Paradise Pier is the hotel furthest from the park. It was originally owned by a Japanese group, Tokyu. Disney purchased it in 1995 and renamed it Paradise Pier, giving it a "Beach" theme. Although Paradise Pier is the smallest hotel of the bunch, they still have 489 rooms – 29 of which are suites. Each room has an ocean theme. There are two restaurants on-site. PCH Grill, where you can have a Character dining experience with Lilo and Stitch in the morning and build-your-own pizzas at night, and Surfside Lounge.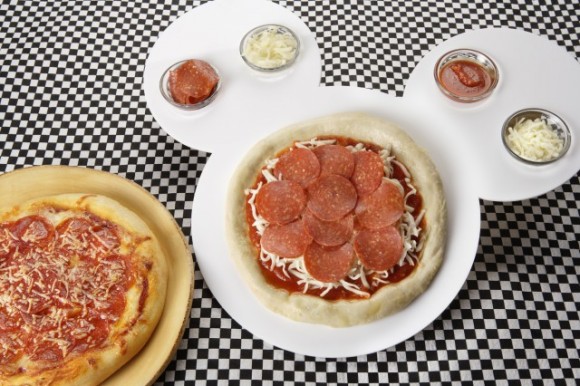 You can find the swimming pools on the third floor. There is an adult pool and a toddler pool for the little ones. Like most Disney hotels, you'll also find a water slide for everyone to enjoy. If you are hanging out at the pool in the evening hours, you'll be able to see the fireworks show from there as well.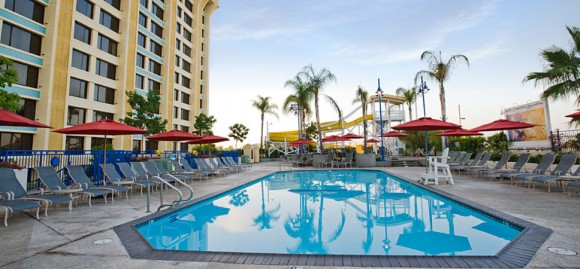 I recommend that you try to get a room with a "Theme Park" view. Guests in these rooms will be able to view World of Color at night. Just turn your TV to channel 46 and you won't miss a thing, except the crowds. If you want to see World of Color in person, getting to Disney California Adventure (DCA) is simple. It's about a 10 minute walk through the Grand Californian across the street. DCA also has it's own park entrance for anyone staying at a Disney Resort hotel.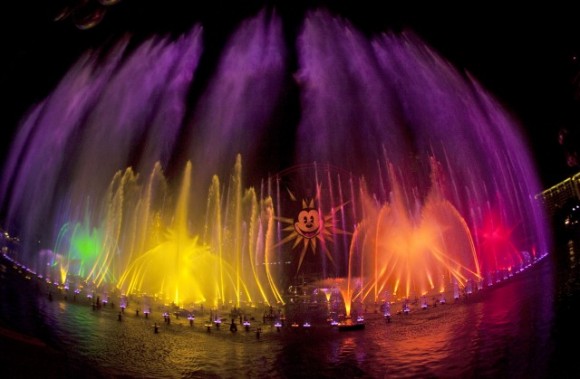 Each of the on-site hotels offer their own unique experience, but you'll also find many consistent features. Each hotel is within walking distance to the park. If you don't get enough exercise walking around the park, they all offer fitness centers as well. You also get early admission into the parks by staying on-site.
There are two ways to gain early park entrance. Extra Magic Hour, where you choose between the two parks and get in one hour earlier than everyone else, and Magic Mornings. Magic Mornings are for those with a 3-day ticket, special feature ticket, or city pass. Magic Mornings are on Sundays, Tuesdays, Thursdays or Saturdays. With a valid ticket, you'll be able to enter DCA through a private entrance in the Grand Californian, making your admission to the park a breeze.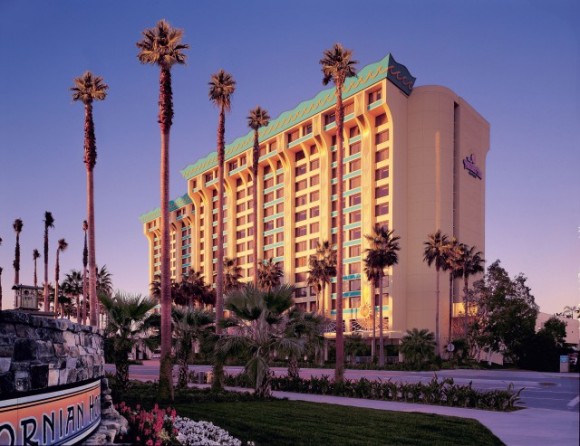 As an extra convenience, you can use your room key to charge meals and merchandise to your room. They'll even have your items delivered so you don't have to lug your souvenirs around with you all day. If you want to get to the park on time, make sure you use the character wake up call service. Your little ones will get a special call at your designated time from one of Disney's characters. Wi-fi is also free and available to all hotel guests; however, it's one of the worst internet connections I've ever experienced.
One of my favorite amenities is the nightly turndown service. After a long day at the park, it's always fun to come back to the room and have Disney character chocolate coins waiting on your pillow. They are always generous with the coins, so I try to get ahead of my chocolate-loving daughter before she sees the sweet treats.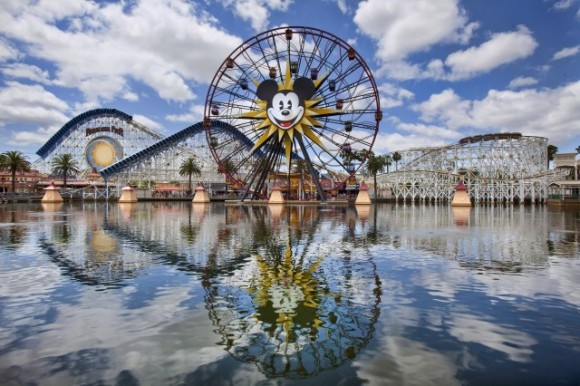 There are many options for places to stay while visiting Disneyland. If you have a tight budget, check out Paradise Pier before you book off-site. You'll be surprised to see that the prices may be within your budget. The rooms tend to be a little larger than other hotels in the same price range, and you get to stay on-site with all of the Disney benefits.
You can also read about the Disneyland Hotel and the Grand Californian very soon. Until then, you can see a complete hotel comparison on the Disneyland Resort website.