American Girl: San Francisco opening
Yesterday I had the privilege of getting a tour of the new American Girl Store at the Stanford Shopping Center. Not knowing much about American Girl, I didn't really understand the popularity of the brand until I experienced it first-hand. The two-level store is carefully organized, and avoids being overwhelming. Each girl is presented her […]
Yesterday I had the privilege of getting a tour of the new American Girl Store at the Stanford Shopping Center. Not knowing much about American Girl, I didn't really understand the popularity of the brand until I experienced it first-hand.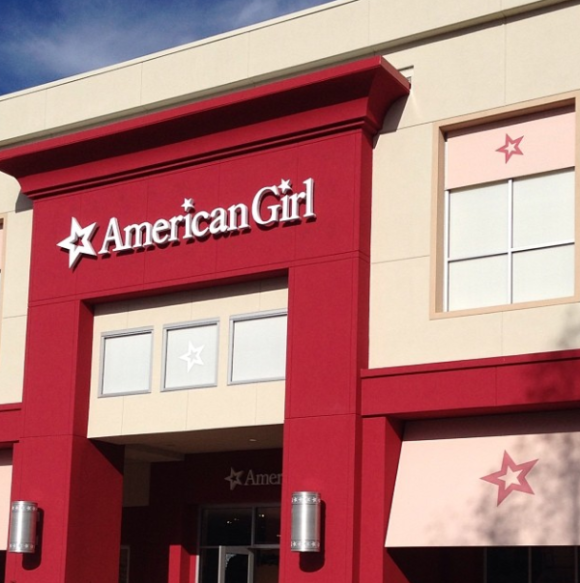 The two-level store is carefully organized, and avoids being overwhelming. Each girl is presented her own section, making it easy to see and find what the store has to offer. The store also has an entire section devoted to the Bitty-Baby dolls as well. These smaller dolls are good for toddlers and pre-schoolers. It didn't take long to realize why these dolls are so popular–they're very well made. This is more of an investment than a toy.
My daughter immediately fell in love with Kit. Kit is the original American Girl from the 1986 launch. Each girl has her own life story, and comes with a book for your child to read.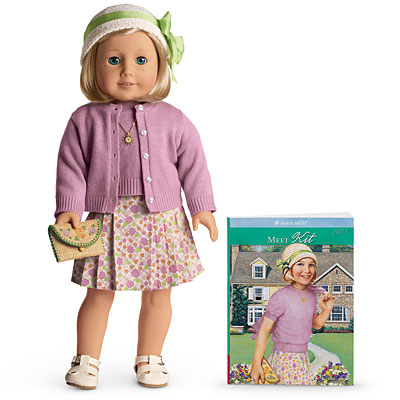 American Girl likes to think of their brand as an experience. You can bring your doll back to have their ears pierced, (yes the dolls can get their ears pierced) have their hair re-done at the salon, or bring them to the Bistro for lunch. While dining at the Bistro, the doll will have her own seat and place settings. The new Stanford location will also be able to accommodate birthday parties and other special events.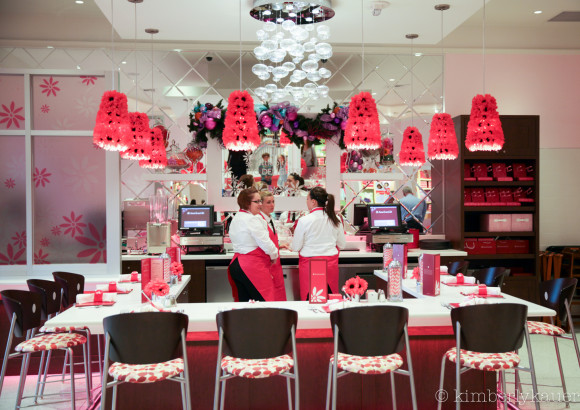 Photo Credit: Kimberly from Tippy Toes and Tantrums
The American Girl store at Stanford Shopping Center will have its official grand opening events on Saturday, November 16 and Sunday, November 17.  These events will include:
All girls in attendance on Saturday (11/16) and Sunday (11/17) will receive a free gift.
There will be free craft activities available in the mall on Saturday and Sunday.
There will be live entertainment for guests waiting in line and in the mall, including face painters and balloon artists.
American Girl will also have drawings for a Saige doll (valued at $110) on 11/16 and 11/17.
Purchase with Purchase Promotion – Get the exclusive Breakfast in Bed Set for $16 with a purchase of $50 or more. Available starting on November 13, 2013 through December 15, 2013 or while supplies last.
American Girl designated Lucile Packard Children's Hospital at Stanford as its grand opening benefit partner. American Girl is providing funding to the hospital for various children's programs.
Here are additional details about the opening at Stanford:
It is recommended to park in parking garage #2
Each person (including children) who wishes to enter the store will receive a ticket with an assigned group number.
Lining up prior to 7 a.m. on Saturday, November 16 and 8 a.m. on Sunday, November 17 will not be permitted.
When the store opens each day, groups will be announced in numerical order for admittance through the American Girl entrance adjacent to California Pizza Kitchen.
You can shop or dine in Stanford Shopping Center until your group number is called, or, should you have a Bistro reservation, you can come directly to the Welcome Table as check-in is allowed two hours prior to your Bistro reservation time,whichever comes first.
Ticket Alerts: Text Messaging will be available providing updates on current group numbers being admitted; details on text messaging will be available onsite.
Signage: 22×28 signs will be located throughout Stanford Shopping Center, providing updates on current group numbers being admitted.
Event staff and security officers will also be able to assist with information on what group numbers are being called.
Be prepared for large crowds and long lines. Early birds can begin to line up at 7am on Saturday (for 9am opening) and 8am on Sunday (10am opening). No overnight camping is permitted, so plan ahead.