Girl Scout Tagalong cookie cake, step by step
Although our cookie season is over, we still have a lot of extras that we ended up hoarding keeping. And it's a good thing, because I've been baking like crazy to forget about what's going on in the world. This cake is super rich, moist, and has the perfect amount of chocolate, cake, and peanut butter […]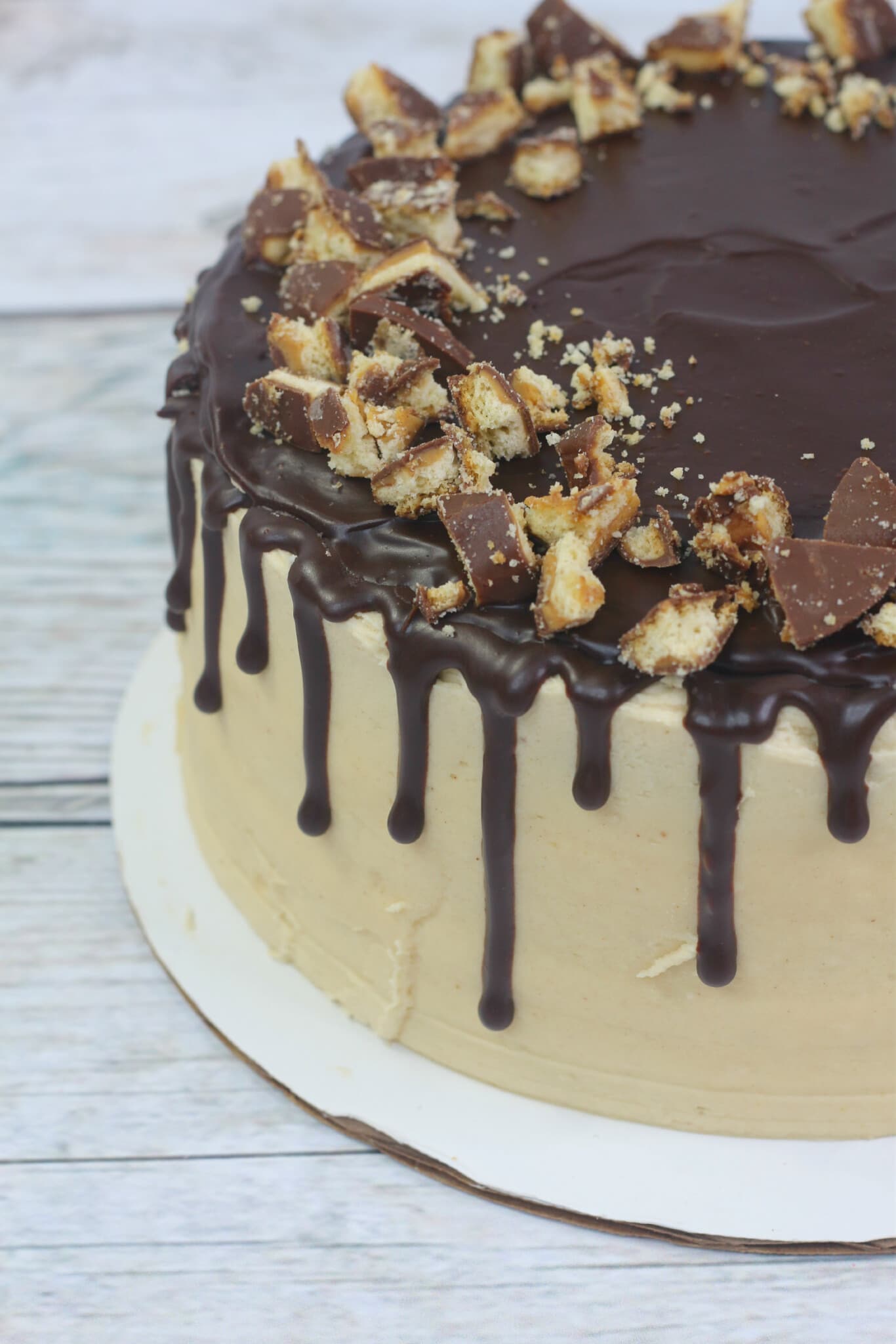 Although our cookie season is over, we still have a lot of extras that we ended up hoarding keeping. And it's a good thing, because I've been baking like crazy to forget about what's going on in the world. This cake is super rich, moist, and has the perfect amount of chocolate, cake, and peanut butter ratio. I hope you enjoy it as much as we do. And if you don't have Tagalongs? You can still buy them online for home delivery.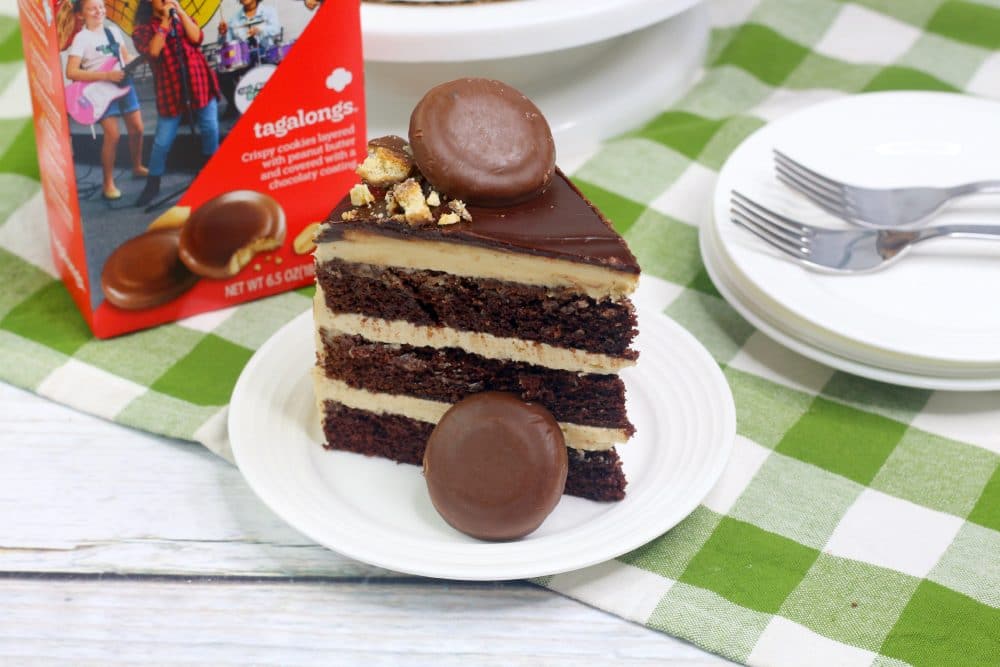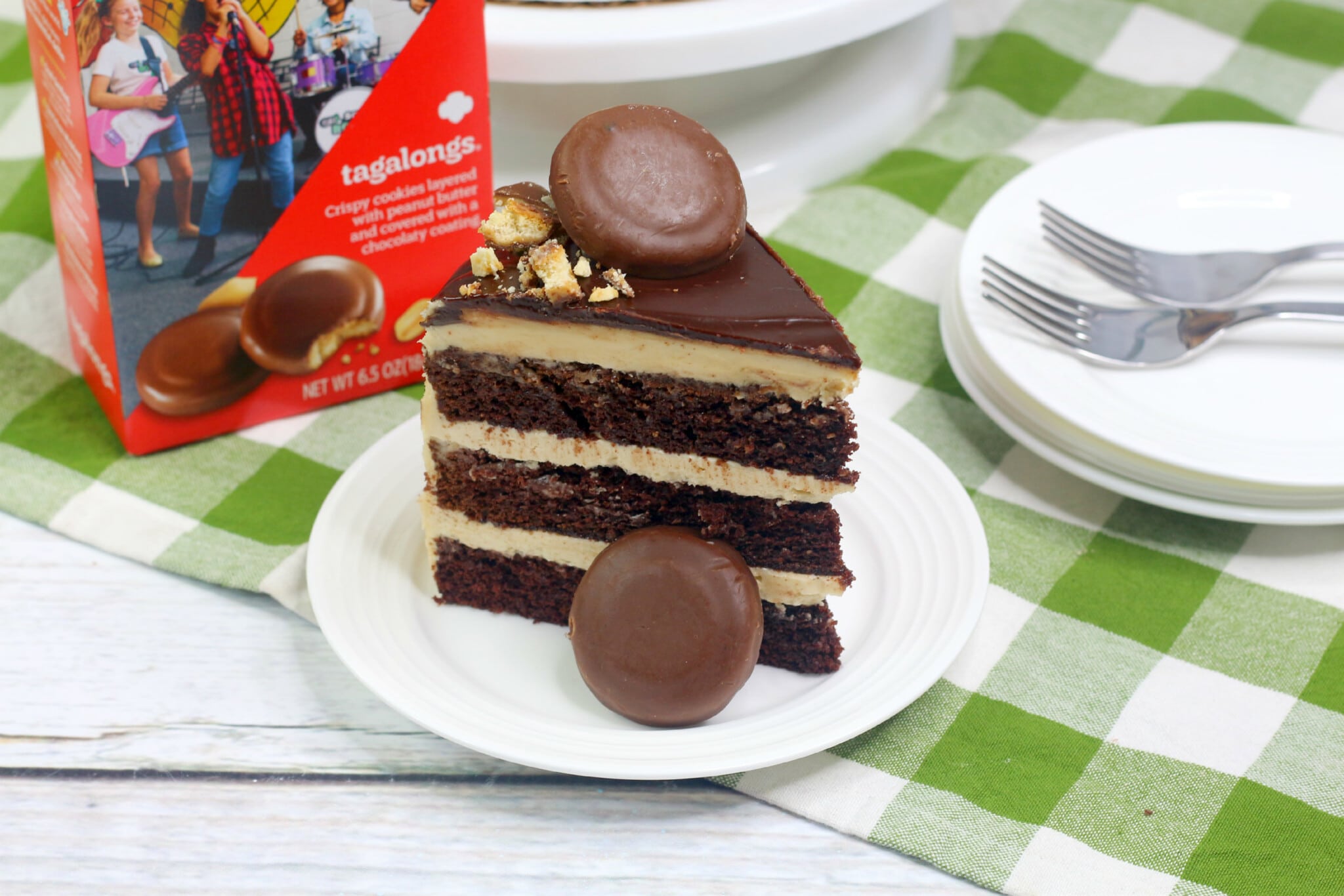 How to make a chocolate Tagalong cake
Cake ingredients
2 boxes of milk chocolate cake mix
2 ½ cups whole milk
2 cups unsalted sweet cream butter, softened
6 large eggs
Chocolate cake directions
Preheat oven to 350 degrees and spray three 9 inch round cake pans with pam baking spray, set aside until you're ready to add the cake batter. I also put a piece of parchment paper on the bottom to make it even easy to come out clean. Using a hand mixer and a large mixing bowl, beat all cake ingredients together until fully combined. Divide batter evenly between the baking pans and bake in the preheated oven for 25-35 minutes or until a toothpick comes out clean in the center. Allow them to cool completely on the counter.
Once cooled, remove cakes from the cake pan and cut the domes off making the cake tops flat and even.
Peanut butter frosting
Ingredients
2 cups unsalted sweet cream butter
3 cups powder sugar
4 tbsp. heavy whipping cream
½ cup peanut butter
1 tsp. vanilla
1 disposable piping bag with star tip
1 or 2 boxes of Tagalong Cookies
Frosting directions
Using a standing mixer, combine the butter, powdered sugar, heavy whipping cream, peanut butter and vanilla and mix on medium speed until smooth and creamy.
Chocolate ganache
Ingredients
1 cup semi-sweet chocolate chips
½ cup heavy whipping cream
1 large squeeze bottle
Chocolate ganache directions
Using a small pot, heat up the heavy whipping cream until steaming. While heavy whipping cream is heating up, place chocolate chips into a heat-proof bowl. Once the heavy whipping cream is heated, pour over the chocolate chips. Allow sitting for 1 minute before whisking until smooth. Pour ganache into the squeeze bottle.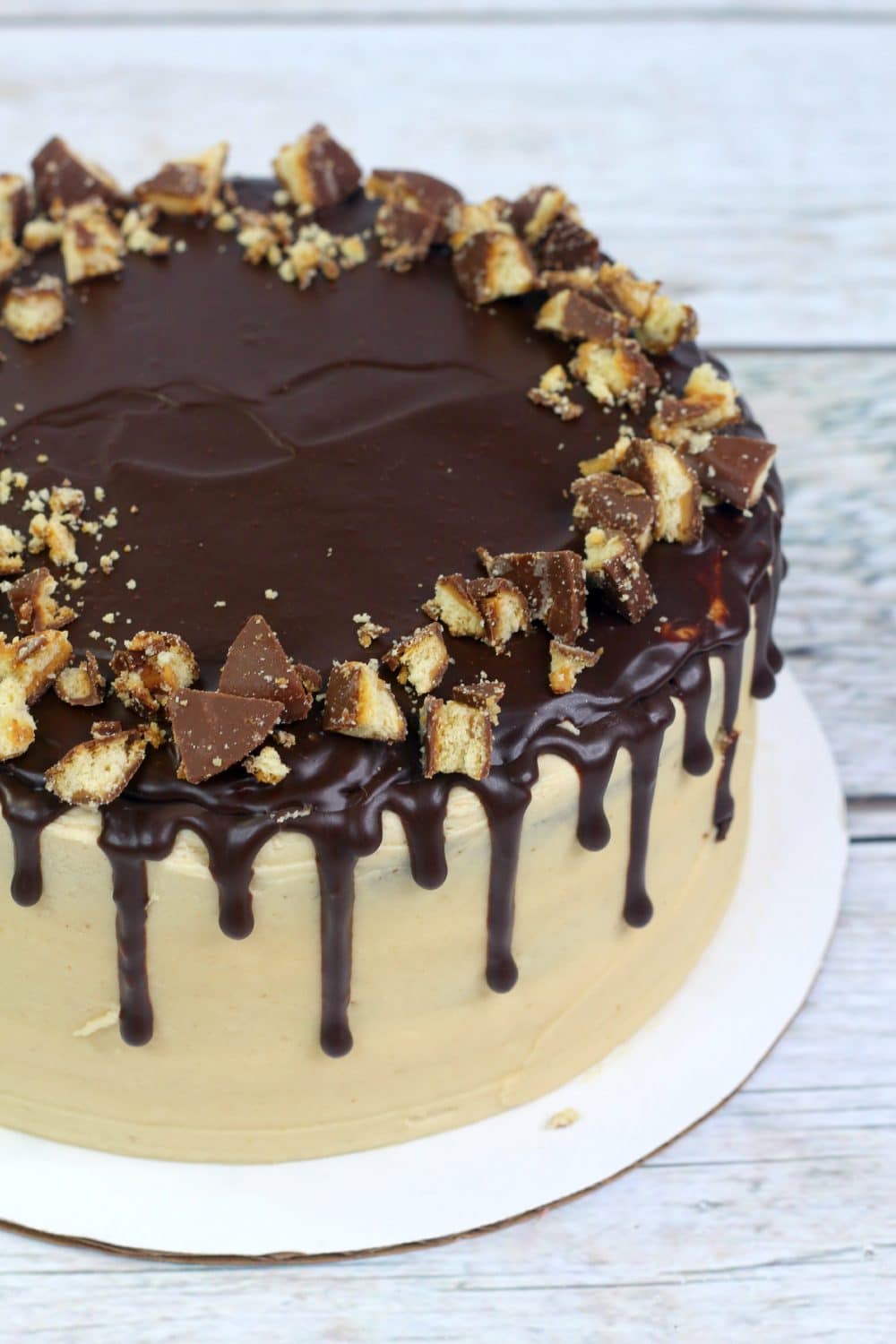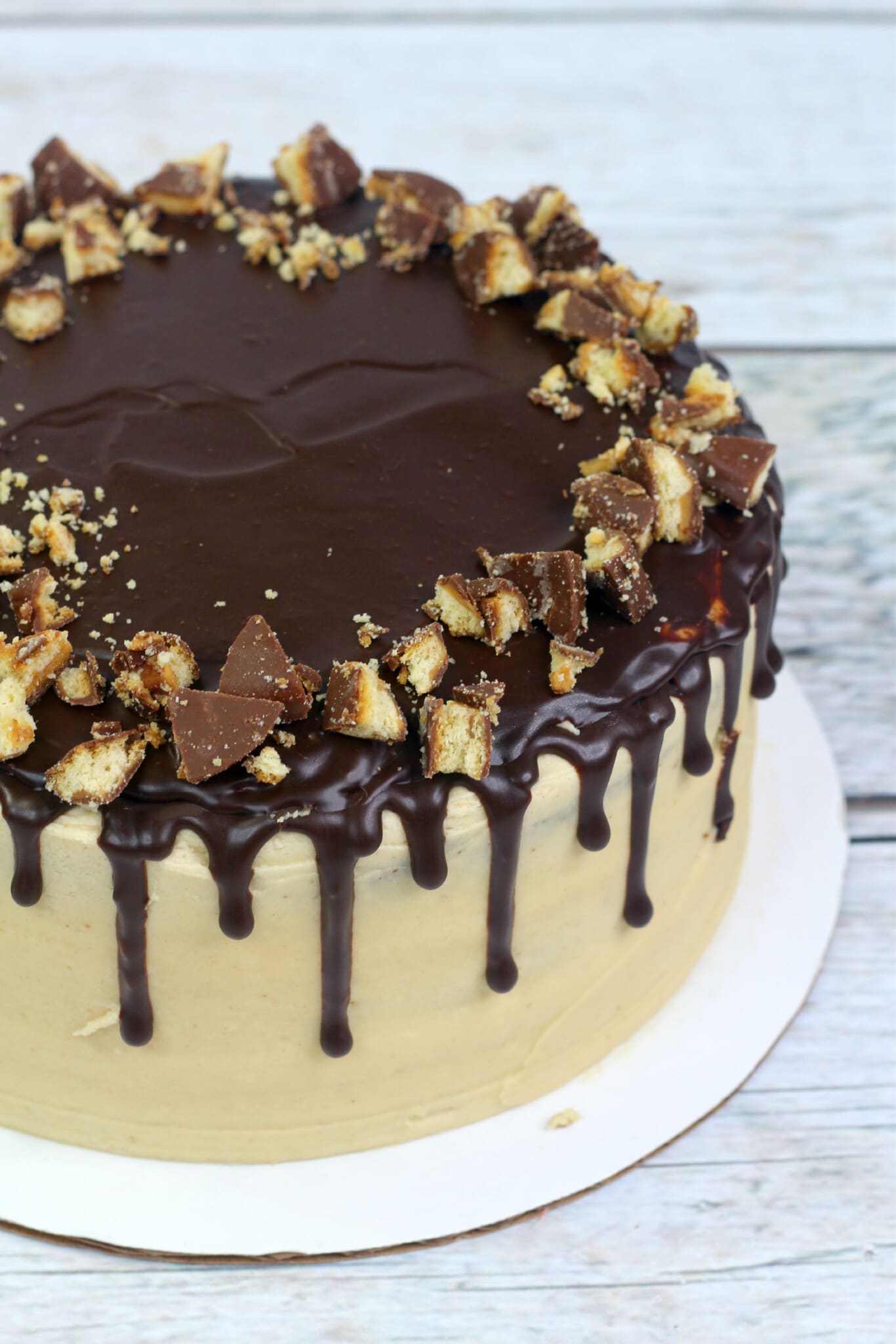 How to assemble the cake
Place the first cake layer onto a serving plate scoop 1 cup of frosting onto the first layer and smooth out evenly. Place the second layer of cake onto the first layer of frosting. Place another scoop of frosting onto the second layer of cake and smooth evenly. Repeat steps with remaining cake layers. Once all layers have been frosted, frost entire cake, scoop the remaining frosting into a piping bag and set aside.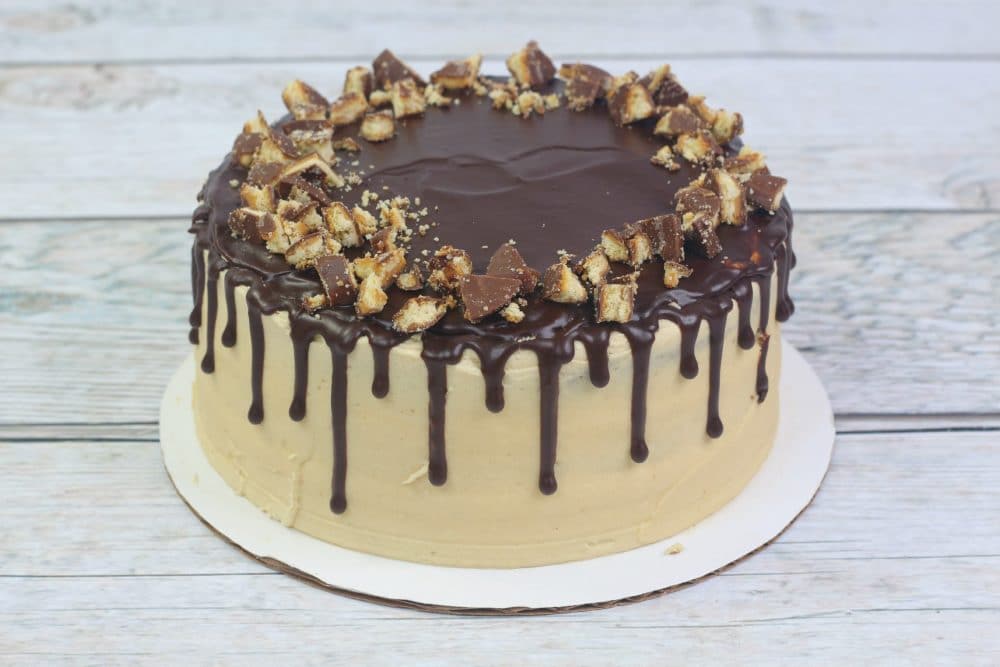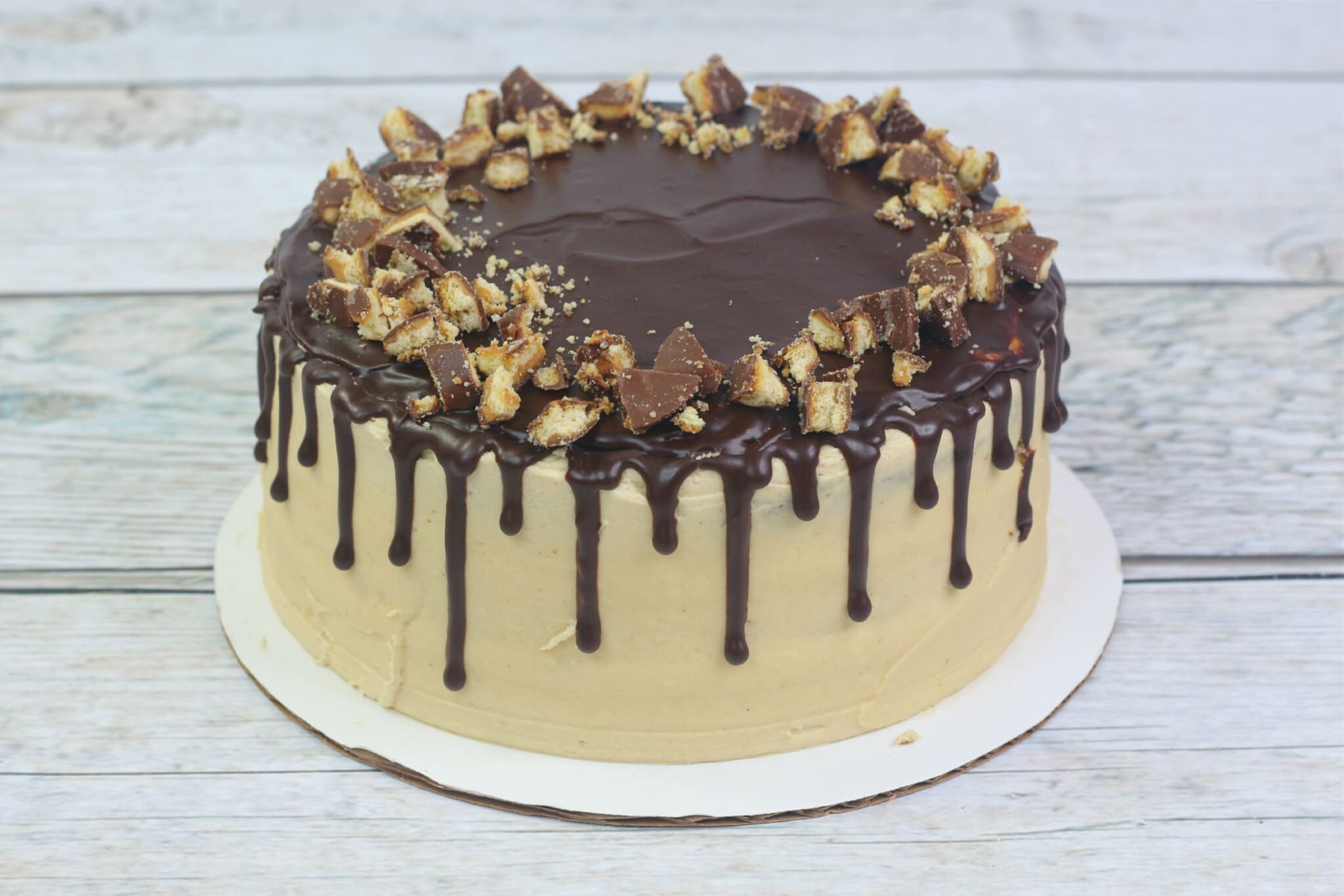 Decorating directions
Chop up about half of the tagalong cookies. Using the squeeze bottle, to create a drizzle effect around the top of the cake, squeeze some ganache over the side allow the chocolate ganache to drip down. Pour ganache onto the center of the top of the cake and smooth evenly to coat the top. Sprinkle the tagalong cookies around the edge of the cake. Allow to sit for 10 minutes to allow the ganache time to harden
Cut into slices and grab a large glass of milk!