Girl Scout virtual badges, patches, pins: Safety Pin award
Looking for ways to earn virtual badges, patches, and pins for your Girl Scout? Here's how you can earn the Girl Scout Safety Pin from home.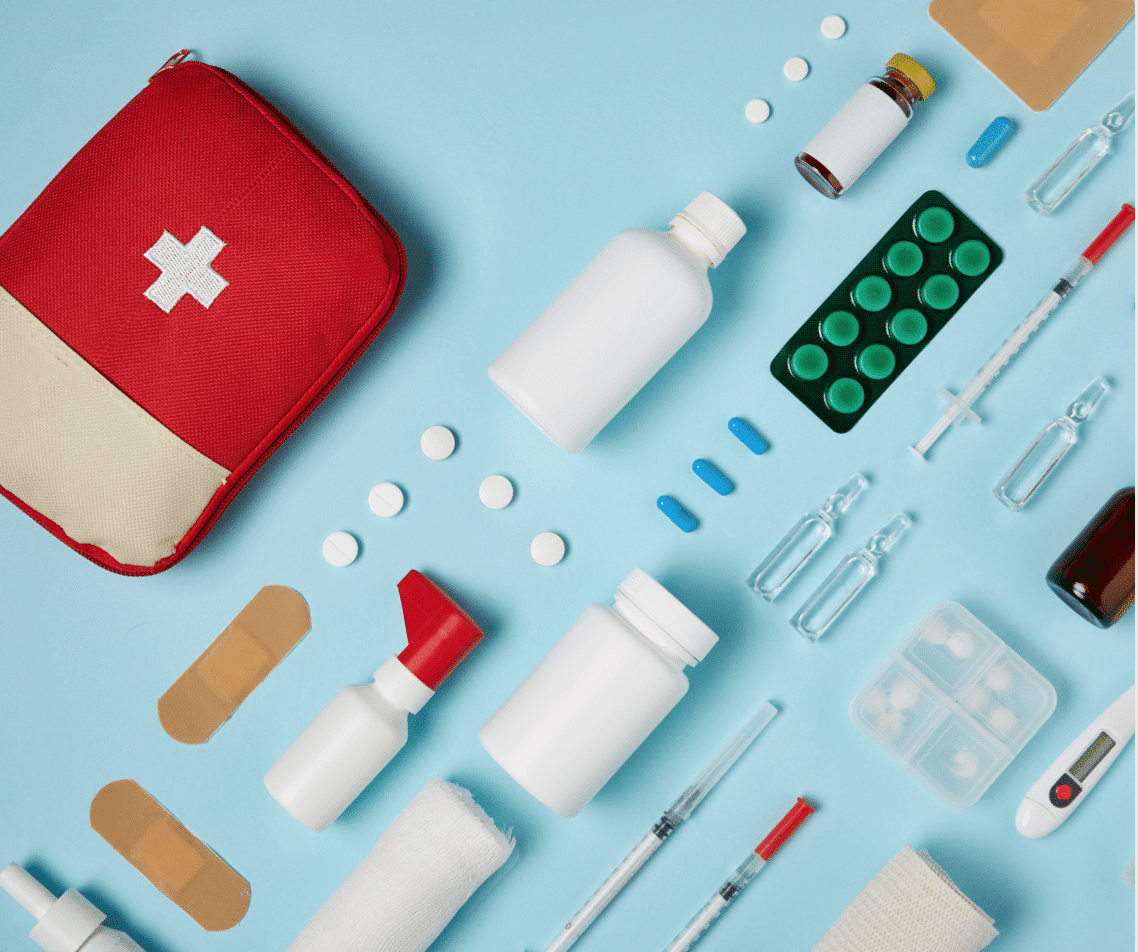 Oof. We've been putting out fires over here left and right now that we're all at home under one roof. Anyone else? I've been trying to find online resources for my Girl Scouts to do during downtime. One of the best badges out there is the Girl Scout Safety Award. This is great for every level of scouting and can actually be done over a few days or in one afternoon. Once you complete the Girl Scout virtual badge for the safety award, make sure you get the pin from your local scout store or online.
The safety awards are step programs based on each level of Girl Scouts. Below you will find the suggested guidelines for each level.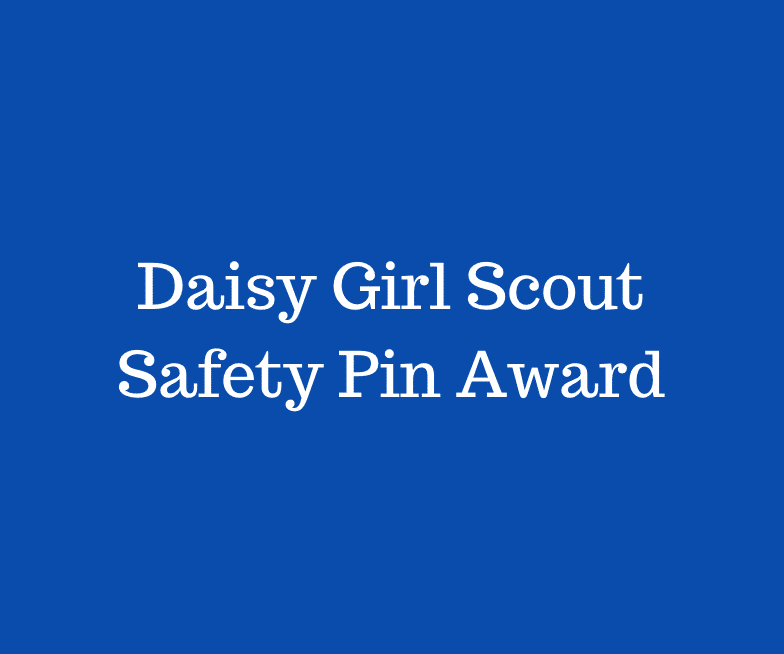 Daisy

Safety Award

Purpose: Theis badge teaches Daisy scouts how to stay safe on their Girl Scout adventures.
Step 1: Know who to contact in case of an emergency.
There are so many printable sheets on Pinterest that will help you with this step. As your daughter which friends or family members she is most comfortable within the event mom, dad, grandparents, or other guardians are not available. Discuss how to contact these individuals. Talk about how important the police, firefighters, and adult relatives are and how to contact them. Once you've created your Emergency Contact list, share it with your family and close friends.
Step 2: Learn how to help if someone is chocking.
Watch online videos presented by someone in the healthcare field to get an idea of what to do when someone is chocking. Identify the signs of someone chocking. This could be someone with hands around their necks, who cannot talk or is struggling or air. Watch an online demonstration. You can practice at home, but remember this is just practice.
Step 3: Learn how to so "Stop, Drop and Roll" if an item of clothing is on fire.
Talk about fire safety and watch the online video on how to "stop, drop and roll" in the event of a fire. Talk about the importance of a fire evacuation plan. Now is a great time to walk your home and check your smoke detectors and figure out how you'd get out of your house if there were a fire.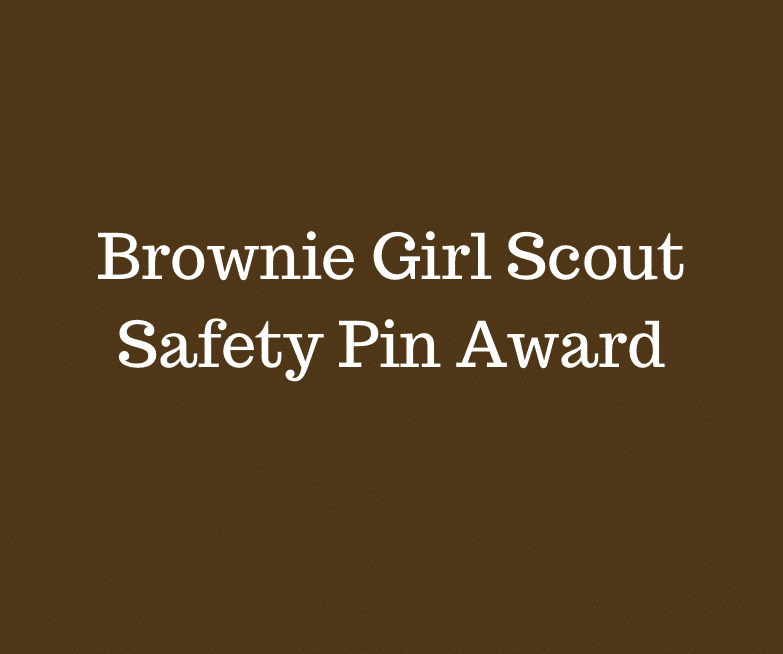 Brownie

Safety Award

Purpose: This badge teaches Brownies how to stay safe on the Girl Scout adventures or daily life.
Step 1: Know your school's safety plan.
Message your teacher if you can to find out what plans are in place to keep you safe while you're in school. If you are homeschooled, what is in place in the event of an emergency?
Step 2: Ge a map of your neighborhood or town.
You can go to Maps.Google.com and put your address in the search field to get a map of the area you live in. Note where the police, fire station, and hospitals are relative to your home.
Step 3: Find out how a smoke alarm works.
Walk your house and make sure your smoke detectors are installed and in working order. Also not where they are in your home.
Step 4: Choose an upcoming trip you plan to take and make a safety plan.
Even if it's just driving to the grocery store. Find out what to do if a stranger approaches you in a public area and how you would respond.
Step 5: Find out what natural disasters are most common in your area.
Or, what would you do during a pandemic? Discuss with your family or another adult what you would do if this happens.

Junior

Safety Badge

Purpose: This badge teaches Juniors hot to stay safe on their Girl Scout adventures or in their daily life.
Step 1: Find out what the most common injuries are for kids their age.
Make a list of how to prevent them from any unnecessary injuries. Do a home safety audit to check for dangers around the house. Report back to parents with any safety concerns.
Step 2: Conduct an emergency evacuation drill.
Walkthrough your home (or where your troop meets) and make a plan in case of an emergency. Locate the main exits and plan an alternative way to get out if the main exits are not obtainable.
Step 3: Learn about bicycle safety.
Research why bike helmets are important and how to check if a helmet fits you properly. Identify bike lanes when you are driving and note bike safety.
Step 4: Find out how to read road and weather signs.
Do you have road safety signs or weather signs in your area? Would you know how to identify the meaning of these signs? Do you know when to head inside for safety in the event of a natural disaster?
Step 5: Go on a hazard-identification walk.
Next time you are out on a trail, riding a bike, or walking your neighborhood, watch out for signs that would signify a hazard area. Is there construction? Damage? Hazardous waste? Identify these locations.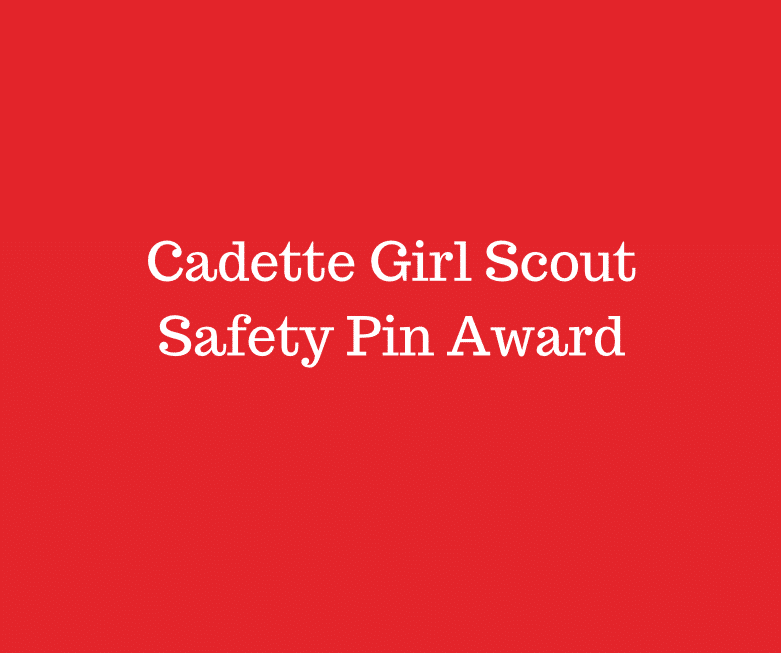 Cadette

Safety Award

Purpose: This badge teaches Juniors hot to stay safe on their Girl Scout adventures or in their daily life.
Step 1: Make a safe room.
Identify what types of natural disasters can happen and make a "safe" area for each type of disaster. Be specific to your area or any area that you may be visiting such as grandparents, friends, and other family member homes.
Step 2: Water safety and lifeguard plans.
Does your troop plan to do lifeguard training. Now is a good time to start thinking about it so when the time comes they are eligible, they'll be ready to go. Until then, Identify the ways to keep safe in a pool, lake, ocean, or rivers. Make a list of how to respond differently based on the types of water you are dealing with. Have a safety plan in place for each water activity.
Step 3: What to do if separated from your troop, friends or family.
Create a plan that reflects what you would do if you were at an outing and you were separated from your group. What would you do if you were actually lost? Have a plan in place that you can use when you are away from home. Teach your younger sister scouts about what they can do if they find themselves lost as well. Would they know how to call someone?
Step 4: Make an emergency kit.
Gather supplies to make an emergency kit to keep at home and take with you on outings. What is in your first aid kit? Watch a basic video on emergency kit basics and how to use it in the event of an actual emergency.
Step 5: Identify and stop bullying.
Define what bullying is. What are your school, local, and state laws around bullying? Talk about what you would do if you or a friend was experiencing bullying behaviors in your environment. What are some signs to look for within your friend group? Visit stopbullying.org for more information and create an informational pamphlet for your piers.

Senior

Safety Award

Purpose: This badge teaches Seniors hot to stay safe on their Girl Scout adventures, in their academic, and daily life.
Step 1: Learn self-defense.
At this age, there are many self-defense classes you can take in-person or online. For this requirement, have the girls identify why and when they may need self-defense training.
Step 2: Teach our younger Girl Scouts
Our little girls really look up to the older Girl Scouts. Seniors need to find a class they can teach the younger girls. If you can not do this in person, share a video with another troop. Suggestions may be administering first aid, making a first aid kit, creating an evacuation plan.
Step 3: Learn distracted driving prevention.
By now Senior girls will be learning to drive or be behind the wheel. This is one of the most influential times of their lives and they need to make sure they are being safe. Especially when driving. Make sure to wat a distracted driving simulation video online. Make a list of ways to make sure you are not distracted while driving. Take a pledge with your parents, friends, and guardians.
Step 4: Help resolve a disagreement.
Whether it's a friend, family member, or stranger, research how to make the best decisions when trying to resolve a disagreement. Create a list of ways that may (or may not) work for you to solve problems. Start by review the article on 10 Important Conflict Resolution Skills for Teenagers.
Step 5: Drug and alcohol awareness.
Discuss with your family, troop, or teachers about drug and alcohol abuse. Research and list how substance abuse can effect people. Research statistics for parents to help them understand what underage drinking looks like in your community.

Ambassador

Safety Award

Purpose: This badge teaches Seniors hot to stay safe on their Girl Scout adventures, in their academic, and daily life.
Step 1: Have a team forum on safety.
Pick a safety issue important to you and organize a forum where other piers can discuss the topic in a safe and open setting. Have an expert come in and moderate the forum so everyone can have a chance to have their voice heard and questions answered.
Step 2: Social media safety.
Research and list the internet safety rules for your school, job, and social media platforms. Are you old enough to be using these platforms? Talk to younger Girl Scouts about internet safety and social media use. Make a video that can be shared from troop to troop on what to do if you're experiencing cyberstalking, bullying, or feeling unsafe.
Step 3: Safety rules for leaders.
List your duties as a counselor-in-training, volunteer-in-training, or in another leadership role you may hold. Look to your church, school, or other organizations you volunteer with for guidelines. Once you understand the guidelines, you can create a safety plan for any trips or events associated with your organizations.
Step 4: Maintaining safe relationships.
Talk to a counselor, social worker, or organizer in your areas that will talk about how to have a safe relationship. Know about it means to stay safe while dating. Take these practices in everyday life as well to make sure you are safe in other events, trips, or outings.
Step 5: Safety in sports.
Pick a sport or activity you enjoy or are already involved in. Find out the league rules, what it takes to be in the sport, the equipment that is required and designed how to keep players safe. Create a checklist to make sure these items are implemented at all levels of play.
This is one of the great Girl Scout programs that you can do from home. You can do it on your own or with your troop. If you're doing it on your own, make sure you are completing each task in your grade level.
If you're looking for other Girl Scout related topics, here's a list of a few posts we have on our site and don't forget to join us on Facebook.
Girl Scout posts