Christmas Gift Giving Rules and Gift Tags (free download)
Focus on the reason for the season with these minimalist Christmas gift-giving rules and bonus free downloadable gift tags to print and share.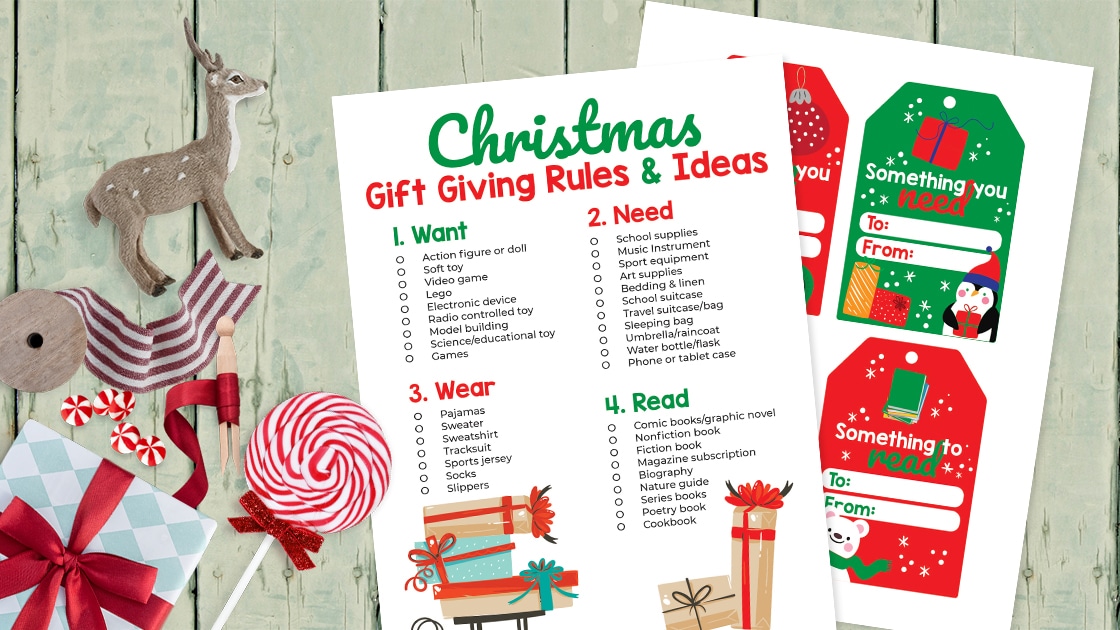 When I was in sixth grade, I got a pair of Wrangler jeans for Christmas. Money was beyond tight, I knew we didn't have money, but man… Wranglers? The 12-year-old in me is still bitter about it. Today, we live a very different life. When Emma was around 3 years old I bought every gift possible. Christmas morning she tried to open all the gifts under the tree but after a few minutes, she was actually bored. I realized very quickly that I was trying to fill my childhood dream, not hers. I never want my kids to feel the sadness I did growing up, but I also want to raise strong, empathetic girls. It was then that we came up with the two-gift pledge. The girls get one gift from us and one gift from Santa. This year we decided to do something a little different. We wanted to stick to our minimalist Christmas gift-giving rules, but it's 2020 and Covid has been a real jerk.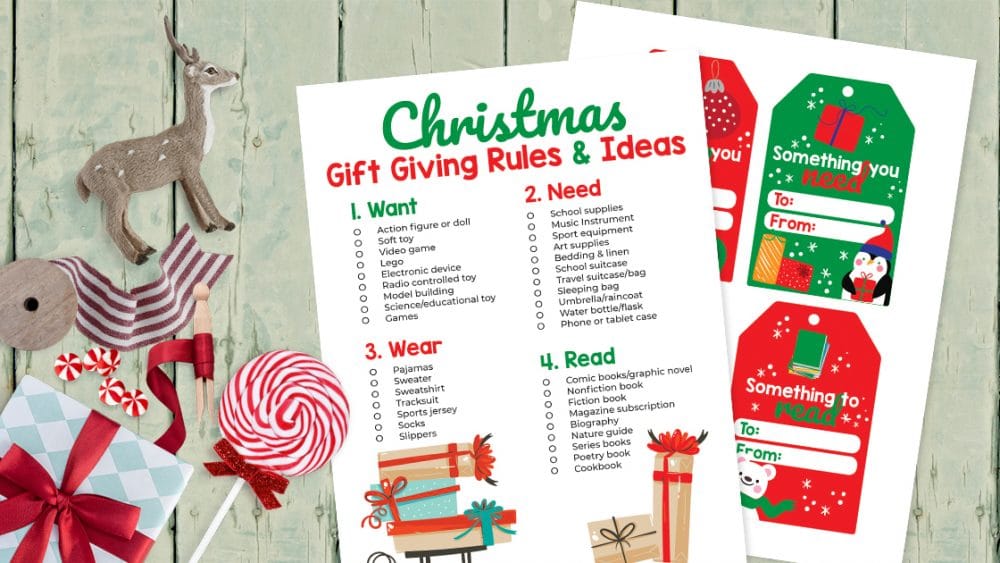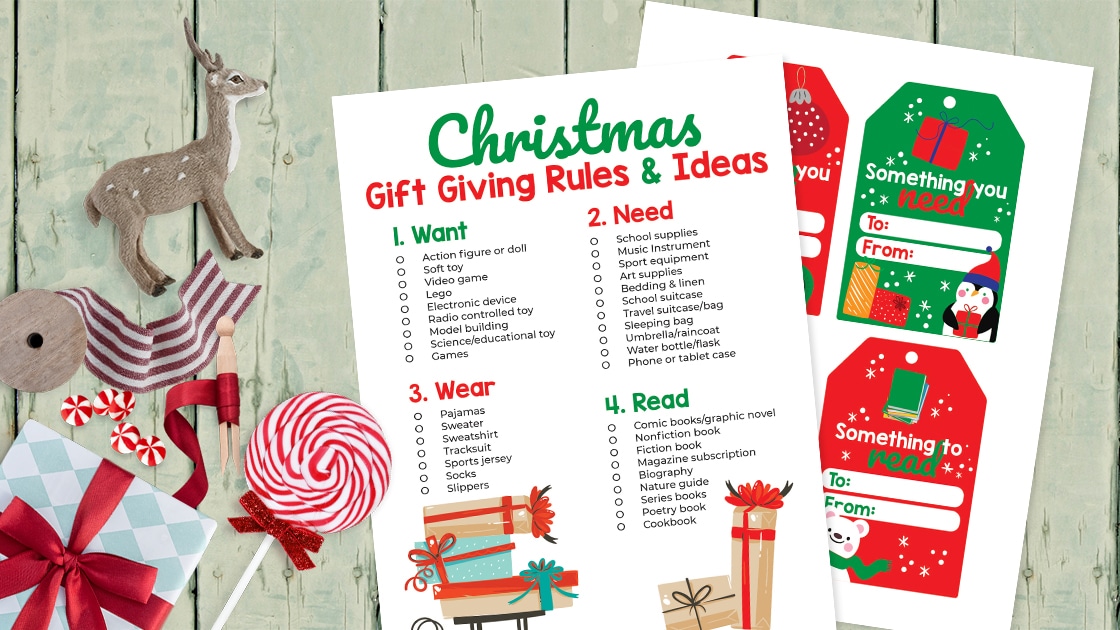 We have created four categories that will help us with gift-giving this year. This year we'll be tagging gifts for things they want, something to read, something they need, and something to wear. When we shared this idea, they were really excited. With all the holiday catalogs coming in, this is the perfect time to set up lists to help get their lists together.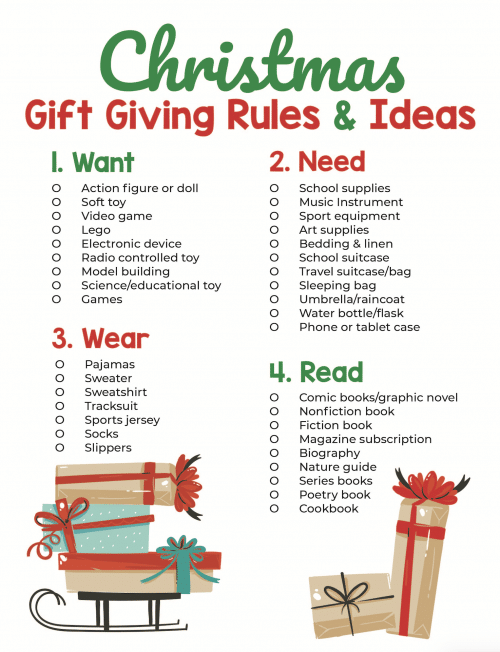 Download Gift Giving Rules.pdf
Since we've been indoors for what feels like an eternity, we have several gift guides for you to share with your kids for inspiration. All of these items are available online and you can start shopping now to get a head start. My girls are 8 and 12 but couldn't be more different. These guides all had something they really loved.
15+ Holiday Gift Guides for 2020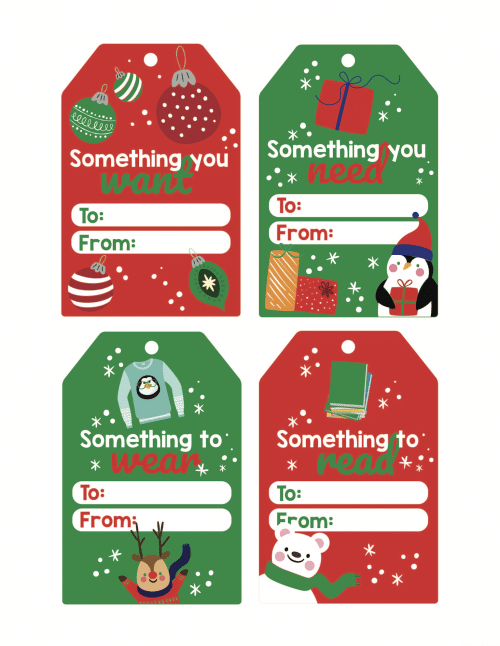 Download Gift Tags.pdf
We have several of these items on the gift guides already and our girls have loved them. Remember, if you're trying to stick to your minimalist Christmas giving checklist send these gift ideas to friends and family, have your kids fill out the printable gift checklist to pass on. You can even have the gift-giver attach the printable tag as well.
Here's to making 2020 a memorable year yet!